svetazi - stock.adobe.com
How to evaluate cloud certification training
Cloud computing has changed the role of certifications. See why you're better served by breadth rather than depth of knowledge, and keep learning to keep pace with the industry.
Certifications are a staple of the IT industry, typically broken down by roles or technology. Certifications for networking, operating systems and virtualization are all commonplace. However, the world of certifications has changed due to cloud computing, so you need to be prepared to adapt.
For starters, Microsoft got rid of its server-based certifications in favor of Azure-based ones. This change upset those with years of on-site experience with the Windows Server OS who felt cut off overnight. But it's safe to assume more vendors will do the same as the cloud takes over more of the IT market. This push has left administrators with a backlog of potentially unfamiliar cloud certifications to consider, and they now must decide where to put their money and effort.
The certifications tend to fall into two different groups: vendor-sponsored and vendor-agnostic. Both have their place, but you'll need to continually assess your options to stay on top of the evolving cloud landscape. Doing so can help you in your current role or set you up to get the job you really want.
Diversify your vendor-sponsored certifications
An AWS certification is ideal for a business that uses AWS' cloud platform, but it falls flat if your company is on Azure. Sure, some of the basic concepts are the same, but the major clouds have unique dashboards, interfaces and features. That doesn't mean the certification is a waste of time, but it won't have the same impact it might have had in the past.
Take the VMware certification as an example. Several years ago, it was the only certification you needed to get for virtualization. But that changed as the market evolved and other players emerged. Today, a VMware certification is still valuable, but its value changes depending on what your company uses. The same goes for cloud.
AWS and Microsoft are the biggest players when it comes to cloud certification training. They each have multiple levels of certifications, which typically start at fundamental or foundational exams, then advance to associate and professional levels.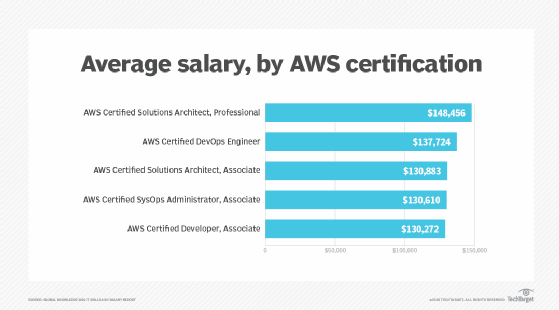 The typical school of thought for certifications has always been that you become a more valuable resource as you reach higher levels -- but the cloud is different. Many companies use multiple cloud vendors, based on where services are the most ideal. The one-stop vendor shop simply doesn't exist in IT anymore and that has a direct impact on your approach to certifications.
For example, even if your company does all its development work in AWS, it probably also has an Azure presence for Office 365. It might just be a SaaS-based involvement, but it's still there. So, if you only have an AWS certification, you're not accounting for your actual business needs.
Expert-level certifications might have been ideal in the past, but now you might want to reconsider your approach. Instead of training to master a single vendor's exams, look at lower-level certifications for multiple vendors. Passing an expert exam for Azure might be impressive, but the same can be said about getting associate-level certifications for Azure, AWS and Google Cloud Platform. That variety showcases your ability to adapt. And given the rate of change in cloud computing, that's a good thing.
Of course, the downside to this approach is that you'll need to maintain three different certifications, each with its own renewal timeframe and exam cost. Yet, the impact of having multiple certifications cannot be undersold. Even if your current team or employer doesn't use one of the vendors, your next job might. In fact, it might be one of the main reasons you land that job. It all comes down to matching your certifications to a company's needs.
Continually evaluate your certification and training options
Ultimately, you need to assess whether training for a cloud certification is worth the time and effort to meet your particular goals. Vendor-specific certifications certainly have their value, but they're also more likely to be marketing-driven, emphasizing a sales pitch over technical content. The alternative is vendor-agnostic certifications such as the CompTIA Cloud+ or the Certified Cloud Security Professional (CCSP).
With vendor-agnostic certifications, remember the target audience for each program. For example, the CCSP is focused on security, while CompTIA's is focused on people new to the industry. These directed certifications may or may not apply to seasoned professionals, but they still do have a place in the overall certification framework.
And that framework is subject to change. Cloud technologies will continue to evolve and so will the corresponding certifications. The exam training you do today might only be good for a few months, since the content in the exams changes to match the technology. So, while your certification might be good for several years, the technical materials you need to study will change much sooner.
Study guides might not be able to keep up with the rate of change. It takes considerable time and effort to publish a book, so a printed study guide might very well be outdated by the time it ships. This creates additional challenges for test takers and can be problematic for those looking to invest in expert certifications.
Online resources, such as courses and videos, still take time to create, but they're easier to keep up to date. The lag time will be weeks and months instead of years, so they're likely a better investment than traditional books for your cloud certification training.
You need to be as agile with your certification prep work as you are with your actual cloud usage. Let what you're using today guide your certification choices, but don't let it dictate your decisions. Nothing is set in stone, so be prepared for continual change.
Dig Deeper on Cloud infrastructure design and management