9 IoT training certifications to take your next career step
IoT training certifications offering skills in IoT development, networking and security can give tech experts an advantage, especially when IoT skills are in high demand.
IoT is a rapidly growing market, and one of the challenges to companies embracing IoT is the lack of specialists who know and understand IoT's many complexities.
By 2030, Statista projects that there will be 29 billion connected IoT devices around the world, but a 2023 Gartner survey reports that IT executives see talent shortage as the most significant adoption barrier to 64% of emerging technologies, compared with just 4% in 2020. As IoT adoption continues to grow, those skills will be in high demand, as will credentials that show you have IoT skills.
One way you can demonstrate your background in IoT is through certifications that can help you stand out to employers. Fortunately, there are many certifications to choose from. The question is, what's the right one? Here are nine certifications to consider to advance your career.
1. Cloud Credential Council (CCC) IoT Foundation (IoTF)
Offered by the CCC, the IoTF certification is considered one of the top IoT certifications available, covers principal IoT topics and is vendor neutral.
The CCC certification covers six learning modules, including basic concepts and technologies, business orientation, IoT architecture, implementation, security and governance, and business use cases. There are no prerequisites to take the course, but you're expected to have a grasp of cloud-related terms and concepts.
The CCC offers in-person training partners across the U.S. and other countries, as well as online self-study. Course length depends on how long participants want to study. There is a one-hour 25-question multiple-choice exam that participants must pass to secure certification.
All study materials and a voucher for the exam cost $349.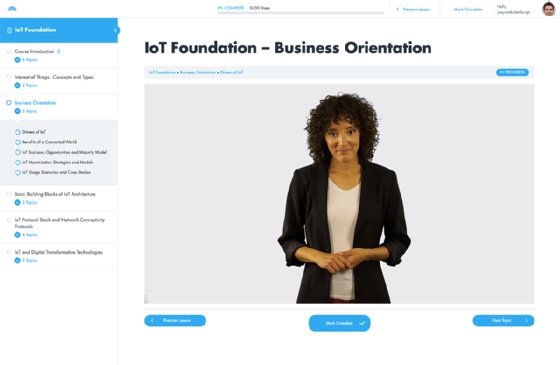 2. CertNexus Certified Internet of Things Practitioner (CIoTP)
Another in-depth, vendor-neutral certification program is CertNexus CIoTP. This shouldn't be confused with its Certified Internet of Things Security Practitioner, which is a separate certification.
This course covers six topics, ranging from planning and programming IoT devices to deploying and managing the devices in real-world use cases. This certification is notable because it's accredited under the American National Standards Institute/ISO/IEC 17024 standard, which is required for many government projects.
Costs depend on the resources participants choose. Self-study options start at around $490, while in-person classes can be as high as $1,500. The exam is $250.
3. CertNexus Certified Internet of Things Security Practitioner (CIoTSP)
This is a separate certification program focused on security because IoT has extra security needs due to its remote nature. IT experts who decide to demonstrate proficiency in tools from any IoT vendor should take this certification. It covers every aspect of IoT security in the IoT device lifecycle, including design, implementation, operation and end-to-end management.
In eight lessons, students learn and prepare for the ITS-110 exam covering IoT risk management; interface, network, data and physical security; IoT resource access control; data privacy; and software and firmware risk management.
This course requires previous fundamental knowledge of IoT technology, which can also be acquired through the CertNexus CIoTP course and exam ITP-110. Attendees have various purchasing options for digital courseware, labs and an exam voucher of self-led study or instructor-led courses over three days. Training materials start at $490, and the exam voucher is $350.
4. Cisco's 'Introduction to IoT and Digital Transformation'
This is a free, six-module online course suited for beginners who are getting their feet wet in IoT.
The course covers IoT devices and how they connect to networks, programming languages -- such as Python -- used to develop IoT applications and how they work, what qualifies as "big data" and how big data must be stored, the security requirements for IoT devices and networks, and IoT's role in the business.
Once the six modules are completed, a final exam is given, and a certificate is awarded upon passing the exam.
5. UCI's Introduction to Programming the IoT Specialization
For those interested in learning how to program IoT devices, this is a great option for applying different IoT programming languages and platforms. It also offers certification.
In this six-course program, you'll learn how to program in Python and C for the Arduino and Raspberry Pi environments. Coursework includes online lectures, labs and hands-on projects.
You can choose which courses you want to complete. These include the "Introduction to the Internet of Things and Embedded Systems," "The Arduino Platform and C Programming," "Interfacing with the Arduino," "The Raspberry Pi Platform and Programming in Python for the Raspberry Pi," "Interfacing with the Raspberry Pi" and "Programming for the Internet of Things Project."
At a pace of three hours per week, it takes about six months to complete the entire program. Pricing isn't listed, but there is a free seven-day trial period, and you can audit the course for free.
6. Arcitura's Certified IoT Architect
The Arcitura Certified IoT Architect program consists of three courses: "Fundamental IoT," "IoT Technology & Architecture" and "IoT Technology & Architecture Lab." The entire three-module sequence costs $618.30, and a certification exam is available for an additional $249. The content balances technical application and a general understanding of the business value behind IoT.
A Certified IoT Architect has knowledge of the devices, technologies and protocols used to build IoT platforms, as well as an understanding of different IoT architecture layers and models.
7. Internet of Things certification from University of California, Irvine
This program gives participants a business overview of how organizations can take advantage of IoT and a close-up look at technologies such as Arduino and Raspberry Pi hardware systems. The University of California, Irvine offers an IoT certification for students who take three courses for nine course credits and finish with a passing grade.
The three courses offered in the program are "Introduction to the Internet of Things," "Designing and Integrating IoT Devices" and "Networking and Securing IoT Devices." The program also covers integration, standards and compliance, IoT business processes and security. IT professionals can take this program online for an average cost of $2,910. It runs for nine months.
8. Internet of Things Graduate Certificate from Stanford University School of Engineering
Stanford offers a short course certification that consists of four noncredit IoT courses that applicants must complete before they pursue a graduate certificate. The course provides an overview of underlying IoT technology, including sensors, embedded systems, networking, circuits and applications. IoT practitioners looking to expand their skill set and business professionals who work with IoT engineering teams would get the most from the Stanford graduate certificate.
The Stanford program has academic advisors who can help select a subset from the 15 IoT courses offered that best align with professional and educational goals. Some prerequisite knowledge of specific programming languages or technology might be necessary for certain courses. Graduate certificate applicants must complete the course within three years, and tuition is based on the number of credit units taken.
9. The Iot-Inc Certified IoT Professional (ICIP)
This is an IoT course and certification intended for advanced IoT practitioners. It consists of 45 online modules, 163 lessons, 28 quizzes and one final exam. The course assumes a sound understanding of IoT and it cuts to the chase, immediately exploring IoT technologies and approaches at a highly detailed and advanced level. This is a course best undertaken by IoT practitioners who already have experience in IoT development and implementation but who want to go further in developing their understanding of IoT. The course is self-paced and priced at $1,199.
How to select the type and specialty of the course
Tech professionals who pursue IoT certifications to advance their careers have a wide range of choices they can tailor to their career goals. Each of the certifications listed above states clearly in its course outline who should take the course.
Certification programs offer foundational and business-oriented IoT courses to get started, even if tech professionals have little familiarity with IoT or work on the business side of IoT implementation. For individuals in this category, a vendor-neutral IoT course can provide a solid foundation.
IT experts in networks, applications, architecture or security might gain the most from IoT certifications for specific vendors or technologies that their organization and the general market use.