ThorstenSchmitt - Fotolia
How certifications, remote work affect cloud computing salaries
How many certifications you have and where you live will likely drive what you make as a cloud engineer. Catch the latest cloud salary and hiring trends.
COVID-19 has caused a spike in demand for lucrative cloud-related roles, which could offer engineers an opportunity to take the next step in their careers. However, the adoption of remote working strategies could complicate how professionals are compensated across the IT industry going forward.
The average annual salary for a cloud engineer is just under $129,000, according to ZipRecruiter, an employment marketplace. But this number will vary depending on a few factors, such as where IT pros live and the industries they work in. However, recent industry salary reports indicate that many of the variables that determine cloud computing salaries are in the job candidates' hands.
For example, a job candidate can boost salary potential by earning relevant certifications or relocating to an emerging tech hub -- like Columbus, Ohio or Denver.
Demand for cloud engineers and architects has gone up since the outbreak began, according to Scott Engler, an analyst at Gartner. But the rise of remote work has increased the supply of available talent as well.
"The supply-demand equation just changed," Engler said. "It allows for more wage arbitrage."
Remote work also changes the compensation equation around cost of living. A cloud professional now working remotely with a coastal salary may want to relocate to a city with lower living expenses.
Two of the biggest factors that determine your cloud computing salary are how many certifications you have and where you live. Learn how COVID-19 and remote work have altered this equation.
Raise your skills with certifications
IT pros often get certified in specific technologies to improve their skills, but industry certifications are also a popular and affordable way to earn salary bumps.
According to Global Knowledge's 2019 IT Skills and Salary Report, 85% of IT professionals worldwide -- and 81% in North America -- have at least one certification. Global Knowledge, a provider of IT skills and training services, examined multiple industries and locations and found that certified professionals earn more than their non-certified counterparts. With each additional certification there is also a small bump in salary. In North America, a certified IT professional earns 7% more than someone who is not certified -- the average salary jumps around 2% for each additional certification earned.
Of the 10 certifications that attract the highest salaries in North America, four are cloud related. The Google Cloud Platform Cloud Architect certification is the highest on that list, with certificate earners averaging an annual salary of $152,129. Three different AWS certifications -- AWS Certified Solutions Architect - Associate, AWS Certified SysOps Administrator - Associate or AWS Certified Developer - Associate -- can translate to salaries around $130,000 a year.
In addition, cross-certifying with a breadth of certifications is a strong way to improve an IT pro's cloud computing salary, according to Global Knowledge. Cross-certifying with AWS is a particularly attractive option in North America. For example, pairing an AWS certification with one from VMware, Cisco or CompTIA can increase a candidate's income by more than $10,000.
While in-person certification exams are unavailable at time of publication due the pandemic, each major cloud platform offers certification exams with online proctoring.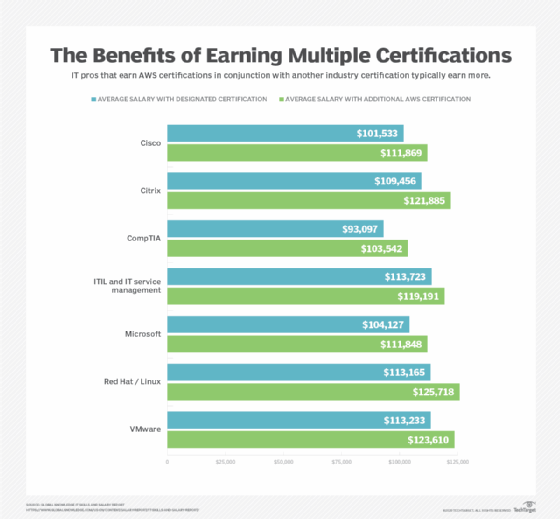 Relocation is an enticing option, for now
Relocation has long been a way to increase yearly earnings, but that doesn't mean you should head straight to the San Francisco Bay area. When looking to relocate, cloud professionals need to factor in where salaries are rising, as well as the cost of living in those places.
Cloud professionals just starting out can also pursue opportunities in what Dice, an employment marketplace, calls "emerging tech hubs" in its 2020 Tech Salary Report. In these emerging tech hubs, IT and tech salaries are rising, and cost of living is still relatively low. The highest increases in IT salary have occurred in Columbus, Ohio (14.2%), St. Louis (13.6%), Atlanta (9.5%) and Denver (6.5%).
The 2020 State of Salaries report from Hired, an employment marketplace focused on technology roles, evaluated how far your tech salary would go in certain cities. The report adjusted the average tech salary in major U.S. cities for Bay area living expenses. The report found that adjusted salaries in Austin, Texas and Denver became $224,000 and $202,000, respectively. This explains how, when evaluating whether or not to relocate, candidates should look for how far their money will go, not necessarily how much they could earn.
Remote work brings relocation wrinkle
The rise of remote work has raised a few issues around compensation, especially in terms of cost of living. According to Hired's report, 53% of tech professionals said a permanent remote working situation would make them likely to move to a city with lower living expenses. If IT pros are working remotely for the foreseeable future, it makes sense for many to move to a more affordable location. However, employers may not want to pay Silicon Valley salaries for employees working from home in Montana.
For example, Facebook said it could shift half of its workforce into remote work within five years, but it would also adjust salaries for cost of living. So, if a Facebook employee moves out of Silicon Valley to work remotely in a more affordable area, the employee's salary could be reduced.
Unsurprisingly, tech professionals are not on board with altering salaries based on remote work situations. Most tech talent believe remote and in-office employees should be paid the same and would not take a pay cut to work from home on a permanent basis, according to the Hired report.
Remote work has begun to change the way companies seek and compensate tech talent, Engler said. Organizations are now looking to identify pockets of talent around the world and have found them in places like Warsaw, Poland; Chennai, India; Melbourne, Australia; St. Petersburg, Russia; and Mexico City. Remote work offers more opportunity for cloud professionals around the world, but that also means more competition for employment opportunities.
"You're now going to be competing as a job seeker with someone from Warsaw with some companies," Engler said.
The tech industry might see wage arbitration on a macro scale over the next year as these conflicts come to a head, Engler said. Employers and job seekers will have to hash out exactly how remote and hybrid work strategies change compensation models over the next year.
Dig Deeper on Cloud app development and management