Definition
call center agent (call center representative)
What are call center agents and representatives?
A call center agent is a person who handles incoming or outgoing customer calls for an organization. A call center agent might handle account inquiries, customer complaints or support issues.
An agent who manages both incoming and outgoing customer calls is also referred to as a blended agent. Other names for a call center agent include customer service representative (CSR), contact center agent, telephone sales or service representative (TSR), attendant, associate, operator, account executive or team member.
What are the requirements and responsibilities of a call center agent?
A call center agent's job involves various responsibilities that ultimately lead to greater customer satisfaction.
Some call center agent duties include the following:
manage inbound and/or outbound calls;
follow various communication scripts when speaking to a caller;
handle customer engagement;
identify customer needs, answer questions and solve problems;
up-sell products and services when possible;
organize all conversation records;
improve performance and hit goals.
What are important skills for a call center agent?
To provide the best CX at a call center or contact center, an agent needs specialized skills.
All call center agents should possess the following qualities:
Knowledgeable. Agents need knowledge of the organization's inner workings and products it represents.
Detail-oriented. Agents must listen carefully to customers and pick up on small details to provide accurate responses.
Organized. Agents should take quick notes, access CRM systems and track recorded conversations while speaking to customers.
Flexible. Agents must adapt to unique customer queries and situations.
Friendly/empathetic. Customer service representatives should understand situations from a customer's perspective and have a positive attitude toward people, even when dealing with difficult problems.
Calm under pressure. Agents may have to handle hundreds of customer calls daily. They should be able to maintain composure in stressful situations.
Effective communicator. Call center agents need great verbal and written communication skills to interact with customers effectively.
Efficient. Agents should respond to customers promptly and proactively anticipate customer needs.
Creative. Call center agents must apply professional yet sometimes unorthodox solutions to customer problems to quickly and effectively resolve issues and improve customer satisfaction.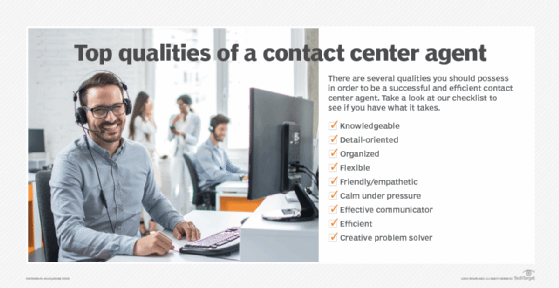 What is the average salary of a call center agent?
The average salary for call center agents in the U.S. is $29,683, according to October 2021 data from Glassdoor. However, like most jobs, agent salaries vary by location.
Examples of average call center agent salaries in different U.S. cities are the following:
Austin, Texas: $30,949
New York: $35,836
Boston: $36,696
San Francisco: $41,924
These amounts don't include additional income, such as bonuses or commission, that employers may offer. These salaries may also differ depending on an agent's skill level or prior experience.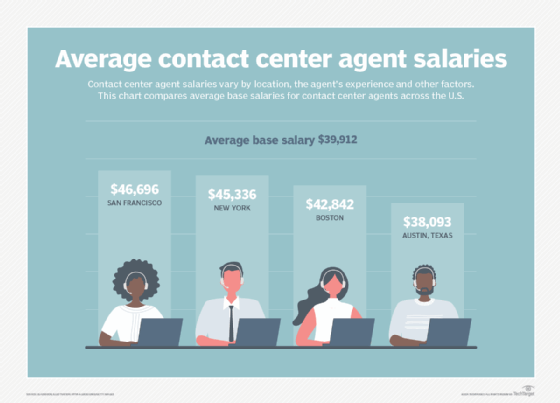 Call center agent training and certifications
Call center agent training can reduce turnover, increase profits and improve both customer and employee experiences. Agents typically receive training when they begin their jobs and professional development and refresher courses throughout their employment.
The COVID-19 pandemic forced many call center managers to remotely train new employees, which managers didn't experience before. However, whether remote or in-person, agent training typically involves dedicated time to learn the technology and specific business processes, followed by a period of monitoring where the manager evaluates the agent's performance on calls and offers advice to improve.
Call center agents may also find customer service certifications useful to help improve CX and hone or develop skills, although call centers rarely require agents to have call center-specific certifications.
Available call center and customer service certifications include the following:
Certified Customer Service Manager from the Customer Service Institute of America;
Certified Customer Service Professional from the National Customer Service Association;
Customer Service Management Certificate from the American Public Power Association; and
Call Center Associate Certified from the Management and Strategy Institute.
This was last updated in
November 2021
Continue Reading About call center agent (call center representative)
Dig Deeper on Customer service and contact center