auremar - Fotolia
8 ways to improve call center agent performance
Side-by-side evaluations, reinforcement, training resources and coaching can help call center agents improve their performance and catch up to the pack.
Keeping call center agents on task and productive -- especially as more and more people work from home -- is difficult,...
but not impossible.
Here are eight ways that leadership help improve call center agent performance, assisting agents in meeting their performance goals while enhancing overall customer experience and customer satisfaction.
1. Diagnose underlying performance issues
Leadership should analyze the data gathered from an agent's evaluation in quality assurance forms to determine where performance opportunities exist and to identify any trends. These forms will show whether an agent consistently receives low or failing scores in particular metrics or from call monitoring data for a particular call type.
Leadership should also determine if there are multiple agent performance issues, such as deficiencies in communication skills, problems adhering to processes, accessing customer data and processing transactions.
Another way to gain insights is by conducting side-by-side sessions with agents working in the office to see firsthand where and when challenges arise or if work habits contribute to their performance issues. Based on the results of the trend analysis and/or observations from the side-by-side sessions, call center leadership can identify the underlying causes of performance problems.
2. Review key performance indicators
If management finds that multiple agents are failing in the same call center metrics, it might be time to revisit them.
Average handling time (AHT) is one KPI that businesses may need to address. If AHT is too short, agents may be rushing callers off the phone to meet their goals. Customers will also often end up with unresolved issues and be forced to call again.
If AHT is too long, there will be longer wait times for customers. However, this is not necessarily a bad thing, as it may be due to new or upgraded business products that customers need assistance with, technical difficulties that require more time on the phone or a focus on first-call resolution.
To address any issues with an average handling time KPI, a best practice is for call centers to set acceptable ranges instead of hard targets.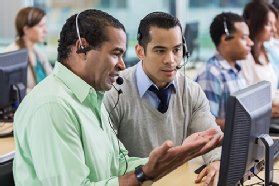 3. Create an action plan
Once the leadership team knows where agent improvement is needed, it can create an action plan to address the underlying issues. Management should identify all available resources to support the agent's skill development. This may include:
providing additional agent training or up-training sessions;
providing reference materials or job aids;
offering additional system or communication skills training; and
regularly assigning time for the agent to sit with an overperforming colleague to learn the proper way to handle interactions with customers.
4. Communicate with agents
Depending on the structure of an organization, either the quality assurance manager or the call center manager should discuss the performance issues with the agent. Management should begin by making sure that the agent understands the quality evaluation metrics and how calls are scored.
Conduct routine evaluations of the agent's calls, and provide timely feedback.
The assessment must be constructive and include recognition of both the agent's strengths and performance opportunities. Management should then review the action plan with the call center agent and emphasize that its intent is to provide help and support.
It's also important for call center leadership to communicate any policy changes immediately so agents know what is expected of them, preventing them from falling behind from the get-go.
5. Provide consistent feedback and reinforcement
The most effective call center agent performance improvement programs provide continuous and encouraging feedback to motivate call center agents. When an agent struggles to perform, it's a good idea to offer the agent some extra attention.
Management should conduct routine evaluations of the agent's calls and provide timely feedback, and when needed, provide additional targeted coaching sessions that addresses the agent's specific needs, reinforcing what they are doing right.
6. Monitor and reward improvements
It's also important to track and reward call center agent progress and improvement. Call center managers should motivate the agent by recognizing and praising incremental improvement.
Management should also continue to provide coaching and support for performance opportunities that will enhance the organization's customer service, improve overall call center performance and, by extension, build a better customer experience.
7.
Implement a knowledge base
Implementing a customer service knowledge base benefits customers and agents. An external -- or public-facing -- knowledge base enables customers to find answers to basic questions without the need for human assistance, increasing customer satisfaction. In return, this eliminates unnecessary customer calls and frees agents up for more important phone calls.
An internal knowledge base -- one that call center agents can access -- enables employees to quickly find answers to questions they may not know how to answer and more quickly, and accurately, resolve a customer problem. Internal knowledge bases can also store training materials on call center equipment and processes for agents who need a quick brush-up.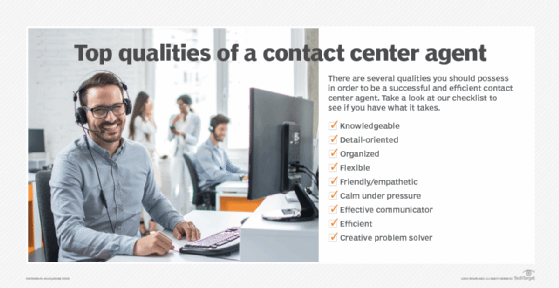 8. Empower agents
Management needs to be sure that call center agents feel valued, and that they are a part of the team. Some tips for empowering agents include:
Involve agents in decision-making and ask for their feedback. These team members are on the front lines and often know where to make changes.
Provide agents with the proper tools. Be sure they have access and are able to log in to all the necessary software to do their jobs, and provide them with the proper computer equipment and other hardware to be productive.
Allow agents to make decisions. For example, this may mean providing them with a certain amount of money to be able to credit a customer's account if there is a problem, eliminating the need to get supervisors involved and expediting the process. Or perhaps employees may be allowed to deviate from agent scripts to better help a caller.
Dig Deeper on Customer service and contact center
The customer relationship manager -- a role that differs from a CRM manager -- has a challenging and ever-evolving role to play when it comes to ... Continue Reading
There are some subtle differences between information management and knowledge management -- one focuses on processes while the other focuses on ... Continue Reading
Database marketing is a component of customer relationship management. CRM includes all processes, strategies and tools to support sales, marketing ... Continue Reading