Fotolia
7 cloud computing job roles to advance your career
The cloud rapidly evolves, so cloud jobs must adapt accordingly. Job openings are going fast, so review these positions and their qualifications to plan your next move.
Cloud computing is hot -- and growing -- prompting many professionals to look into it for a career change. A technological background, in general, opens doors for people looking to break into the industry. A technological background with an emphasis on cloud computing can kick those doors down.
Companies migrating to the cloud or spinning up new workloads there are looking to hire skilled and knowledgeable employees. Enterprises that have built infrastructures and databases for years now have to face the ominous transfer to the cloud. Because of this, cloud computing job roles are more popular and diverse than ever.
Review these common cloud positions, and see what the roles entail and the specific experience that will help you to land them.
Cloud administrator: To become a cloud administrator, a candidate generally must have three to five years of practical experience in the cloud. A cloud admin should have a strong understanding of system management, troubleshooting and virtualization. They should know Linux, along with some configuration management tools, monitoring tools and scripting languages. Beyond their cloud knowledge, administrators should have strong leadership and people skills.
Cloud architect: A cloud architect focuses on the big picture of infrastructure design and configuration rather than individual server configurations. To succeed, the candidate should bring eight to 10 years of experience and be able to build a roadmap for the organization's existing and future cloud assets.
New technologies can affect the company's cloud infrastructure. A cloud architect must have the foresight to see how those changes and emerging technologies will affect their systems. It helps for a cloud architect to have a few certifications under their belt, whether completed through independent training or appropriate companies.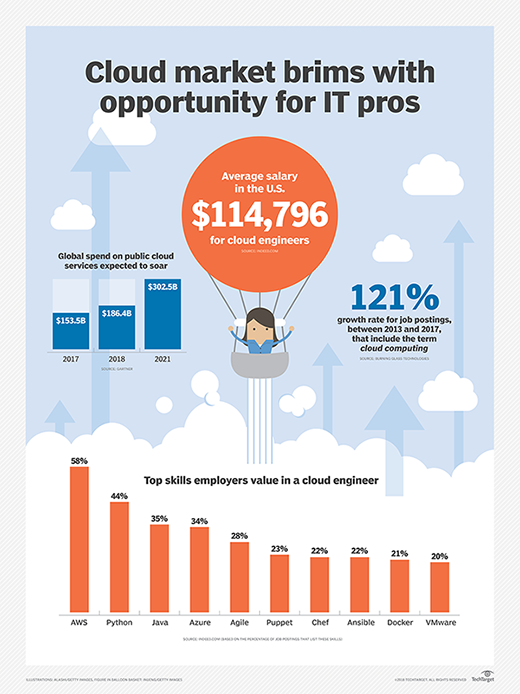 Cloud engineer: A cloud engineer is in charge of any and all technical responsibilities associated with cloud computing. Companies that want to hire a cloud engineer look for someone with three to five years of cloud services experience.
The engineer should be versed in areas such as open source technology, scripting languages, multi-cloud environments, system engineering and software development. This cloud computing job role is responsible for the design, planning and management of the cloud infrastructure. Familiarity with APIs, orchestration and automation, DevOps and databases are all pluses for cloud engineers on top of their computer science or engineering degrees.
Cloud security manager: Security is a concern for both private and public clouds. Providers and users alike take comprehensive security measures to ensure that data is stored safely. Because of this, cloud security roles are vital for IT teams within companies. Cloud security managers should have completed formal training and acquired vendor-neutral certifications to stand out in the job field.
To be competitive, a cloud security manager candidate should have a strong understanding of compliance issues and IT governance related to the cloud. A security manager designs, implements and maintains security strategies. They should know the major modern software development approaches, because the role is often incorporated into software development. Security managers can excel in the position if they constantly monitor the IT landscape to asses and prevent new threats to the corporate cloud estate.
Cloud application developer: An effective cloud application developer has to be a proficient in most -- if not all -- major scripting languages, with typically at least five years of experience. However, specific job roles dictate the expected software tools knowledge. For example, if the job is geared toward web development, demonstrate skills with HTML5 and jQuery. Since software development requires integration tasks, application developers need to know the back-end system integrations with the major cloud platforms.
Cloud app developer applicants should research the common cloud providers and platforms. Someone in this role will build, test and deploy applications in a company's cloud environment -- often using DevOps practices, as well as CI/CD tools. If candidates are experienced, versatile and work well with others, they are a great fit for a cloud application developer position.
Cloud network engineer: A cloud network engineer wears many hats. The role is primarily responsible for the implementation, configuration, maintenance and support of the entire cloud network -- but the obligations don't stop there. Cloud network engineers can also be in charge of the administration, monitoring, documentation, security and integration of the company's network, as well as other related cloud services.
A good network engineer has acquired relevant certifications in networking, security and other industry standards for the job role. Candidates should have practical experience in asset deployment and management. This role requires a strong understanding of data center administration -- preferably more than five years of experience.
Cloud automation engineer: One of the most critical and influential roles that affects a business's success with its cloud strategy is a cloud automation engineer. An automation engineer takes experience from software development or IT operations positions and applies a focus on cloud automation, orchestration and integration. More often than not, this role requires a widespread understanding of hardware and software, as well as data center and cloud infrastructure. A cloud automation engineer implements, optimizes and supports an infrastructure.
To get hired in this growing cloud computing job role, a candidate should have five to 10 years of experience in infrastructure operations and application development, in addition to two or more years of practical experience with CI/CD development models. There are no industry certifications required for this position across the board; expectations vary from employer to employer. A good cloud automation engineer has hands-on experience with cloud platforms and technologies. This is usually a senior position, so it is crucial for the engineer's knowledge and experience to be reflected in her work.