Definition
Chief Technology Officer (CTO)
What is a CTO?
The chief technology officer (CTO) is the individual within an organization who oversees the current technology and creates relevant policy. A CTO should have the business knowledge necessary to align technology-related decisions with the organization's goals.
In addition to fixing IT-related issues, the CTO is responsible for developing, implementing, managing and evaluating the company's technology resources. The goal of a CTO is to examine short- and long-term needs while using capital to make investments that aid the organization in reaching its goals.
The CTO position often overlaps with other jobs, in particular, that of the chief information officer (CIO) or chief science officer. Depending on the company's size and focus, it may have some or all of these positions. In some environments, the CTO might oversee infrastructure or act as a strategic planner or customer relations liaison. The position attributes of a CTO vary by organization. As a rule, the CTO reports to the chief executive officer.
CTOs play an important role in the C-suite, as they are often in positions that enable them to embrace newer and innovative technologies and help steer organizations toward better efficiency and performance by adopting new tools.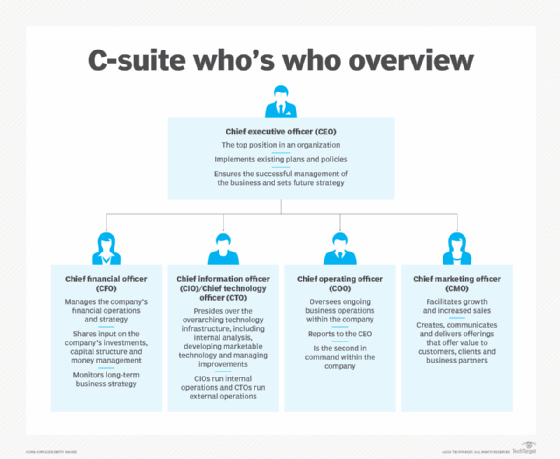 CTO roles and responsibilities
The following are responsibilities typically found in a CTO job description:
Tech strategy:
Monitor social and technology trends that could influence the company's business goals.
Identify opportunities and risks for the business.
Participate in management decisions about corporate governance.
Implement new data protection and QA processes.
Research and development:
Research, outline and recommend the most effective content management systems.
Maintain current information about technology standards and compliance regulations.
Manage research and development of technology, IT assets and associated revenue.
Develop a strategy to oversee the use of new technology in the organization.
Approve new designs for IT infrastructure and communication systems.
Other responsibilities:
Communicate the company's technology strategy to partners, management, investors and employees.
Assist with the recruitment, retention, acquisition and sales efforts of the company. Build relationships with vendors, communities and customers.
Monitor and assess IT budgets.
CTO roles may include a variety of responsibilities that generally fall into one of the following four roles:
Infrastructure manager. They oversee data, security, network and maintenance. Infrastructure manager CTO roles also implement their organization's technical strategy and technological road maps.
Strategic planner. They implement the organization's technical strategy and help create new business strategies.
Consumer liaison. These CTOs focus on delivering projects aligning with customer needs. Their responsibilities can include customer relations, understanding target markets and aiding in the delivery of IT projects to market.
Thinker. They develop corporate strategies and business models while analyzing different target markets.
How to become a CTO
Individuals who are on the career path to becoming a CTO should have a bachelor's degree in an information technology or related computer science discipline, or an advanced degree, such as a Master of Business Administration. Additional education in the following areas may also help to support career advancement:
computer programming
software development
business administration
Although a four-year or advanced degree will lay the foundation for the CTO role, future CTOs will have to work their way up the IT ranks. They will need to gain practical on-the-job and industry experience. Individuals may need five to 10 years of experience in IT, according to Indeed. With this experience, they may enter a leadership role, executive role or some other executive position where they can gain leadership experience.
While there are no specific certifications geared to CTOs, individuals seeking a CTO role should also pursue certifications in areas such as project management, development, programming or database administration.
CTO skills and requirements
In addition to a formal education in an information science-related field, the skills needed to become a CTO include the following:
Business skills. CTOs must understand the fundamentals of the business they belong to. They must develop and oversee strategies to improve an organization.
Decision-making skills. CTOs must make numerous business decisions relating to the type of CTO they become.
Leadership skills. Leadership and team management skills are needed for CTOs who oversee managers and teams.
Soft skills. CTOs need strong communication skills to convey the technology needs of an organization and implement new technologies. Other soft skills needed include problem-solving, time management and multitasking.
CIO vs. CTO
In midsize to large companies with higher executive budgets, the C-level may include a CIO and a CTO. Both positions focus on the engineering, implementation, development and management of technology. However, the key difference is that the CIO role typically involves internal operations, while the CTO role focuses on external processes.
CIOs are corporate executives in charge of IT strategy and implementation. CIOs are responsible for the following:
establishing, maintaining and overseeing the technology architecture and choices;
establishing and maintaining technology infrastructure;
optimizing technology resources such as software, hardware, staff and spending; and
researching and evaluating existing and emerging technologies, products and services.
CIOs primarily work with a company's IT staff as a managing leader. They are typically in charge of discovering and analyzing how technology processes affect the business, as well as identifying potential areas of improvement. The CIO also presides over the internal IT infrastructure.
CTOs, on the other hand, preside over the overarching technology infrastructure. This includes developing marketable technology, suggesting new technologies to implement, interacting with external buyers and budgeting.
CTOs may also handle customer experience, support, engagement and front-end content delivery. CTOs are more concerned with developing new technology to improve revenue and sales opportunities and extending the company brand than day-to-day operations.
Another unique job requirement of CTOs is marketing skills. The CTO represents the external face of a company, which requires them to have an open and engaged relationship with vendors, customers, investors and partners.
In organizations that have both a CIO and CTO, the CTO is typically the role with more technical knowledge and expertise and that reports to the CIO, while the CIO is responsible for designing and recommending the appropriate technology.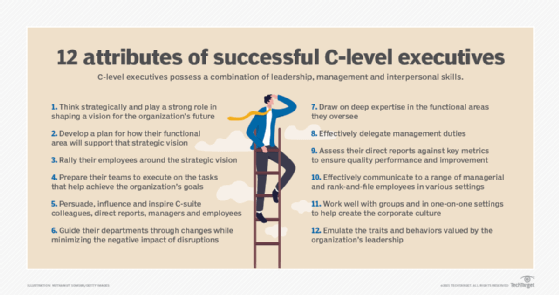 What is the average salary for a CTO?
CTO job market
The job outlook for CTOs is good, as more companies go through digital transformations. With this heightened demand, employers know they need to compensate CTOs well for their advanced degrees and skills, and the challenges they may face regarding investments in business technology post-COVID.
According to the report titled "The Impact of Tech in 2022 and Beyond: An IEEE Global Study" -- which surveyed 350 CIOs, CTOs and IT directors in October 2021 -- respondents noted the following challenges:
determining which technologies are needed post-pandemic to support their workforces;
maintaining cybersecurity for a combination of hybrid, remote and in-office workers; and
return-to-office health and safety protocols and related software and data.
Learn more about the distinctions between CIOs and CTOs, such as how much each role actually sees itself as being different.
This was last updated in
March 2022
Continue Reading About Chief Technology Officer (CTO)