6 free IT strategic planning templates for CIOs
As technology has become a business differentiator, IT strategy is more crucial than ever. These IT strategic planning templates help CIOs make IT a business driver.
An effective IT strategy plan clearly defines an IT organization's mission and requirements, and it translates that mission into long- and short-range actionable goals. An effective IT strategic plan also reflects and drives the enterprise's business strategy and goals. Sounds straightforward enough, but as technology has become a business differentiator, IT strategic planning is more crucial and difficult than ever before. The IT function is no longer there to simply support business goals; IT must help drive the business.
These free IT strategic planning templates and examples of IT strategic plans will help CIOs develop strategies that become powerful tools for the business.
What goes into IT strategic planning: Free templates and in-depth guides
SOURCE: Gartner Inc.
OFFERING: Strategic Planning and Budgeting Essentials: 2019 Step-by-Step Guide for Information Technology
This is a comprehensive, in-depth strategic planning guide from IT consultancy Gartner -- replete with "tools, templates and lessons learned from clients." The target audience is "progressive CIOs" who have moved past the "wait and respond" approach to IT strategic planning. These IT leaders see their jobs as helping the business to understand how IT can optimize the "business capabilities that drive success." Adopting a "strategic mindset," Gartner said, will keep CIOs from being distracted by short-term targets and becoming preoccupied with operational issues.
The nine-step guide is laid out in three parts, and each part has three steps. (Parts one and two are free and can be downloaded just by supplying an email. Obtaining part three requires contacting Gartner.)
Part one asks you to focus on budgeting and on initiatives that will drive your company's strategy for "innovation, growth and competitive advantage." The first step delves into costs and budgeting; the next step focuses on key stakeholders; step three requires you to assess the impact of the business function on the IT function.
Part two is about setting goals, allocating resources and identifying metrics. The first step is figuring out whether you have the right capabilities; the next step is defining and measuring your function's objectives; and the third step is figuring out how to fund innovation and growth.
Part three is about executing your IT strategy plan. The first step offers a template for putting "strategy on one page." (See CEB Global, below.) The next step is about "driving the plan across the enterprise." The last of the nine steps in Gartner's planning process is about preparing how to respond to change.
SOURCE: CEB Global (now Gartner)
OFFERING: Strategy on a Page
CEB is now part of Gartner. Created by the former CEB CIO Leadership Council, this customizable IT "Strategy on a Page" may, indeed, be the model for the offering described above in the Gartner plan. It comes with an excerpt that offers instructions on how to fill out the strategic plan template to define and communicate objectives and metrics. According to CEB, having your IT strategy stated clearly and succinctly on one page makes it easier for business partners to understand how the IT initiatives tie back to business goals.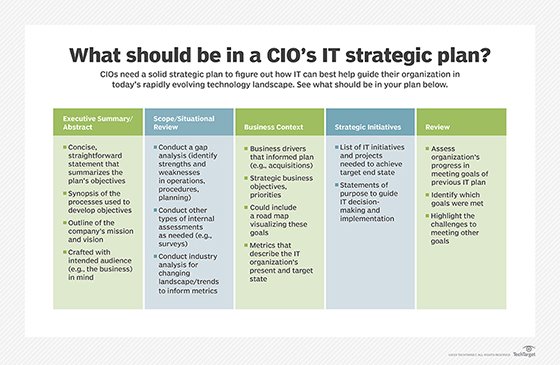 SOURCE: Info-Tech Research Group
OFFERING: SME IT Strategic Plan Template
This free IT strategic plan template spells out simple yet effective procedures for aligning IT strategy with your company's strategic objectives and initiatives. It is designed for small and midsized enterprises. (Registration is required.)
The template includes the following sections:
Purpose of plan
Corporate strategy
Business initiatives to support corporate strategy
IT strategy
IT strategic plan to support business initiatives
IT strategic plan -- Gantt Chart
SOURCE: CIO Index
OFFERING: IT Strategy Template
This IT strategic planning template lists 21 questions aimed at helping IT executives develop a plan that reflects business pain points and objectives. (Registration required.)
The 21 questions are grouped in five categories:
1. Baseline
This section is designed to establish a baseline for IT and the business leaders by asking questions such as: "What are your top five business pain points?" "What are your top five business objectives?" "How do you plan to achieve these objectives?" "What will we gain by leveraging IT capability across the business?" Charts and tables help build an accurate picture of the current state of IT and the business.
2. Business Analysis
This category deals with your company's customers, products and competition. Questions include: "Who is your customer?" "What is your current business model?" "What is each products' profitability, market and channel?" This section includes a SWOT chart to analyze the company's strengths, weaknesses, opportunities and threats.
3. IT Strategy Analysis
This section of the IT strategy template digs into factors that thwart business success. Questions include: "What is in the way of achieving business imperatives?" (The template offers examples of several possible complications that hinder success.) "Can IT help achieve your business imperatives?" "What will we gain by leveraging IT capability (selling, manufacturing, buying or services) across the business?"
4. Environment Trend Analysis
The two questions in this category ask you to think about the five top business trends and the five top technology trends, then assess which of the five in each area will affect your business and how.
5. Current IT Capability Analysis
This section asks you to analyze how much you spend on IT, where you spend it and why. Questions include: "What is your technology ROI?" "Does your business plan include a technology plan?"
SOURCE: Business 2 Community
OFFERING: Strategic Plan Template
Clive Keyte, managing director of strategy at mapping consultancy Intrafocus, shared his expertise on developing strategic plans. "The mistake that is often made in strategic planning is to jump straight to initiatives or projects without considering business impact carefully," Keyte said. His editable strategic plan template, which uses the balanced scorecard methodology, has an eight-part structure, starting with a vision statement and ending with an outline of the costs and benefits of the strategic plan.
SOURCE: Apptio
OFFERING: Essential KPIs for the IT Strategic Planning Process
Apptio's guide to developing an effective IT strategic plan lays out the 10 key performance indicators (KPIs) deemed essential for delivering business value. "Without KPIs, an IT strategic plan is a governance exercise that has a point-in-time value. The business has to continually align to market changes and the IT strategic plan needs to be just as agile," the guide states. For example, a three- to five-year timeline for a strategic IT plan is unworkable, according to Apptio, because "the rate of business change is now too fast to be encapsulated in a static 3-year plan."(Registration required.)
Apptio's list of 10 essential KPIs for your IT strategic plan:
IT spend vs. plan (Opex & Capex variance)
Application and service total cost
Infrastructure unit costs vs. target benchmarks
Percent of projects on time, on budget, on spec
Percent of business-facing services meeting service-level agreements
Percent of IT investment on run, grow, transform the business
Percent of project spend on customer-facing initiatives
IT spend by business unit
Customer satisfaction scores for business-facing services
Percent of IT investment by business initiative
-- Apptio
Three IT strategic plan examples
IT strategic plans for higher education institutions and government agencies are readily found on the web. Here are three examples:
SOURCE: Harvard University
EXAMPLE: University Information Technology Strategic Plan 2018
This IT strategic planning document takes pains to align IT initiatives with the broader business and academic priorities of the institution.
Harvard University's IT strategic plan updates a 2012 plan that was near completion and sets forth eight new initiatives established by the university's CIO Council. To ensure that the IT initiatives reflected universitywide priorities, the report states that a working group interviewed sources across Harvard, including deans and vice provosts. "The collective input became the foundation on which we built the plan," the report asserts.
The 2018 plan also includes an IT mission statement and lists the IT organization's ongoing priorities: information security; enterprise architecture; shared service model; research computing and research data compliance; IT workforce development; IT procurement and vendor management; change management; and sustainability and green IT. The new IT strategic plan document also includes an IT vision statement.
SOURCE: University of South Florida System
EXAMPLE: Information Technology Strategic Plan 2018 - 2022
The University of South Florida (USF) Information Technology Plan begins by listing the eight services CIO Sidney Fernandes and the IT team provide to the institution's three campuses. The five-year plan, requested by the USF System Board of Trustees, was developed with input from the university's Information Technology Management Council. The Council reviewed the mission and goals of all the institutions in the USF System and gathered input from students, faculty and staff. Gartner and Educause provided research on technology trends in higher ed. The plan includes a SWOT analysis.
SOURCE: Department of Homeland Security
EXAMPLE: Information Technology Strategic Plan FY 2015 - 2018
As the introduction to this 22-page plan notes, the IT department of the Department of Homeland Security (DHS) has a powerful role to play in supporting the agency's mission to keep the country safe and secure. "The DHS IT Strategic Plan is our coordinated effort to integrate people, processes, technology, information and governance in a way that fully supports the needs of our workforce, our partners, our customers and the American public, while addressing our ever-evolving mission challenges," explained CIO Luke McCormack, who retired in 2017. John Zangardi is the current CIO. Included in the plan is a list of the agency's seven guiding principles.