8 free IT strategic planning templates and examples for CIOs
As technology becomes a business differentiator, a well-thought-out IT strategy plan is more crucial than ever. These IT strategy templates help CIOs make IT a business driver.
An effective IT strategy plan clearly defines an IT organization's mission and requirements, and it translates that mission into long- and short-range actionable goals. An effective IT strategic plan also reflects and drives the enterprise's business strategy and goals. Sounds straightforward enough, right? But as technology has become a business differentiator, IT strategic planning is both more crucial and more challenging than ever before. The IT function no longer exists to simply support business goals; IT must help drive the business.
These free IT strategic planning templates and examples of IT strategic plans will help CIOs develop strategies that become powerful tools for the business.
What goes into IT strategic planning: Free templates and in-depth guides
SOURCE #1: Gartner Inc.
OFFERING: Build an IT Strategic Plan That You Will Actually Use
Gartner is of the mind that IT strategic plans are WORN, i.e., written once, read never. To address the sit-on-the-shelf fate of such documents, Gartner analyst Heather Colella offers "Your one-page IT strategy template and guide." A central tenet of this plan -- besides being on one page -- is that CIOs will help their companies perform better by using storytelling to show how IT strategies drive business success. "Storytelling helps CIOs and IT leaders to engage business leaders in a strategy business conversation by visualizing the business model in a way that can be easily shared for collaboration across the enterprise," Colella explained.
Gartner recommends following four steps in preparation for your one-page plan:
Step 1. Know how you succeed.
Step 2. Understand your differentiators.
Step 3. Develop a rich story from a specific viewpoint.
Step 4. Draw a picture to commit your strategy to paper.
The details on translating your strategy story into a strategic plan are spelled out in this downloadable PDF. The one-page document includes the three foundational elements of any strategic plan: business objectives, business capabilities and key performance indicators.
SOURCE #2: Info-Tech Research Group
OFFERING: SME IT Strategic Plan Template
This free IT strategic plan template spells out simple yet effective procedures for aligning IT strategy with your company's strategic objectives and initiatives. It is designed for small and midsized enterprises. (Registration is required and can take a few minutes to gain access.)
The template includes the following sections:
purpose of plan;
corporate strategy;
business initiatives to support corporate strategy;
IT strategy;
IT strategic plan to support business initiatives; and
IT strategic plan -- Gantt Chart.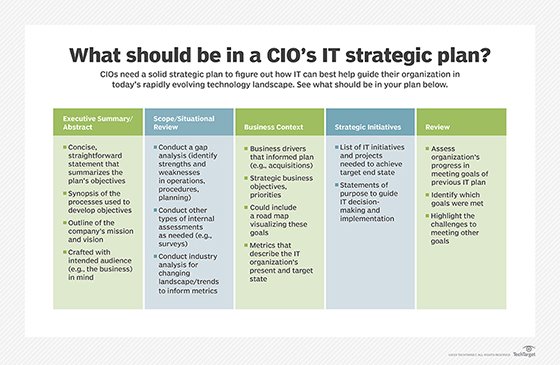 SOURCE #3: CIO Index
OFFERING: IT Strategy Template
This IT strategic planning template lists 21 questions aimed at helping IT executives develop a plan that reflects business pain points and objectives. (Registration required for the downloadable template.)
The 21 questions are grouped in five categories.
Baseline. This section is designed to establish a baseline for IT and the business leaders by asking questions such as: "What are your top five business pain points?" "What are your top five business objectives?" "How do you plan to achieve these objectives?" "What will we gain by leveraging IT capability across the business?" Charts and tables help build an accurate picture of the current state of IT and the business.
Business Analysis. This category deals with your company's customers, products and competition. Questions include: "Who is your customer?" "What is [your] current business model?" "What is each products' profitability, market and channel?" This section includes a SWOT chart to analyze the company's strengths, weaknesses, opportunities and threats.
IT Strategy Analysis. This section of the IT strategy template digs into factors that thwart business success. Questions include: "What is in the way of achieving business imperatives?" (The template offers examples of several possible complications that hinder success.) "Can IT help achieve your business imperatives?" "What will we gain by leveraging IT capability (selling, manufacturing, buying or servicing) across the business?"
Environment Trend Analysis. The two questions in this category ask you to think about the five top business trends and the five top technology trends, then assess which of the five in each area will affect your business and how.
Current IT Capability Analysis. This section asks you to analyze how much you spend on IT, where you spend it and why. Questions include: "What is your technology ROI?" "Does your business plan include a technology plan?"
SOURCE #4: Business 2 Community
OFFERING: Strategic Plan Template
Clive Keyte, managing director of strategy at mapping consultancy Intrafocus, shared his expertise on developing strategic plans. "The mistake that is often made in strategic planning is to jump straight to initiatives or projects without considering business impact carefully," Keyte said. He offers the following five things to do to embed strategy into your culture:
Include subject matter experts in strategy formulation.
Solicit strategy ideas from staff through social media.
Communicate your strategy through a simple diagram.
Include your strategic measures in monthly reports.
Publish your strategic wins frequently.
His editable strategic plan template, replete with planning charts and examples, includes sections for vision, mission, core values, strategic themes, a strategy map, business objectives, strategic initiatives and a financial summary.
SOURCE #5: Apptio
OFFERING: 10 Essential KPIs for the IT Strategic Planning Process
Apptio's guide to developing an effective IT strategic plan lays out the 10 key performance indicators (KPIs) deemed essential for delivering business value. "IT strategic plans need KPIs that show financial fundamentals, delivery, innovation, and agility to support the business strategy. These aren't operational measures of "feeds and speeds" -- they are proof points that IT is delivering business value." (Registration required to access the full guide.)
Apptio's list of "10 essential KPIs for the IT strategic plan"
IT spend vs. plan (Opex and Capex variance)
Application and service total cost
Percent of IT spend on cloud
Product lead time
Business value delivered by portfolio per quarter
Percent of IT investment on run, grow and transform-the-business
Percent of project spend on customer-centric initiatives
IT spend by business unit
Customer satisfaction scores for business-facing services
Percent of IT investment by business initiative
Three IT strategic plan examples
IT strategic plans for higher education institutions and government agencies are readily found on the web. Here are three examples.
SOURCE #6: Harvard University
EXAMPLE: IT strategic plan
This IT strategic planning document takes pains to align IT initiatives with the broader business and academic priorities of the institution.
Harvard University's IT strategic plan updates the university's previous plan and sets forth eight new initiatives established by Harvard's CIO Council. To ensure that the IT initiatives reflected university-wide priorities, the report states that a working group interviewed sources across Harvard, including deans and vice provosts. "The collective input became the foundation on which we built the plan," the report asserts.
The current plan also includes an IT mission statement and lists the IT organization's ongoing priorities: information security; enterprise architecture; shared service model; research computing and research data compliance; IT workforce development; IT procurement and vendor management; change management; and sustainability and green IT. The new IT strategic plan document also includes an IT vision statement. (It is downloadable as a PDF.)
SOURCE #7: University of South Florida System
EXAMPLE: Information Technology Strategic Plan 2019 - 2023
The University of South Florida (USF) Information Technology Plan includes an executive summary, mission statement, vision statement, list of current services, guiding principles and strategic goals. The executive summary notes that the Office of Campus Computing typically has a much faster planning cycle than other disciplines due to rapid technological changes. It also states that the system's information technology requests "continue to grow at unprecedented rates, and place significant stress on existing Campus Computing infrastructure." The plan lays out estimated costs per year to meet Campus Computing's strategic goals. (It is downloadable as a PDF.)
SOURCE #8: Department of Homeland Security
EXAMPLE: DHS Information Technology Strategic Plan 2019-2023
As the introduction notes, the IT department of the Department of Homeland Security plays a powerful role in supporting the agency's mission to keep the country safe and secure. The eight-page plan includes a mission statement, vision statement and seven guiding principles. The plan is built around four goals: culture, connectivity, cybersecurity and customers. Each goal is broken down into a list of objectives and their focus areas.