Top 10 CIO Trends in 2020 to Drive IT Leadership
CIOs are facing many uncertainties and changes in 2020. Cross-functional teams, cyberthreats and IoT are becoming priorities. Here's a look at future trends CIOs can expect in 2020 and beyond.
Continuing advancements in technology, network performance, computing power and application technologies make up a key part of CIO trends in 2020 and beyond, especially in today's age of digital transformation. And in addition to the traditional technical issues, CIOs must increasingly become savvy business professionals, ready and eager to learn more about their organizations, their products and services, their competitive and reputational challenges and their strategic plans and management mandates. In this list of mostly technology trendsI remind them that they are also business professionals and must fully understand how their organizations operate to provide the best overall value from IT.
1. Managing IoT
The internet's reach grows every day, and technologies unheard of a few years ago -- such as remotely managing home and auto functions via smartphones -- are becoming the norm. From a CIO perspective, the availability of sophisticated devices means that greater controls must be in place to prevent the connection of unauthorized equipment to internal IT networks. In addition to the fact that many IoT devices are manufactured overseas, CIOs must be prepared to identify ways IoT can help the business perform its activities in an environment with fewer employees. This is going to be true of just about any traditional CIO planning and development activities going forward.
2. Artificial Intelligence
Often rumored to be the next great step taking technology to the next level, AI is widely used in business and government applications. Its continued use as an enabling technology will provide the "juice" needed to achieve more ambitious corporate goals and will also foster greater innovation across all aspects of an organization. According to Gartner's 2020 CIO Agenda survey of 1,070 CIOs and senior IT leaders, over 40% of the respondents are planning to deploy AI projects in 2020.
3. Digital Twin Technology
Creating digital twins or digital representations of an object -- whether physical or non-physical -- moves reality closer to the IoT world. You can create optimized end products by modeling IoT devices with a digital twin. This approach can also be important when leveraging AI to develop new uses for technology.
4. Cybersecurity Management
Cybersecurity management is one of the top five CIO trends in 2020 for many organizations' IT departments and corporate boards. With many different threat vectors possible as well as the potential loss of employees who manage cybersecurity resources, it's likely that an increase in cybersecurity attacks will occur. Can the organization's cybersecurity infrastructure be monitored remotely? Can patches to cybersecurity software be made? Can firewall and IDS/IPS (intrusion detection/prevention systems) rules be updated? A key concern today is the number of employees who are trained to manage cybersecurity. With regards to their cybersecurity team leads and senior staff, CIOs must identify and train employees to back up senior team members who may be unavailable.
5. Succession Planning
While succession planning is rarely listed as a top CIO trend, it can help address potential staffing issues. Among the areas of concern are cybersecurity management, data storage and backups, data protection and management, operations administration, application development, network management, physical security management, and governance, risk and compliance activities. The simplest approach is to prepare a table with names of the key employees and a list of their critical skills and capabilities. Next, identify other employees who have skill sets that overlap with the leads. This also helps identify opportunities for internal training programs to bring selected employees up to speed on skills needed to support senior employees.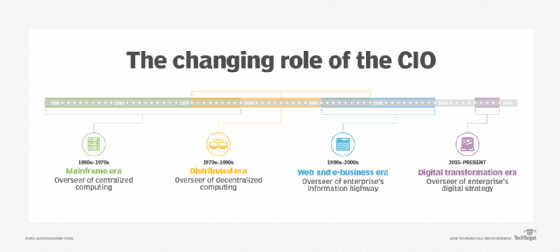 6. Transformation From Operations to Innovations
This is a highly ranked CIO trend in 2020 as IT organizations must transform from a strictly operational focus to where they work closely with LOB leadership. This transformation to an increased focus on innovation and developing real business solutions will better support LOB requirements and corporate business goals. CIOs must increasingly facilitate a business-focused approach to solution development. While the software development lifecycle is not yet dead, traditional IT approaches to solution development must transform into methodologies that result in better business outcomes. CIOs should regularly meet with LOB managers to understand their requirements and identify cost-effective solutions that leverage the many technologies available today in a CIO's toolbox.
7. Data Protection, Privacy and Management
As the amount of data, databases and information resources continues to grow, so will the importance of data protection. This encompasses a broad range of critical IT activities such as data storage, data backups, data privacy, data access and compliance with a variety of data protection rules and regulations. This trend shows that data privacy is becoming an increasingly strategic issue for CIOs, especially in the presence of many stringent privacy requirements.
8. More Powerful Edge Computing
The addition of increased computing power to user edge devices can improve overall efficiency, with more of them being able to perform, for example, IoT activities that might have otherwise been handled by servers. Latency issues associated with server communications can also be alleviated with the use of edge computing.
9. Cloud Technology Expansion
Experience with single-cloud deployments for many IT organizations has increased to the point where use of multi-cloud strategies now makes the most sense. Despite concerns of repatriation from hosted to on-site configurations, CIOs can feel comfortable incorporating multi-cloud strategies in their plans. Cloud security remains a concern, despite efforts by major cloud providers AWS and Microsoft Azure to more aggressively address cybersecurity attacks.
10. Machine Learning
Considered a key component of AI, machine learning (ML) is a fundamental activity in which computers "learn" how to perform specific activities and can make decisions based on specific algorithms and other programming. While mostly observed in IT environments, CIOs must find ways to expand access to ML capabilities to LOB managers. Access to such resources can help LOB managers develop new and better products and services, as well as improve existing offerings. CIOs and their teams can leverage ML technology as part of their efforts to more closely support business operations across the organization.
While technical knowledge will always be strategically important, CIOs should also work to increase their business acumen in order to provide innovative offerings for their organizations. However, I also note how strategically important it will be for CIOs to leverage their technological knowledge with an increased awareness of business knowledge to provide innovative offerings for their organizations.