Top digital transformation trends and how to harness them
Amid ongoing economic uncertainty and the rapid advancements in AI, CIOs and IT leaders need to double down on five essential digital transformation strategies.
CIOs and IT leaders should consider the effects of inflation, the ongoing threat of a recession and the advent of generative AI technologies when evaluating their digital transformation strategies and objectives. These trends suggest IT leaders should prioritize initiatives that drive cost savings, efficiencies, reduce risk and reimagine work processes to reap the benefits of digital transformation.
Optimizing customer and employee experience remains a top objective of digital transformation, especially as generative AI (GenAI) applications trigger a new wave of innovation and disruption. Companies that find ways to use GenAI technologies to drive and improve customer and employee engagement will have a competitive advantage. Even businesses in industries lagging in technology investments, such as construction, manufacturing, healthcare, government and higher education, should accelerate customer- and growth-centric digital transformation initiatives.
In addition, layoffs in the tech sector and the perception that AI advancements will eliminate jobs might create cultural challenges if employees are worried about their careers or doubt the financial stability of their employers. CIOs and IT leaders must find ways for employees to feel safe about their employment status. They should consider increasing time and investments applied to employee learning efforts and experimentation.
CIOs must identify force-multiplying investments targeting multiple outcomes. Here are some to consider.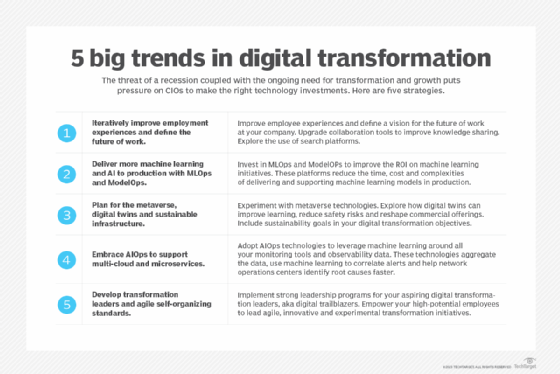 1. Iteratively improve employment experiences and define the future of work
Employees have experienced remote and hybrid work over the last few years, and IT leaders should improve employee experiences iteratively. Tactics include using employee surveys to capture employee satisfaction about the technologies they use daily. IT operations should also deploy digital experience monitoring solutions to identify network performance and other user issues.
But forward-looking IT leaders will also define a vision for the future of work in their organizations. With more opportunities to automate tasks, employees must use technology to improve operations and deliver new products, services and innovations.
One trend to consider is improving knowledge sharing and reducing the risks associated with internal knowledge. IT leaders should upgrade collaboration tools, information portals, content management systems and AI search technologies to share knowledge between company experts and new hires. Search platforms are force multipliers because centralizing access to unstructured data can improve employee experiences and reduce costs, especially for large enterprises that can consolidate multiple search indexing technologies.
2. Deliver more machine learning and AI to production with MLOps and ModelOps
The case for MLOps and ModelOps continues to grow as AI automation and the rapid uptake of groundbreaking GenAI applications like ChatGPT become critical to business success.
MLOps and ModelOps are two practices and technologies that can help organizations address the gaps in bringing models to production and demonstrating financial returns. MLOps -- DevOps for machine learning -- aims to simplify model development and deployment, while ModelOps provides model cataloging, governance and production monitoring. IT and data science teams seeking to expand their ML investments should consider these platforms to reduce the time, cost and complexities of delivering and supporting machine learning models in production.
3. Plan for the metaverse, digital twins and sustainable infrastructure
When I look at the future of technology innovation, I put emerging tech in three categories.
Emerging technologies perfect for early adopter experimentation. I put metaverse experiences in this category because the technology's experience and scalabilities remain a work in progress. Big B2C brands might experiment to learn the technology and see where to create early wins.
Hyped but promising technology. Large companies, especially industrial, manufacturing and construction companies, should seek opportunities where promising technology, such as digital twins, can improve on-the-job learning, reduce operational safety risks and plan changes to their commercial offerings.
Environmental, social and governance objectives. Reducing energy consumption is a goal every business should prioritize, and CIOs should include sustainability goals in their digital transformation objectives. Options include transitioning off power-hungry data center infrastructure, automating the shutdown of cloud resources when not in use, installing visual power management systems and considering renewable energy options to power their facilities.
4. Embrace AIOps to support multi-cloud and microservices
Digital and technology organizations must also address the growing landscape and complexities in managing hybrid clouds, multi-cloud architectures and microservices. Many CIOs investing in digital transformation are adding new applications and growing data volumes faster than they can sunset legacy systems. And these apps, integrations and data lakes are more mission-critical, so businesses expect high service-level objectives and increased automation from IT ops supporting these technologies.
AIOps technologies aim to help IT ops leverage machine learning around all their monitoring tools and observability data. These technologies aggregate the data, use machine learning to correlate alerts and help network operations centers (NOCs) identify root causes faster. Most of these technologies also connect with IT service management, collaboration and other automation tools to trigger communications and scripted responses. They also help NOCs develop a single pane of glass around their applications and databases running in public clouds, data centers and edge computing.
5. Develop transformation leaders and agile self-organizing standards
In my book Digital Trailblazer, I suggest that CIOs, IT leaders and innovators must guide their organizations out of crisis mode into digital transformation initiatives that evolve the business model. In the book, I state, "You will always be transforming, and your organization must establish transformational practices as essential core competencies."
The biggest trend will belong to CIOs who develop strong leadership and development programs for their aspiring digital transformation leaders -- what I call digital trailblazers. CIOs can quell the qualms of their high-potential employees who fear layoffs and a poor economy by empowering them to lead agile, innovative and experimental transformation initiatives. One way CIOs can do this is by encouraging transformation leaders to define self-organizing standards -- a continuous process of evolving an agile way of working that fits the organization's goals and culture.
I am certain the coming years will bring a new wave of surprises, disruptions and technological innovations. IT leaders that seek force multipliers will be stronger at handling the year's ups and downs.
Isaac Sacolick, president of StarCIO, is the author of Digital Trailblazer and the Amazon bestseller Driving Digital.