Cloud cost management takes center stage
IT shops appear ready to focus on cloud costs amid inflation and economic uncertainty. Service providers expect clients to invest more in FinOps and optimization tools this year.
Cloud cost management, an as-a-service adoption problem that has simmered for years, is commanding greater attention in 2023 amid rising cloud prices and economic uncertainty.
Industry reports indicate IT organizations have elevated the task of keeping cloud expenses in check. Technology managers have consistently cited reining in cloud expenses as an issue since at least 2016. While the apparent lack of progress suggests a failure to address the problem, fiscal necessity could inspire action this year. Service providers offering cloud optimization and associated tools could see an influx of business in the coming months.
Consider the following:
A SoftwareOne Holding study published last week found 95% of the IT leaders polled want to boost their visibility and control over cloud costs. Eighty percent said they plan to increase their investment in FinOps, a cloud financial management discipline. SoftwareOne, a software and cloud solutions provider based in Switzerland, surveyed 600 C-suite and IT decision-makers in the U.S. and United Kingdom.
Flexera's annual State of the Cloud study, also released last week, identified spend management as the top cloud challenge, surpassing even security. The poll of 750 IT managers marks the first time in more than 10 years that cost management eclipsed security as the No. 1 concern, according to the company. Flexera, based in Itasca, Ill., develops IT management tools, including cloud cost optimization products.
Third-party service providers already have established a beachhead in cloud optimization advisory services. Currently about 20% of organizations embracing FinOps work with external consulting firms, according to the FinOps Foundation, a branch of the non-profit Linux Foundation trade association. That rate cuts across businesses at all levels of cloud spending.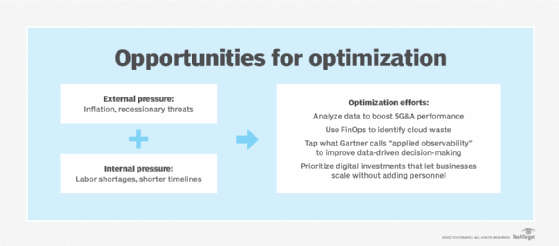 From education to action
Dan Ortman, global FinOps practice director at SoftwareOne, said he noticed a sharp uptick in FinOps activity last year. Clients were mainly interested in learning about the FinOps framework. That education phase, however, is shifting into adoption in 2023.
"Today, it's not 'what is FinOps?' but 'how do we go about implementing it?'" Ortman noted. "Now that there is more awareness, the current economic climate is rapidly accelerating demand."
Several factors have lined up to build urgency around cloud cost management. Inflation, which has swept through IT categories from servers to networking gear, also affects cloud services. Ortman said customers he's spoken with report price hikes among hyperscalers. This anecdotal evidence is born out in SoftwareOne's survey: 41% of the respondents cited "cloud vendors increasing prices due to inflation" as the top reason they're spending more on cloud services this year.
Vendor licensing changes also contribute to price increases. Ortman cited the example of Oracle's revised Java licensing terms, which the company introduced in January. The new Java SE licensing regimen could dramatically increase some customers' annual fees.
The case of the disappearing discount
Cloud vendors are pulling back on discounts offered during the wave of pandemic-era spending, contributing to the price increases rattling the market.
More than a third of the IT leaders SoftwareOne polled cited the removal of cloud discounts as contributing to rising cloud costs. Vendors had provided heavy discounts to customers making multi-million-dollar spending commitments, Ortman noted. The idea was to encourage workload migration.
But now customers may be unwilling to make comparable commitments when it's time to renew discounted contracts. They've already completed large-scale cloud migrations and face tighter budgets. As a result, customers lack the leverage to obtain significant pricing concessions from vendors.
"There's not as much left to negotiate on, unless they're continuing year-over-year to increase [spending] at the same rate," Ortman said.
The various factors mean corporate cloud spending could increase at a faster clip than the overall U.S. inflation rate of 6%, Ortman said. As a result, IT departments are looking for areas where they can reduce spend and offset higher prices.
In addition, some IT organizations overlooked financial considerations in their haste to adopt cloud services during the early months of the COVID-19 pandemic. Many enterprises adopted cloud practically overnight to gear up for remote work, said Parthiv Shah, global managing partner of cloud strategy and transformation at Tata Consultancy Services (TCS), an IT services company based in Mumbai, India.
"What they started to realize over time is that they weren't getting nearly as much cost saving or value as they could be," Shah said. "The economic factors like inflation and downturns only accelerated businesses' need to take a hard look at their cloud investments."
Services opportunity
With a shaky and unpredictable economy as their backdrop, IT services firms pursue opportunities where they can. Cost optimization in general and specific measures such as FinOps have emerged as key 2023 business trends. Service providers are rolling out offerings accordingly.
Today, it's not 'what is FinOps?' but 'how do we go about implementing it?'

Dan OrtmanGlobal FinOps practice director at SoftwareOne
SoftwareOne, for instance, provides several services around FinOps. The company's professional services aim to help clients determine where they are today with FinOps adoption and how to get to where they want to be, Ortman said. SoftwareOne provides organizational change management and assesses whether customers have the appropriate policies and governance in place.
From an automation standpoint, SoftwareOne works with businesses to create a "FinOps tool belt," weighing the numerous software options in the market against a customer's requirements, Ortman said. "There are hundreds to tools that offer cloud cost optimization," he added.
Such tools have become the primary mechanism organizations use to optimize their cloud spend, noted Brian Adler, senior director, cloud market strategy, Flexera. "Organizations are also creating internal FinOps and/or cloud center of excellence teams to centralize the selection, configuration and use of these tools," he added
Some service providers collaborate with cloud optimization tool vendors. TCS last week revealed a partnership with CoreStack, which develops SaaS-based FinOps tools. The companies' CloudFinOps product offers multi-cloud cost control across AWS, Google Cloud, Microsoft Azure and Oracle Cloud Infrastructure.
Shah said companies are using CloudFinOps to reduce cloud consumption waste and automate spend controls to make cloud outlays more efficient. But the drive to get more value out of cloud also calls for investment in industry clouds, which let organizations tap pre-configured offerings to speed up time to value, he noted.