ra2 studio - Fotolia
Pandemic cloud migration push to have lasting impact
Enterprises boosted their investments in cloud computing during the COVID-19 pandemic. Even if vaccines resolve the crisis, COVID-19's influence will linger in the cloud market.
The COVID-19 pandemic accelerated cloud migrations in 2020, and while the arrival of vaccines signals a possible horizon to the crisis, enterprise IT shops will likely emerge from it with permanent changes to their cloud strategies and spending habits.
Nearly 70% of respondents to a Gartner survey of 260 board of director members shortly after the pandemic gripped the planet said they planned to speed up their digital business projects, while 50% intended to focus on cost optimization.
"Note that it's cost optimization and not reduction," said Duncan Prosser, an analyst at Gartner, during the company's Infrastructure, Operations and Cloud Strategies virtual event in December. "We've moved forward in our response to crisis."
Enterprises will go through multiple phases of recovery from the pandemic, Gartner analyst Sid Nag said during the conference. A reopening phase will include subsidies, trade protectionism, M&As and restructurings.
"The second phase is about survival," Nag said. A third phase will focus on new growth opportunities.
Buyers' attitudes toward cloud computing in the pandemic have become more holistic as well, Nag said. "What you're really seeing is a combination of infrastructure and platform services being purchased," he said. "Nobody gets up in the morning thinking, I'm going to buy some IaaS."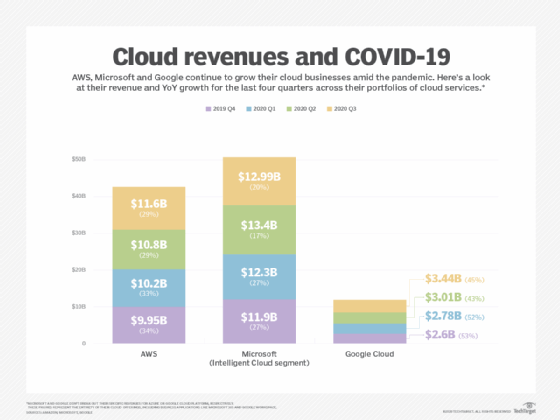 Gartner recommends enterprises target mobility, collaboration, video conferencing, virtual desktops, scale-out applications, disaster recovery and business continuity workloads for a move to the cloud, Nag added. The company predicts that 40% of all enterprise workloads will be run within IaaS and PaaS services, compared to 20% in 2020.
What you're really seeing is a combination of infrastructure and platform services being purchased. Nobody gets up in the morning thinking, I'm going to buy some IaaS.

Sid NagVP distinguished analyst, Gartner
Global spending on public cloud services will rise 18.4% this year to $304.9 billion, compared to $257.5 billion last year, Gartner said. Cloud spending will account for 14.2% of the overall enterprise IT market in 2024, up from 9.1% in 2020.
A report from IDC last month found that public cloud IT infrastructure spending grew by 13.1% year over year in the third quarter of 2020 to $13.3 billion. Enterprises spent $5.0 billion on private cloud infrastructure in Q3, a rise of 0.6%, IDC said.
Meanwhile, 94% of organizations are now using public cloud-based applications or infrastructure services, according to a survey of 664 IT managers released in January by Enterprise Strategy Group. About half of respondents also said their organization is taking a "cloud-first" approach in 2021, up from 38% last year.
Capex takes a back seat
The pandemic underscored the fact that cloud computing offers commercial elasticity, in which companies pay according to usage, said Holger Mueller, an analyst with Constellation Research. "In a pandemic world with the ups and downs of business, that's more than important," he said.
Moreover, CIOs and CTOs purchasing packaged SaaS applications have learned that not all SaaS vendors are equal in this regard. That's because first-generation SaaS vendors which operate their own cloud infrastructure can't offer the same type of elastic costs, since they are saddled with vast sunk capital costs for that infrastructure, Mueller said.
The jump in remote work scenarios is widely expected to continue at least in part once the pandemic ends, as enterprises not only look to migrate workloads from data centers to the cloud, but reconsider how much office space they require. Both offer paths to reduce capital expenditures and move that money into new business ventures, Mueller said.
Meanwhile, cloud vendors are eager to capture more customer spending in the pandemic with variations on the pay-as-you-go model.
IBM offers a new Committed Use billing model, wherein customers spend an agreed-upon amount on IBM Cloud and in return get a discount. The key difference between this model and subscription pricing is that the discounts apply even if customers exceed their committed usage level. It's a similar concept to AWS Savings Plans, which became available in November 2019. IBM's take on the theme is available in the U.S. now, with more locations rolled out over the course of this year.
The 'all-in' question persists
Multi-cloud strategies, where enterprise IT shops spread investments across multiple providers to reduce lock-in and address specialized workloads, will soon become nearly the norm, according to IDC research released last year. In fact, more than 90% of enterprises will use a mix of public, private and on-premises environments by 2022, according to IDC.
This stands somewhat in contrast to companies that have decided to make a strategic relationship with one cloud provider. The fact is that a so-called "all-in" approach isn't possible for many companies to pull off quickly.
"The amount of organizations that have very big investments in their systems … they're not adjusting at the same pace a lot of digital natives are," said Philip Potloff, head of enterprise strategy at AWS.
Potloff manages AWS' Enterprise Next consulting program, which had a full-fledged launch in 2020. "It's not just about cloud migration," Potloff said. "Part of this program is you're working with the customer on business value."
Enterprise Next staffers help customers through an initial assessment phase, a qualification and project scoping phase, followed by a 15-month plan geared to achieve a target result.
Nationwide Mutual Insurance recently signed a five-year pact with the company, said Guru Vasudeva, SVP and CIO for infrastructure and operations for the insurer. The company will move more than 850 applications to AWS, and also uses its phalanx of data analytics, data management and serverless features.
"We looked at multiple options and decided to do a five-year-long partnership," Vasudeva said. "In return they gave us some attractive capabilities in terms of access to talent and discounts."
Like so many companies that have migrated workloads to the public cloud, Nationwide has moved applications away from physical hardware and VMs into containers, which are easier to manage from a security and provisioning standpoint. Development is also more efficient thanks to automation in Nationwide's CI/CD pipeline, he added.
The company is also a participant in Enterprise Next, which has resulted in more than 60 new applications, such as a service for small businesses that uses machine learning to automate insurance underwriting.
"[AWS] alone doesn't control the whole destiny," Vasudeva said. "Our teams have to do their part. [But] it really has worked out well."
Nationwide also uses some Microsoft Azure services, such as Office 365, and operates two Tier 4 data centers. It plans to keep one for the long term and lease out the other, he said. "While we see a lot of value in migrating a lot of workloads to the cloud some are better optimized on-prem."
Enterprise Strategy Group is a division of TechTarget.
Dig Deeper on Cloud infrastructure design and management