Getty Images/iStockphoto
Dell finds storage Apex of Project Alpine
Storage and cloud products developed under Dell Technologies' Project Alpine emerge for Dell Apex, including storage platforms for partner clouds and public cloud offerings.
Dell Technologies said it would fold new block and file cloud storage products developed under the Project Alpine code name into its existing Opex catalog of services.
The additions to Dell Apex come alongside a handful of other storage and infrastructure services showcased by the vendor this week during its Dell Technologies World Conference in Las Vegas.
Dell is attempting to remain a neutral infrastructure and software partner for its enterprise customers, said Brent Ellis, an analyst at Forrester Research. Dell sees its future as connecting hybrid cloud infrastructure rather than remaking its catalog into a private cloud SaaS, unlike HPE's GreenLake or NetApp's BlueXP management console and marketplace.
"They're not trying to take people away from their [preferred] technology," Ellis said. "Dell's a very pragmatic company."
But that pragmatism may not lead to an influx of new customers, according to Sid Nag, an analyst at Gartner.
Many of Dell's cloud and software pitches at its annual user conference, such as Apex Protection Storage, are already available in their respective clouds or as part of their parent company's offering, Nag said.
A cloud version of the same software used for on-premises hardware can maintain familiarity with enterprise IT teams and give Dell a consistently named product lineup, he said. But Apex isn't unique as hybrid cloud offerings already exist among competitors.
"They're trying hard to be everything to everybody," Nag said.
Blocks, files and Opex
Apex now offers Apex Block Storage for Public Cloud for AWS, generally available today, and Microsoft Azure, which will be available later this year. It also rolled out Apex File Storage for Public Cloud in AWS.
Apex block and file storage offerings provide Dell's storage technology in each public cloud with interoperability for on-premises hardware under the command of Dell storage software.
Dell also unveiled additions to the Dell Apex Console, the company's management console and SaaS shop. In the second half of 2023, customers will have access to Dell Apex Navigator for Multicloud Storage and Dell Apex Navigator for Kubernetes. Both are sold as SaaS.
Apex Navigator for Multicloud Storage manages Apex block and file storage products with options to configure, deploy and migrate across public and private clouds. Navigator for Kubernetes adds SaaS automation to Dell Container Storage Modules, enabling managed Kubernetes containers both on premises and in the cloud.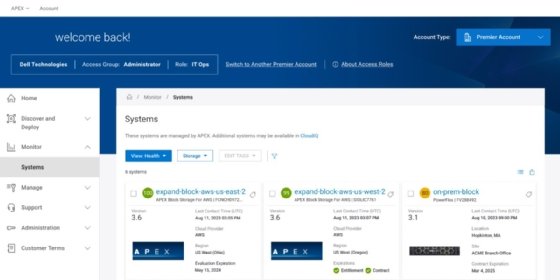 All my enterprise friends
Dell's Apex strategy will likely continue adding infrastructure services akin to these new offerings rather than products and capabilities that replicate services from other clouds or technology vendors, Ellis said.
Dell Apex operations expand into partner public and private clouds with Dell Apex Cloud Platforms, which offer Dell infrastructure offerings for hybrid cloud environments. Dell's cloud platform partners now include Azure, Red Hat OpenShift and VMware. All three Apex Cloud Platforms will be available starting in the second half of 2023.
The cloud platforms were developed by working with the vendor partners and support cloud native workloads using Dell's software for data movement between on premises and Dell Apex Block Storage for Public Cloud. The management capabilities of each platform will replicate vendor controls for consistency between DevOps and IT ops teams.
"They're transitioning from a discreet product company to an infrastructure management company," Ellis said. "They want to be there as a partner where companies are consuming infrastructure. At this point in time, [those companies are] consuming cloud infrastructure."
One partnership is with data management company Databricks and its Lakehouse Platform, which Dell unveiled today.
Dell object storage now integrates with Databricks, enabling an analysis of data in place and storing results back into the platform using Databricks' Delta Sharing capabilities. The company unveiled a similar partnership with Snowflake last year and also has working partnerships with Starburst Data and Teradata.
Tim McCarthy is a journalist from the Merrimack Valley of Massachusetts. He covers cloud and data storage news.
Dig Deeper on Storage system and application software