Emerging technologies for MSPs
An overview of key trends in emerging technologies and how service providers can incorporate them into their business models.
Top Stories
News

31 Oct 2022

A study of data management decision-makers suggests collaboration will play an important role in evolving enterprise machine learning, but a partner's proven experience will be key. Continue Reading

Guest Post

11 Oct 2022

The managed services business model may be an investor favorite at the moment, but Marcus Olson has avoided that term, emphasizing a consultative approach instead. Continue Reading

Download this free guide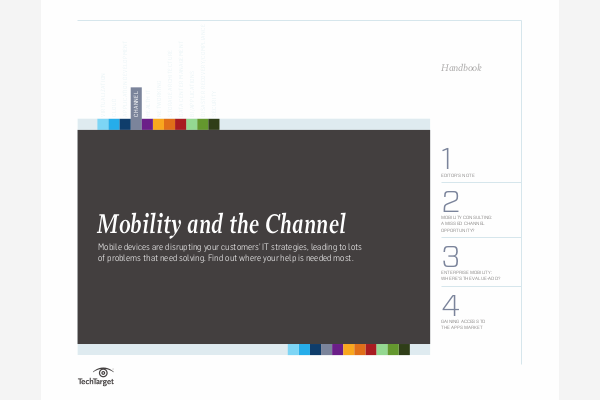 Mobility Consulting: A Missed Channel Opportunity?
Mobile devices are disrupting your customers' IT strategies, leading to lots of problems that need solving. Find out where the best opportunities lie and get advice from experts on how to approach the market, including what not to do.
Feature

28 Sep 2022

News

26 Sep 2022

News

19 Sep 2022

Feature

15 Sep 2022

Feature

12 Sep 2022

News

12 Sep 2022

Feature

12 Aug 2022

Feature

03 Aug 2022

News

26 Jul 2022

News

21 Jul 2022

Feature

20 Jul 2022

Feature

13 Jul 2022

Feature

12 Jul 2022

News

11 Jul 2022

Feature

29 Jun 2022

Feature

09 Jun 2022

News

06 Jun 2022

News

23 May 2022

Feature

18 May 2022

News

16 May 2022

Feature

03 May 2022

Feature

25 Apr 2022

News

25 Apr 2022

Feature

20 Apr 2022

Feature

19 Apr 2022

News

18 Apr 2022

Feature

13 Apr 2022

Feature

05 Apr 2022

Feature

31 Mar 2022

Feature

11 Mar 2022

News

11 Mar 2022

Feature

08 Mar 2022

News

28 Jan 2022

Feature

20 Dec 2021

News

17 Sep 2021

Guest Post

17 Sep 2021

Feature

11 Aug 2021

News

11 Jun 2021

Guest Post

10 Jun 2021

Guest Post

26 May 2021

Feature

21 May 2021

News

30 Apr 2021

News

26 Feb 2021

News

19 Feb 2021

Guest Post

21 Jan 2021

News

22 Dec 2020

News

21 Dec 2020

Feature

16 Dec 2020

News

25 Sep 2020

News

11 Sep 2020

Feature

24 Aug 2020

News

07 Aug 2020

Blog Post

06 Aug 2020

News

31 Jul 2020

Feature

29 Jun 2020

News

26 Jun 2020

News

29 May 2020

Feature

29 May 2020

Feature

28 May 2020

Feature

18 May 2020

Feature

13 May 2020

News

08 May 2020

News

15 Apr 2020

Feature

31 Mar 2020

News

30 Jan 2020

News

24 Jan 2020

Blog Post

14 Jan 2020

Feature

18 Dec 2019

Feature

17 Dec 2019

News

15 Nov 2019

Blog Post

04 Oct 2019

Blog Post

23 Sep 2019

Feature

11 Sep 2019

Blog Post

11 Sep 2019

Feature

19 Aug 2019

Feature

14 Aug 2019

Feature

05 Aug 2019

Guide

30 Jul 2019

Feature

09 Jul 2019

Blog Post

02 Jul 2019

Feature

28 Jun 2019

Feature

28 Jun 2019

Feature

28 Jun 2019

Feature

25 Jun 2019

Feature

24 Jun 2019

Feature

12 Jun 2019

Feature

31 May 2019

Feature

28 May 2019

Feature

16 May 2019

Feature

16 May 2019

Blog Post

30 Apr 2019

Opinion

29 Apr 2019

Feature

24 Apr 2019

Tip

19 Apr 2019

Feature

11 Apr 2019

Tip

03 Apr 2019

Feature

26 Mar 2019

News

22 Mar 2019

Blog Post

13 Mar 2019

Feature

12 Mar 2019