Partners: IT investment balances innovation, optimization
IT service executives expect to see customers pursue the transformative potential of AI and cloud in the second half of 2023 -- while keeping a close watch on costs and results.
The second half of 2023 will see enterprise customers grapple with a dual agenda: pursue innovation before their rivals gain an advantage and take a more disciplined approach to IT spending.
Interviews with service providers suggest the market will aim to balance those somewhat conflicting objectives over the coming months. The innovate-yet-optimize trend provides a contemporary twist on Gartner's bimodal IT concept, which surfaced in the mid-2010s as a way to build systems for predictable and exploratory environments.
The advent of generative AI, and the growing importance of AI, in general, has some organizations looking once again for innovation opportunities. Cloud -- an underlying technology for AI -- edge computing and cybersecurity will also see investment. But ongoing economic uncertainty means the current drive to get more out of existing IT platforms -- cloud computing, in particular -- will not disappear anytime soon.
'A definite tilt toward innovation'
Service providers are finding that innovation is much on the minds of corporate executives.
"Organizations are all too aware now of the consequences of sitting innovation out, at this time, in favor of optimization," said Krishnan Ramanujam, president, Enterprise Growth Group at Tata Consultancy Services (TCS). "Digital transformation, in general, became nonnegotiable for survival in the past few years, and the lessons are still fresh."
Ken Englund, Americas technology, media and telecommunications leader at EY, said his technology industry customers demonstrate the persistence of innovation.
"None of them really stopped major projects, but they may have slowed it down a little bit," he said. "They wanted to keep the ball rolling because they realize if you just drive a transformation project to zero, the cost of starting it back up is pretty substantial."
The meteoric rise of generative AI has helped rekindle innovation -- and with some urgency. Insight Enterprises, a solutions integrator based in Chandler, Ariz., found about half of the 1,000 senior business leaders it surveyed rated the ability to keep up with technical innovation as a significant threat to their organization, while only 20% cited macroeconomic factors as their main concern.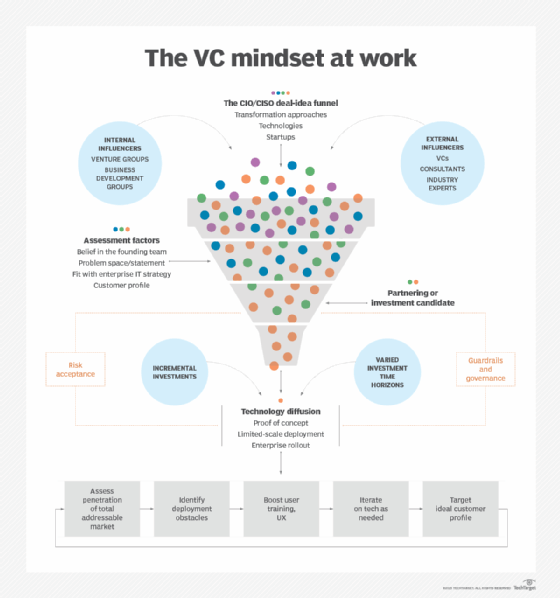 Cloud is also part of the innovation outlook, even though hyperscaler growth rates have declined in recent quarters. Seventy percent of the 972 senior business leaders participating in TCS' global cloud study said cloud remains a long-term investment priority, despite the macroeconomic headwinds. And 59% of the respondents said cloud is crucial to an organization's future as a catalyst for innovation, Ramanujam noted.
Cloud, for instance, helps fuel the expansion of AI applications, which rely on the technology platform's ability to serve up vast amounts of data. Three-quarters of TCS survey respondents said they plan to increase investment in AI and machine learning (ML).
"There is a definite tilt toward innovation on the whole," Ramanujam said. "Organizations are not going to let their competitors steal a march over them by missing this window."
Investment beyond AI
IT investment plans aren't all about AI.
EY, for example, pointed to cybersecurity and 5G as priorities for investment. The company's pulse survey, published in May, found that 62% of the more than 250 technology industry leaders polled identified cybersecurity as a key spending area, while 62% cited 5G.
Within cybersecurity, zero trust is one area of customer activity and a source of consulting opportunities.
"We are seeing more organizations adopt zero-trust architecture," Englund said.
He also pointed to the adoption of advance offerings for bolstering cybersecurity. Those include AI or ML, security orchestration, automation and response (SOAR), DevSecOps, and cloud orchestration and automation.
Sam Andrews, general manager Dallas-Fort Worth at consulting firm Slalom, said she expects to see innovation investment around private 5G networks, noting the technology lets manufacturers optimize and run factories in ways never previously possible. Clients also explore augmented and virtual reality, robotics and Industry 4.0 use cases, she added.
IT optimization remains important
Ian Rae, CEO and president, CloudOps and CloudMC at Aptum, a cloud consultancy based in Toronto, pointed to a huge opportunity for innovation, in which companies can take advantage of cloud-based data pipelines to drive automation and AI.
But, at the same time, organizations will keep an eye on expenses. Cloud computing, a growing portion of enterprise IT spend, is one area where customers look to keep costs in check.
"There is definitely a great deal to do on optimization," he said. "We have been through a period of cloud growth that, on average, has been done hastily and inefficiently, so there is an almost unlimited amount of work ranging from gardening to firefighting."
In addition, macroeconomic forces continue to weigh on customers and their cloud spending plans. Factors such as inflation have a direct and an indirect influence. The U.S. government's Producer Price Index, for example, reveals a pattern of increasing cloud prices that began in the fourth quarter of last year.
Rae, however, said very little of the cloud cost problem stems from inflation. But awareness of inflation does affect enterprise thinking, he noted.
"The level of attention being brought to cloud costs is, in part, triggered by persistent inflation and other economic concerns," Rae said.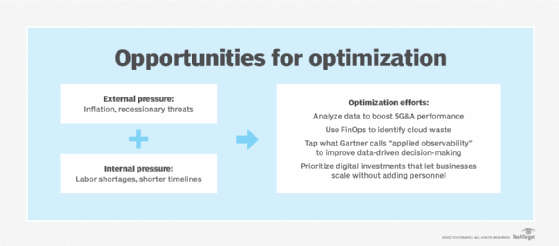 Observability, FinOps to wrangle cloud costs
In an Aptum survey of 400 senior IT professionals, 73% of respondents cited cloud costs as "higher than expected." Those higher costs stem from factors such as inaccurate models that underestimate network traffic and storage costs, Rae noted. Other issues include cloud implementations that don't use autoscaling, or do so inefficiently, and a lack of clarity around cloud billing, he added.
Against that backdrop, Rae said he expects to see observability and FinOps practices among the important trends for the second half of the year. Observability provides "fine-grained tracking of performance, security and IT services costs in the cloud," while FinOps lets organizations operationalize dynamic cost management, he noted.
Tighter financial management is especially crucial for cloud-based tech companies, where the hyperscaler bill may run $10 million per week, Englund said. For such organizations, cloud is their largest expense line outside of labor, he added. That reality will keep companies in optimization mode, even as they look to innovate.
"Discipline around all of this cloud computing has never been more important," Englund said. "It's been sort of a blank check for a long time."
Improving service and optimizing refresh cycles
Cloud isn't the only cost-savings target. Mike Thomson, president and COO at Unisys, an IT services and solutions provider, cited the current refresh cycle for office IT, particularly PCs, as a catalyst for optimization. He said the company works with customers to improve employees' service desk experience, while extending the life of devices rather than replacing them.
"We are seeing a trend of companies paying particular attention to AI in improving the service desk and areas such as predictive endpoint health in the short term," Thomson said. The latter helps companies determine when machines need replacing.
Two-sided transformation
Striking a balance between simultaneously optimizing and innovating will favor the nimble.
"It really boils down to agility," said BK Kalra, global leader of retail and consumer goods at Genpact, a professional services firm based in New York. "How do you protect the near-term future and how do you build capabilities for the medium to long term?"
A study on consumer packaged goods (CPG) and retail published last week by Genpact and HFS Research suggested companies in that sector struggle to square the macroeconomic conditions with the urgency to innovate. More than 60% of the 600-plus CPG and retail leaders polled said they find it challenging to keep pace with "the changing nature of demand" -- amid inflation, cybersecurity concerns and supply chain disruption.
Navigating the dual priorities requires an investment across what HFS describes as innovation horizons. Organizations need to assess how much inefficiency they can eliminate from the first horizon, digital modernization, Kalra said. The cash freed from the resulting cost savings can then be invested in horizons two and three, consumer experience and driving value through new business models, he added.
Uncertainty, which has only accelerated since COVID-19, is changing digital transformation in CPG and retail as well as other industries. Kalra said the current state of the practice emphasized much faster ROI. "Anything that is more than 18 months raises an eyebrow these days," he said.
With that in mind, businesses will continue to innovate and experiment, but with greater discernment.
"Companies want to see if the results are meaningful," Kalra said. "They don't want to have a thousand flowers bloom and 'Let's see which ones come out.' They are wanting to become far more deliberate and focus on the finite projects that have more certainty of delivering the outcome."
Sam Andrews, general manager Dallas-Fort Worth at consulting firm Slalom, said she is also seeing customers working to keep up with innovation -- and "taking a very focused view." Andrews pointed to the example of how clients approach generative AI.
"They're keen to understand what generative AI is and determine if they are ready to take steps and dip their toe in those spaces," she said, adding that organizations are evaluating potential use cases and experimentation to understand the technology's value.
Partnering for a changing world
Partners can expect to see the way product vendors work with them continue to change as the industry enters the second half of the year. The modifications reflect evolving partnering approaches and business models.
Securiti, a unified data controls company, last week rolled out a partner program geared to joint-alliance offerings. The program rewards systems integrators for bundling Securiti's product into platforms such as Snowflake, Databricks and Confluent. Qualified partners earn a 5% incremental discount for bundling Securiti, said Michelle Graff, vice president, global alliances and channels at the company.
Meanwhile, Blancco Technology Group's revised partner program, which debuted earlier this month, has adopted a single-tier structure that focuses on four sales motions: sell, service, build and distribute.
Christina Walker, global director of channel at Blancco, a data erasure company, said the new structure creates a "simple process for partners who are no longer just resellers or MSPs."