Server prices drop while cloud costs rise in PPI data
The U.S. government's latest inflation reading shows moderating hardware prices, which spiked in mid-2022. Cloud costs, however, have been moving in the opposite direction.
Server costs saw further easing in the U.S. government's latest wholesale pricing data, but the inflation update also showed cloud costs on the rise.
The Bureau of Labor Statistics' Producer Price Index (PPI), reported Wednesday, revealed a 3.9% month-over-month decline in the cost of host computers and servers. Another key IT market basket component, cloud services, saw prices increase 2.3% since the third quarter of 2022. The bureau tracks cloud computing within the data processing, hosting and related services category.
Overall, the PPI declined 0.3% in May, with prices for goods dropping 1.6% and prices for services increasing 0.2%. The Federal Reserve this week decided to pause its series of interest rate increases amid signs of cooling inflation.
Hardware price break
The nearly 4% month-over-month hardware price drop in May is the most significant decrease this year.
"That doesn't surprise me," said Adam Birnbaum, executive director at GP Bullhound, a technology advisory and investment firm.
Birnbaum, who works with systems integrators and consultancies involved in digital transformation, said people have been anticipating a drop in hardware prices for a few months. But factors such as lingering chip shortages, logistics issues, energy costs and a difficult labor market continued to inflate prices earlier this year.
May's PPI reading for servers also marks a 6.9% decline compared with July 2022, when hardware costs hit a six-year high.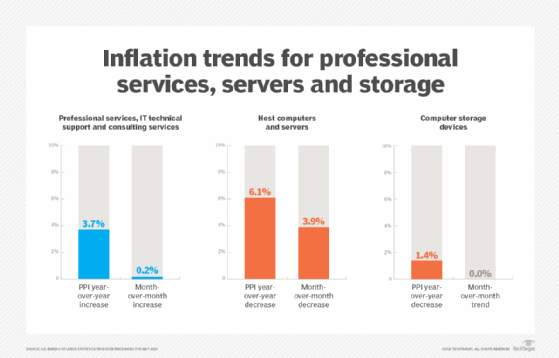 Cloud services on the rise
As for cloud services, the government's inflation data tracks with what some market watchers have been reporting for a while.
In March, a SoftwareOne survey found that 41% of the IT leaders polled cited "cloud vendors increasing prices due to inflation" as the No. 1 reason they're spending more on cloud services in 2023. That's one of the factors compelling enterprises to more vigorously pursue cloud cost management.
And in April, Gartner's worldwide IT spending forecast also noted the upward pricing trend: "For the first time, price is a key driver of increased spend for cloud services segments, rather than just increased usage."
John-David Lovelock, vice president analyst at Gartner, said the PPI data shows increased input costs -- the material and labor costs used to create a product or service -- within the data processing, hosting and related services category.
Gartner has been tracking higher costs since early 2022. Lovelock said contributors to higher input costs include labor, as salaries for key IT roles continue to increase; energy costs, for powering and cooling data centers; and short-term spikes in the costs of CPU and memory chips.
Accounting for cloud
Although it doesn't expressly mention cloud, the North American Industry Classification System (NAICS), a statistical standard used by U.S. federal agencies, includes that technology.
Specifically, NAICS code 518210 covers data processing, hosting and related services -- and within that umbrella, cloud computing. The Bureau of Labor Statistics cited cloud services as "an important component" of the PPI for that particular NAICS code.
Currency fluctuations, value-added services
"The other cost that is getting passed along to the clients of hyperscale data centers is currency," Lovelock noted.
Even though the price point looks like it is higher, it is likely more services are being delivered.

Adam BirnbaumExecutive director, GP Bullhound
He said most IaaS offerings are contracted in U.S. dollars and billed in local currency. As the dollar rose in value against the euro or the British pound, IaaS providers passed along the exchange rate change, and customers paid more euros or pounds for the same amount of IaaS, he added.
Cloud vendors might also be adjusting pricing as they bolster their standard offerings.
Birnbaum's supposition is that cloud providers such as AWS are adding more value on top of their base offerings -- services for managing unstructured data or tools for data analytics, for example -- resulting in an apparent price hike.
"Even though the price point looks like it is higher, it is likely more services are being delivered," he said.
John Moore is a writer for TechTarget Editorial covering the CIO role, economic trends and the IT services industry.