Partners could see enterprise AI rekindle tech innovation spend
New surveys suggest that generative AI is sparking interest among customers and optimism among partners. Is a resumption of forward-looking tech investment on the way?
Research suggests that growing interest in enterprise AI and an apparent lessening of economic concerns could inspire a return to innovation.
That would be welcome relief for channel partners that have been battling inflation, economic uncertainty and slower customer spending. Partners' clients have made optimization their watchword over the past two years: Enterprises have prioritized getting the most out of their previous digital investments, rather than funding new technology adoption. Enter generative AI, which has sparked high interest in the consumer and enterprise markets and seems poised to drive the next wave of tech spending -- along with the traditional staple enterprise investments in cybersecurity and cloud.
Consider the following developments:
A report from Insight Enterprises, a solutions integrator based in Chandler, Ariz., showed signs of changing customer sentiment. The company's "Intelligent Technology Report," published this week, found that about half of the 1,000 senior business leaders surveyed cited the ability to keep pace with technical innovation as a significant threat to their organization over the next 12 months. In contrast, only 20% of the respondents ranked macroeconomic factors as the greatest threats. IDC conducted the survey on Insight's behalf.
A second Insight-commissioned report, conducted by The Harris Poll, revealed that most of the 405 director-level or higher U.S. executives surveyed are building a foundation to pursue generative AI. Eighty-one percent said their organizations already have a generative AI policy in place or are in the process of creating one, while 17% said they plan to craft such a policy.
Market research firm Canalys reported that 41% of channel partners it polled are optimistic regarding their AI opportunities. The finding marks a shift from five years ago, when 29% expressed AI optimism. "It is safe to infer that ChatGPT is the primary driver behind this massive shift, and this is more recent evidence that 2023 is a turning point in AI adoption," a Canalys research summary stated.
Encouraging signs?
Matt Jackson, global CTO at Insight, said conversations with clients over the last 18 months revolved around efficiency and doing more with less. Against that backdrop, he was surprised by the number of "Intelligent Technology Report" respondents who were more concerned with falling behind on innovation than with inflation or recession.
The survey results indicate that people are getting ready to invest again in innovation.

Matt JacksonGlobal CTO, Insight Enterprises
"I'm hopeful," he said. "The survey results indicate that people are getting ready to invest again in innovation."
Jackson said he asked 60 clients over the past couple of weeks about generative AI and discovered they all had the same concern: How quickly could they securely introduce the technology into their environments? None of them asked about the cost of doing so, he added.
Jackson said he believes employee productivity will be customers' initial focus with generative AI. Indeed, 72% of the business leaders in the Harris survey said they expect to use generative AI to boost worker productivity across the organization.
This "low-hanging fruit" use case, however, will eventually evolve into creating custom models for specific industries, Jackson said. "That is where we will see real transformative change," he added.
In the meantime, Insight offers a quick-start service that aims to help customers establish a private AI environment. Other IT services companies have also launched offerings or are using generative AI internally to boost service delivery. In May, KPMG and PwC, professional services firms, separately unveiled generative AI initiatives along those lines.
Canalys' research suggests that partners with positive views on AI "see a path to generating strong growth on the back" of developments such as Microsoft Copilot, Google Bard and AWS' AI offerings.
That said, Canalys' survey found that about 40% of partners don't anticipate having a strong AI business -- a similar portion held that view in the market researcher's 2018 poll. The company said its latest survey doesn't shed light on why a sizable partner segment isn't sold on AI's prospects.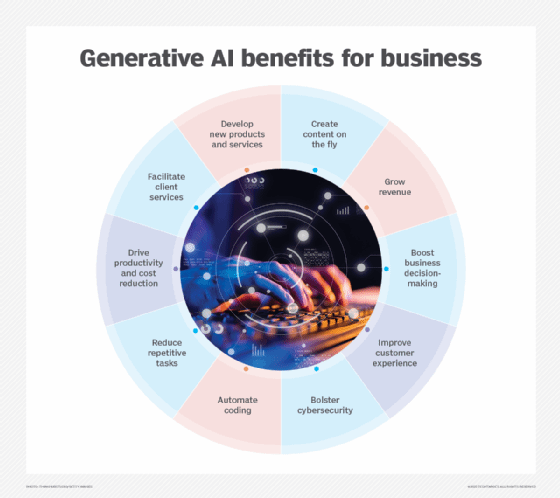 Beyond enterprise AI
The disruptive arrival of generative AI isn't the only factor influencing enterprise IT spend. Insight's research points to cybersecurity as the No. 1 technology that will drive digital transformation over the next 12 months. The various aspects of cloud -- SaaS, IaaS and PaaS -- rank second on the enterprise priority list.
TechTarget's 2023 "IT Priorities Survey" found the identical result, with North American respondents rating cybersecurity and cloud their top two areas of importance.
Insight's research, however, suggested a coming shift in the balance of technology over the next three to five years. In that time frame, edge computing is expected to play a bigger role than cybersecurity and cloud in enterprises' digital transformation strategies, Jackson said.
The ability to save money on cloud ingress and egress costs will lead organizations to push more compute to the edge, he noted.
But while the emergence of AI, coupled with pent-up technology demand, could reignite innovation, organizations must still deal with economic uncertainty. More mixed signals surfaced last week: The U.S. Department of Labor reported a nonfarm payroll uptick of 339,000 in May, but also reported a 0.3 percentage point increase in the unemployment rate, which now stands at 3.7%.
A dual emphasis on innovation and cost-effectiveness could be the way forward.
"There is still a tremendous focus on operational efficiencies," Jackson said. "Those aren't being left behind."
DXC taps AI for sustainability
DXC Technology, an IT services provider, sees an expanding role for AI in sustainability.
The technology will become more important for managing natural resources and agroecosystems, according to the company. DXC already partners with Spain's Ministry of Agriculture, Fisheries and Food, using AI algorithms to predict forest fires and inform farmers' decisions on what crops to plant.
"We see global opportunities to transform natural resource management with AI," a company spokesman said.
Generative AI has "huge potential" in the agriculture sector, where the technology can provide advice to farmers who will be able to use voice, text or image input related to the questions they have, the spokesman added.
DXC also predicted AI will boost the viability of renewable energy. Implementing AI and analytics helps energy producers intelligently monitor their energy networks, which lets them direct excess electricity to where it's needed and flag potential grid weak points, according to the company.