Partner ecosystem upbeat on market prospects, generative AI
Service providers express optimism despite the continuing economic uncertainty, looking to emerging technologies and services stalwarts such as cyber and cloud.
Service providers appear upbeat on business prospects, with generative AI beginning to register as a growth opportunity, and security and cloud -- traditional demand generators -- holding their own.
Consider the following developments:
CompTIA's annual "State of the Channel" report, released last week, found 90% of the 400 channel professionals polled in North America believe in the channel's continued relevance. In addition, two-thirds of the respondents said their profitability increased over the past two years, with consulting and managed services the important contributors. CompTIA includes MSPs, consultancies, resellers, systems integrators, developers and systems builders among its channel constituencies.
Professional services firm KPMG last week entered an alliance with Microsoft to embed the software vendor's generative AI technology into its project delivery platform. Earlier this month, PwC unveiled plans to invest $1 billion to help customers harness generative AI. The company is also partnering with Microsoft.
Among executives Gartner surveyed, 70% said their organizations are investigating generative AI and 19% are piloting the technology or in production. And 45% of respondents said the publicity surrounding ChatGPT has led them to boost AI investment.
Activity beyond generative AI: CompTIA's channel report cited cybersecurity as the top service MSP customers request. Storage, business analytics, SaaS application management and cloud-based subscriptions rounded out the top five.
The bigger economic picture
Those positive stirrings follow three years of turbulence and continuing economic uncertainty. The COVID-19 pandemic began the pattern of instability in early 2020. Since then, businesses have dealt with price hikes, the paradox of tech layoffs amid skill shortages and a looming recession.
The level of optimism is a bit of a surprise. I think it is a testament to the resiliency of the channel.

Carolyn AprilSenior director of industry analysis, CompTIA
Partners remain generally optimistic, however, if CompTIA's "State of the Channel" report is any indication.
"The level of optimism is a bit of a surprise," said Carolyn April, senior director of industry analysis at CompTIA. "I think it is a testament to the resiliency of the channel."
Inflation
Economic indicators might offer partners an additional boost. The most recent U.S. government data points to a continued easing of inflation.
Wholesale prices increased 0.2% in April, according to the Bureau of Labor Statistics' Producer Price Index (PPI). As for specific IT commodities, host computer and server prices dropped 0.1% month over month and 2% year over year. In comparison, the year-over-year inflation rate in that category exceeded 20% in June 2022.
Similarly, computer storage prices dropped 1.5% month over month in April, according to the PPI, with prices flat on a year-over-year basis. The 12-month inflation rate was around 5% in the storage category in mid-2022.
The price reductions should help service providers and their customers. The 2% of respondents that reported significantly shrinking profitability in CompTIA's study cited inflation as the No. 1 reason for the decline, according to April. She said that sample was too small to be statistically valid, but noted CompTIA's "IT Industry Outlook 2023" survey, published late last year, uncovered the same pattern: Channel respondents pointed to inflation as the factor that worried them the most.
"The channel is no different than other types of companies," April said. "Its costs were higher for goods and supplies to run the business."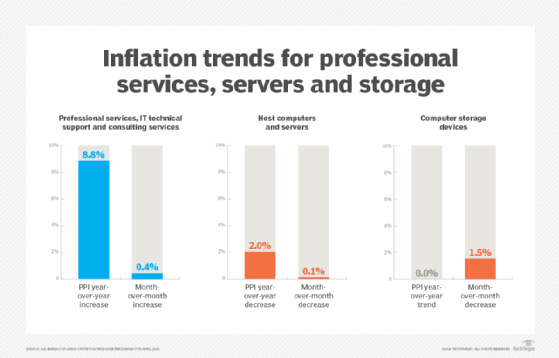 Labor market
The labor market, meanwhile, offers mixed economic signals. In the first week of May, unemployment insurance claims climbed to the highest level since Oct. 30, 2021, according to the Department of Labor. But in April, the department reported a nonfarm payroll increase of 253,000 workers and a historically low 3.4% unemployment rate.
Recession outlook
The much discussed recession -- whether, when and how severe -- is another puzzle. Some economists, including those affiliated with the Federal Reserve, expect a recession to arrive later this year.
Banking on generative AI
Amid conflicting macroeconomic patterns, IT services companies are positioning themselves to tackle growth opportunities. Generative AI ranks among those.
"Demand is overwhelming," said Bret Greenstein, partner, cloud and digital, for analytics insights at PwC. "There is a step-function change in productivity and value creation with [generative AI]."
The content-generating technology has expanded the scope of AI to include a much wider set of people in nontechnical roles, he noted. Those individuals now look to generative AI for improving productivity, speed and quality. "They see tremendous upside," Greenstein said.
PwC is deploying Microsoft's Azure OpenAI service capabilities for customers in industries such as insurance, aviation and healthcare. The company also aims to modernize in-house platforms with generative AI technology.
Meanwhile, KPMG's generative AI partnership with Microsoft emphasizes speed and the ability to partner more creatively with customers. The company plans to deploy Microsoft's technology into the professional services firm's internal platforms. For example, KPMG's advisory business will integrate the Azure OpenAI Service into its client delivery platform, which supports technology-driven transformation among other offerings.
Cherie Gartner, global lead partner for Microsoft at KPMG, said OpenAI will let the company "provide faster insights to clients" and spend more quality time with them on strategic counsel and problem-solving.
Gartner said KPMG expects the technology to prove transformative. But she said the company, like most organizations, is "just at the tipping point of realizing the true extent of the value that can be created."
Security, cloud keep growing
Cybersecurity has become a key line of business for service providers -- almost by default, as customers insist they offer such services. Of the channel partners CompTIA surveyed, 52% identified cyber as the leading demand area, sending it to the top of the most-wanted list.
As a result, channel companies are working to bolster their cybersecurity business. MSPs, of all sizes, recognize they "need to move beyond simply having [cybersecurity] as a basic table-stakes offering," April said. The current market challenges partners selling more basic antivirus and firewall offerings to pursue more proactive and sophisticated services, she noted.
Service providers focusing on cybersecurity note the shift toward anticipating issues rather than reacting to them.
"We foresee an increased focus on proactive threat intelligence, leveraging artificial intelligence and machine learning algorithms in new ways to detect and mitigate potential risks before they materialize," said Jim Higgins, principal at IT Solutions Consulting, a managed IT, managed security and application developer services provider based in Fort Washington, Pa.
Building cyber skills via training, M&A
Some MSPs are upskilling employees and looking to hire people with higher skill levels, while others are partnering with managed security services providers (MSSPs) to "fill in the skills gaps," April added. And a few MSPs that previously made significant investments in cyber are taking the next step, becoming MSSPs themselves.
Acquisitions offer another avenue to deepen skills. That's the case for IT Solutions. The company last week said it acquired Acropolis Technology Group, a St. Louis MSP that offers security assessments among other services.
The acquisition will strategically bolster IT Solutions' ability to provide comprehensive cybersecurity services, according to Higgins. He said the cyberthreat attack surface will continue to expand amid the proliferation of IoT devices and the growth of cloud computing.
"This will drive the need for robust cybersecurity measures across a wide range of endpoints and cloud environments," he said.
Cloud prospects
Cloud computing, for its part, continues to offer partner opportunities, despite the lumps providers have taken in an uncertain economy. But even with tighter enterprise budgets, the hyperscalers continue to grow, albeit at a slower rate, while some SaaS providers buck the general trend. ServiceNow, for example, exceeded first-quarter revenue guidance on 24% growth and raised its 2023 subscription revenue guidance. In March, cloud data platform provider Snowflake posted a 53% year-over-year revenue increase for its fourth quarter, which ended Jan. 31.
Shelby Kling, manager for the data insights practice at 2nd Watch, a cloud services company based in Seattle, suggested Snowflake's customer appeal stems from its SQL-first orientation.
Kling said talent in the data sector, across midsize to large enterprises, is mostly based on SQL. Snowflake's SQL approach to data and applications gives customers with leaner technology teams the opportunity to do more, she noted.
2nd Watch, Snowflake Elite Services Partner, last week earned Snowflake competency badges for the healthcare and life sciences, manufacturing, and retail and consumer goods industries.