IT services market size expands amid mixed economic signals
Market watchers forecast continued growth in the tech services sector, while U.S. payrolls expand, albeit at a slower pace.
The IT services outlook remains complex: Industry forecasts point to spending growth, and government data shows low unemployment -- while layoffs and recession fears continue.
Mixed signals are nothing new in a mercurial economy that defies simple analysis. Consider last week's economic updates:
Gartner pegged the global IT industry market size at $1.36 trillion for 2023, a 9.1% boost over 2022. The market research firm's forecast calls for double-digit growth in 2024, with a 10.2% uptick predicted.
The U.S. Department of Labor reported a March unemployment rate of 3.5%, a slight dip from 3.6% in February.
U.S. payrolls increased by 236,000 in March. The job boost shows continued demand for workers, but falls below the average monthly gain of 334,000 over the previous six months, according to the Department of Labor.
The professional services and business services sector added more than 39,000 jobs in March, trending above the average monthly growth over the past six months. That sector includes consulting and computer-related services, but also covers a wider scope of services such as accounting and legal.
Software, IT services top growth areas
Gartner's latest IT spending forecast puts software at the top of the table, with a projected 12.3% growth rate in 2023. The market researcher said enterprises will seek to increase automation and boost productivity through "software-driven transformation initiatives."
IT services comes in as the second fastest-growing segment, with Gartner citing the expanding infrastructure-as-a-service market as a key contributor.
Other market watchers have also noted IT services' staying power. "IT services resulting from software and cloud investments will remain strong," Forrester Research noted in a blog post earlier this year. "The strength in software and cloud spend will further accelerate IT services spend as organizations tap providers to provider critical support to projects and operations," the company reported.
While the outlook seems promising, IT services firms have recently trimmed their rosters. Accenture in March disclosed plans to cut 19,000 positions, or 2.5% of its workforce, over the next 18 months. Kyndryl and Rackspace Technology are also laying off workers.
The pattern, or lack thereof, underscores the hit-or-miss nature of the economy. For cloud consultancies, their choice of cloud partner influences sales. GlideFast Consulting, a ServiceNow Elite partner based in Waltham, Mass., had its best sales month ever in February and its best revenue month in March, according to Michael Lombardo, the company's CEO. ServiceNow's IT asset management offering plays well in the current economy.
"That's huge right now," Lombardo said. "There's hard-dollar savings that ServiceNow is driving."
ServiceNow's automation capabilities are another plus. "[Customers] don't have as many people to push the wheel and need automation to do that," Lombardo said. "They need something to pick up the slack."
Industry focus is another key variable. Some vertical markets seem relatively stable, while others, such as technology, struggle. A service provider's exposure to various market segments helps determine how it is faring.
Chris Barbin, CEO and founder at Tercera, a company that invests in cloud professional services firms, said spending in the healthcare and manufacturing verticals has remained relatively strong, while the high-technology sector, previously a big spender, "has been crushed."
Healthcare systems and providers, for example, are aggressively spending on cybersecurity, which benefits Tercera portfolio companies such as BeyondID, a managed identity services provider. The healthcare sector's interest in big data, meanwhile, augurs well for Hakkoda, which specializes in Snowflake's cloud data warehouse technology.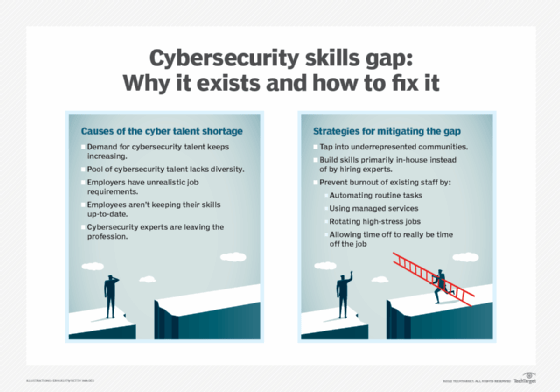 Labor shortages continue despite layoffs
Cooling job growth could portend a slowing economy. But the labor market remains tight, especially in sought-after cloud and cybersecurity skills. Gartner's forecast noted "a critical shortage of skilled IT labor," a trend that the company said will continue until at least 2026, based on expected IT spending.
Some service providers are ramping up their in-house training to deal with hiring challenges. Some of Tercera's portfolio companies, for example, focus on talent development through university relationships. Hakkoda partners with universities in Costa Rica to build talent, collaborating to develop a Snowflake curriculum and working on programs to promote women in data science.
In addition, Tercera maintains relationships with business school programs for internships.
GlideFast, since its founding in 2015, had mostly focused on hiring talent. But the company's strategy shifted after its 2021 acquisition of CloudPires, a ServiceNow Elite partner in Cincinnati, Ohio. CloudPires emphasized employee training, and Lombardo decided to launch a training program, building upon the acquired company's experience.
The GlideFast program, based in Cincinnati and now expanding into Mexico, has trained about 150 employees since its inception, Lombardo said.
Rationalization, staff augmentation in cybersecurity
Cybersecurity remains an area of spending in a difficult economy. Speakers participating in a Cisco partner webinar last week said customers are asking for help trimming their security vendor lineups. Cisco, citing industry and vendor reports, said small businesses tend to use three to six tools, while large enterprises might use 50 to 100 tools.
The macroeconomic pressures are causing customers to definitely scrutinize their investments a little more closely.

Stephanie HagopianVice president of physical and cybersecurity solutions, CDW
Speaking at the webinar, Stephanie Hagopian, vice president of physical and cybersecurity solutions at CDW, an IT services provider in Lincolnshire, Ill., said technology rationalization ranks among the top customer requests. "The macroeconomic pressures are causing customers to definitely scrutinize their investments a little more closely," she said.
Ryan Sheehan, senior vice president of advanced solutions at SHI International, an IT services provider based in Somerset, N.J., also cited vendor sprawl. He said the Cisco numbers are low compared with the number of security vendors and tools he encounters among large enterprises. Sheehan, who also spoke at the Cisco meeting, noted that some organizations have been tasked with reducing their SaaS outlays by 20%.
The security workforce shortage also contributes to the demand for third-party services. TechTarget's "IT Priorities Survey" identified cybersecurity as the No. 1 technology investment likely to involve managed services or other third-party providers.
Hagopian pointed to an uptick in security staff augmentation requests among CDW's customers. The demand for augmentation varies by company size, with midmarket and small companies feeling more pain than their larger counterparts, she added.
"They don't have enough folks in house," Hagopian said.