Partner ecosystem changeup prompts alliance rethink
The shifting partner ecosystem landscape could inspire IT service providers to consider new alliances or bolster existing ones amid fast-paced economy and technology trends.
The center of attention in the partner ecosystem is shifting as AI-based companies and faster-growing cloud providers gain prominence.
The challenging economy, slowing growth rates among some cloud providers and the sudden emergence of generative AI have contributed to the changing partner environment. Partners face important decisions regarding whether to stick with tried-and-true vendor allies or diversify into more dynamic but potentially riskier relationships.
Service providers also have the option of branching out within a key partner, building offerings around a vendor's AI technology, for instance. Launching practices around vendors that occupy market segments adjacent to a primary partner is another ecosystem strategy.
Partner ecosystem trends
A report from Tercera, an investment firm that focuses on IT professional services companies, highlights developing trends in cloud-centric ISV ecosystems. The company's second annual "Tercera 30" list, published in September, identifies the top cloud ecosystems for IT service providers, based on its own research, a survey of 55 partners and analyst reports.
The company's findings include the following:
Within the Tercera report's "Market Anchors" category, which includes 10 large, publicly traded ISVs, the fastest-growing service partners were aligned with AWS, Microsoft and Snowflake. None of the top-growth firms were associated with Salesforce in this year's list, according to Tercera.
Three of the nine companies new to this year's top 30 are focusing on AI: Nvidia, OpenAI and Dataiku. But every company on the list made AI announcements in 2023.
Tercera identified the optional profile for partners looking to join an ecosystem as ISVs with structured, well-run partner programs, where the service provider population includes specialized boutiques, regional players and some participation among global systems integrators. This profile contrasts with ISVs with saturated ecosystems featuring extensive participation among large integrators. Tercera defines a saturated ecosystem as one with thousands of partners -- versus dozens or hundreds -- and slowing or declining ISV growth.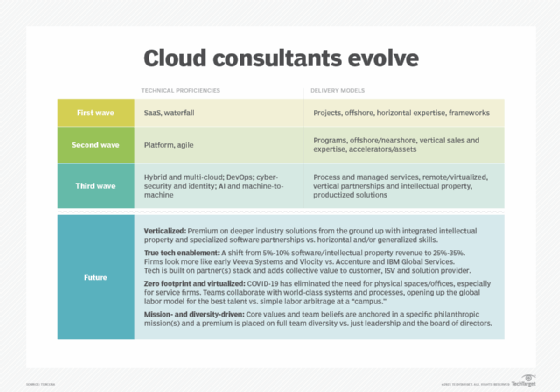 Cloud partner strategies
Vendors in the Market Anchors arena are a conservative choice for partners' relationship investments, said Chris Barbin, founder and CEO at Chicago-based Tercera. In that vein, Salesforce is the most popular partner program, with 53% of the partners Tercera polled giving that company the nod. But while Salesforce remains a dominant ecosystem, it's also a saturated one, with more than 100,000 credentialed experts. Partner ecosystem saturation coupled with Salesforce's shift from growth to profitability has affected partners, according to Tercera.
"There is a fork in the road," Barbin said, noting partners face a decision as to whether they should remain a pure-play service provider focused on a primary vendor or add a practice featuring another ISV partner.
As for the latter approach, a partner could build a business around one of the 10 companies in the Tercera report's "Market Challengers" category. That segment includes large and mid-sized, high-potential private companies in the cloud software business.
Barbin called alliances with Market Challengers a "high-risk, potentially high-reward strategy."
A middle path, however, involves building a practice around a technology company engaged with a primary vendor's ecosystem, said Michelle Swan, a partner at Tercera. She cited the many Snowflake partners that have relationships with Dataiku as an example. Such complementary partnerships "are largely customer driven and add incremental value in solutions being delivered," Barbin added.
Partner ecosystem tiers offer alliance options
The Tercera 30 list segments partner ecosystems into three tiers:
Market Anchors
Google Cloud
SAP
Microsoft Azure
Salesforce
AWS
Adobe
ServiceNow
Oracle
Workday
Snowflake
Market Movers
Nvidia
Palo Alto Networks
Atlassian
CrowdStrike
Shopify
HashiCorp
Datadog
Hubspot
UiPath
Okta
Market Challengers
Databricks
Celonis
Outsystems
Fluent
Contentstack
OpenAI
Stripe
OneStream
Dataiku
commercetools
Dataiku expands ecosystem
Dataiku, which provides a tool for developing and deploying AI capabilities, is an elite-level Snowflake technology partner. Integration between the companies' products lets Dataiku users access Snowflake's Data Cloud storage and compute platform.
An increase of generative AI usage is going to increase overall cloud usage within any public cloud.

Anthony LossLead solutions architect, ClearScale
Dataiku last week tapped Snowflake as one of three launch partners for its LLM Mesh offering, which provides a layer between large language model (LLM) services and enterprise applications. The other partners are Pinecone and AI21 Labs.
Clément Stenac, CTO and co-founder at Dataiku, noted the company's partner ecosystem has evolved considerably since the company's founding in 2013, when Hadoop and Cloudera were among its partners. Dataiku still works with those platforms, but the roster has become more varied with generative AI.
"The ecosystem changed a lot [and] is still moving very fast," Stenac said.
As for service provider partners, the LLM Mesh product helps consultants quickly build production-ready LLM applications "without having to code or learn a dramatically different skill set," he added.
Growing with a primary partner
But not every partner is eager to pursue new relationships. More than half the service providers Tercera polled said they planned to stick with their existing partners in the next 12 months. Standing up a new practice takes time, energy and thoughtfulness, Barbin noted.
In addition, partners may have an opportunity to tie their growth to their key vendors' AI offerings.
ClearScale, an AWS consulting partner based in San Francisco, last week launched GenAI Applink, which integrates generative AI workflow into an AWS environment. The offering currently uses AWS' Sagemaker Jumpstart, which provides access to several public machine learning models. But GenAI Applink will eventually use AWS Bedrock, said Anthony Loss, lead solutions architect at ClearScale. Bedrock offers access to foundation models through an API.
GenAI Applink will help customers evaluate the proof of value for use cases, such as document summarization, document search and content generation for social media, he said.
NTT builds private 5G ecosystem
NTT Ltd., an IT infrastructure and services company, is partnering with Qualcomm Technologies to pave the way for private 5G adoption and spark the development of the 5G device ecosystem.
NTT, which entered the private 5G market about two years ago, is building an ecosystem with companies such as Celona, Cisco, Microsoft and VMware, an NTT spokeswoman said. That's in addition to Qualcomm.
Cloud providers such as AWS seek to play a pivotal role in generative AI, with the hyperscaler last week announcing plans to invest up to $4 billion in Anthropic. As generative AI grows, cloud growth seems likely to follow -- a pattern that ultimately benefits cloud partners.
"An increase of generative AI usage is going to increase overall cloud usage within any public cloud," Loss said. "The smart way to integrate generative AI into the business is through cloud solutions."