Gartner IT spending trends, PPI data show mixed economic bag
Gartner's global IT spending forecast reflects diverging economic trends as does U.S. inflation data, which shows a drop in professional services costs and an uptick for storage.
Gartner today reduced its 2023 global IT spending growth forecast to 2.4% from the 5.1% year-over-year increase it published in the fourth quarter of 2022, citing a decline in consumer technology purchases.
However, the market research firm said it expects enterprise IT spending to "remain strong" in 2023. Software and IT services will lead the way, with projected growth rates pegged at 9.3% and 5.5% respectively. The device category, which includes mobile phones and laptops, is expected to decrease 5.1% this year, Gartner reported.
The U.S. government's latest producer price index data, released today, also sent mixed signals. Overall, wholesale prices dropped 0.5% in December, according to the Bureau of Labor Statistics. In the IT sector, professional services and consulting prices continued the decline that surfaced late last year. But storage costs increased, with host computer and server prices also on the upswing.
The reports underscore continued economic uncertainty, a pattern established last year with conflicting trends and recession concerns.
The consumer-enterprise split
Gartner's downward growth revision stems from softness in the consumer side of tech spending. "Consumers are really facing a problem," said John-David Lovelock, an analyst at Gartner. "Inflation is pounding them, and they have to start making a real choice between wants and needs and luxuries and necessities."
Phones and other consumer gear appear to be losing out in that analysis. Inflation is a factor, but so too is the average age of devices consumers have on hand. Devices underwent a technology refreshment cycle in 2020 and 2021 to meet the demands of the work-from-home trend, Lovelock said. Against that backdrop, consumers lack a compelling reason to purchase new devices amid higher prices.
As for enterprise IT, Lovelock said organizations still have roadway ahead to spend on IT. While the spending outlook remains virtually unchanged, priorities have changed since early 2022, when IT managers sought to bring in new revenue and introduce new value propositions to the market, he noted. Since then, the top agenda items shifted to include automation projects -- to help businesses scale without adding employees -- and core systems upgrades.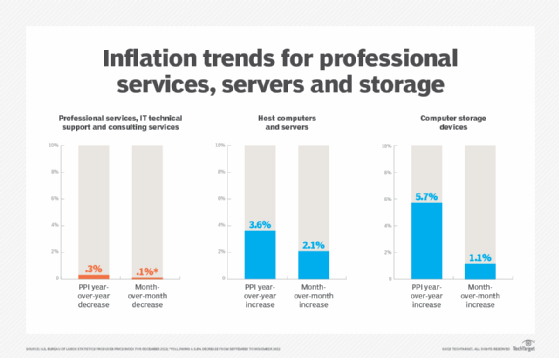 Inflation hits storage
IT commodities showing cost increases according to the PPI include computer storage, which had been declining since May 2022. The technology saw a 1.1% increase in December, which followed a 3.9% rise in November. The numbers run counter to declining price trends for components such as SSDs.
However, the uptick in the PPI might stem from enterprises spending more on storage, in the aggregate, to keep up with data growth.
Dave Raffo, an analyst with market researcher Evaluator Group, said enterprise storage revenue, overall, held strong in 2022. "Flash and hard disk drive capacities are growing, and storage system sales are increasing from a revenue standpoint."
Raffo pointed to Q3 earnings reports from vendors such as Pure Storage, Nutanix, Dell, HPE and NetApp, which reported revenue increases as high as 20% in the case of Pure. Those companies haven't reported Q4 results yet. But enterprise vendors tend to produce their best revenue results in the final quarter when customers spend their remaining budgets, Raffo noted.
Consumers are really facing a problem. Inflation is pounding them, and they have to start making a real choice between wants and needs and luxuries and necessities.

John-David LovelockAnalyst, Gartner
Kent Christensen, virtualization practice director for cloud and data center transformation at Insight Enterprises -- a solutions integrator based in Chandler, Ariz. -- also noted the uptick in storage revenue.
"My sense is that prices for similar needs -- capacity/service level -- have increased in the last year, and that is being blamed on supply chain," he said. "Or we might consider margin pressure that was increased due to higher costs."
The result, Christensen said, has been lower product discounts or even straight up price increases. He also cited the lack of a dramatic technical jump, such as larger drives, that would drop the cost of supplying more storage.
Jeff Vogel, senior director analyst at Gartner, said he continues to see modest growth in enterprise storage demand. He noted price increases during 2022, mainly due to supply chain issues, have remained in effect, but are beginning to abate as raw NAND flash supply costs sharply decline. And while some of Gartner's enterprise clients are anxious about the potential effects of a recession or inflation on storage spend, that tends to be a minority view, he added.
"So, in the aggregate, IT clients are simply spending more, albeit modest in year-over-year growth," Vogel said.
Servers see price hike
Host computers and servers saw a price hike of 2.1% in December following a period of declining prices beginning in August 2022.
Burgeoning data center requirements may also contribute to higher hardware prices.
Kelly Fleming, co-founder and CIO of Cirrus Nexus, a cloud management platform company, said the demand for application hosting capacity will continue to grow exponentially. But efficiency gains in semiconductor technology are at risk as chip designers approach the limits of Moore's Law, he noted.
"As a result, the demand for expanding data centers and bringing new ones online will continue to increase, resulting in upward pressure on hardware and storage costs," Fleming said.
Professional services pricing
Professional services prices, meanwhile, have reverted to levels last seen in the first half of 2021, according to the government's inflation data. The price index has dropped 3.9% since professional services hit a peak in September 2022. CIOs, however, may yet see professional services and consulting prices increase.
"We're still not done with wage increases for IT staff," Lovelock said. That means there still may be room for price increases among service providers.