Cloud inflation affects IT spending trends, GenAI not yet
Gartner's forecast points to rising cloud and services spend. Generative AI is yet to strongly influence IT budgets, but IBM and other providers gear up for growth.
Gartner's latest global IT forecast points to double-digit growth for software and IT services next year, with cloud inflation partly responsible for fueling budget increases.
The market researcher pegged the 2024 software spending growth rate at 13.8% year over year. IT services followed with a projected 10.4% spending increase. Software and services will drive about half of IT outlays overall. Gartner is projecting $5.1 trillion in worldwide IT spending in 2024, an 8% increase from 2023 levels.
The forecast growth for software and IT services stems largely from cloud spending, according to Gartner. Inflation, which has driven up cloud pricing in recent months, will contribute to the uptick. Cloud vendor price hikes and increased utilization will combine to boost global spending on public cloud services, the company stated.
Inflation trends
The U.S. government's September wholesale inflation data suggests rising prices remain a factor for IT commodities including cloud computing. The Producer Price Index (PPI), released last week, reported a year-over-year price increase of 3.1% for data processing, hosting and related services, a category in which cloud is an important contributor.
The September increase is down slightly from the 3.2% rise reported for August, when the PPI set a new mark for cloud inflation. A host of factors influence cloud pricing, including higher wages, increasing energy demands and the addition of generative AI services.
The professional services category also showed inflationary pressure, with the PPI reporting an 8.5% year-over-year price increase in September. Hardware, meanwhile, showed year-over-year price drops -- storage declined 2.7%, while host computers and servers saw a 2.3% decrease.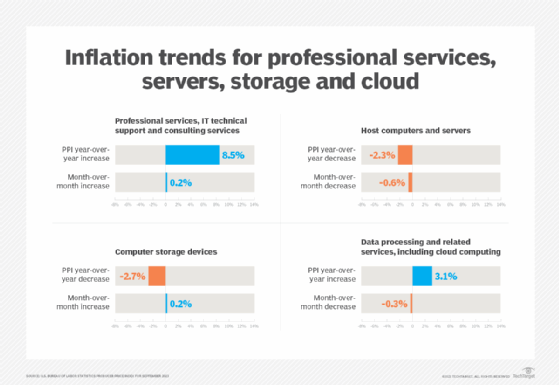 GenAI not baked into IT budgets
Generative AI "has not yet had a material impact on IT spending," according to Gartner's forecast. In a statement, John-David Lovelock, vice president analyst at Gartner, said "very little IT spending will be tied to GenAI" in 2023 and 2024. He predicted generative AI will become part of CIOs' IT budgets beginning in 2025. AI and generative AI will shift spending among some budget line items, but they will not make the technology spending pie bigger, Lovelock said.
In the meantime, AI investment, more broadly, will support overall IT spending growth, Gartner stated.
Enterprise interest in generative AI, however, appears to be high. A report from TechTarget's Enterprise Strategy Group, published in August, said 54% of organizations will have adopted generative AI in the next 12 months. Customer interest has led several IT services providers to invest in the technology as a line of business.
This year has been nothing but generative AI.

Manish GoyalSenior partner and global AI and analytics leader, IBM Consulting
IBM this week expanded its partnership with AWS to support generative AI clients. As part of this relationship, IBM Consulting plans to train 10,000 consultants on top use cases and best practices for working with customers deploying AWS' generative AI services. The companies said they will also provide "joint solutions," including a virtual assistant for supply chain professionals and a contact center modernization offering built on Amazon Connect.
"This year has been nothing but generative AI," said Manish Goyal, senior partner and global AI and analytics leader at IBM Consulting. "There is demand from clients for help in this space."
Goyal said educating customers on generative AI was the focus during the first quarter of 2023. Since then, clients have embarked on generative AI experiments, and some are now putting the technology into production, he added.
IBM's move follows similar initiatives among global systems integrators and IT consultancies. Capgemini, for instance, is in the process of training 65,000 employees on Google's generative AI technology.
John Moore is a writer for TechTarget Editorial covering the CIO role, economic trends and the IT services industry.