New year, new partner go-to-market strategy
The partner ecosystem continues to evolve as companies deal with emerging technologies and business models. Here's what SoftwareOne, Johnson Controls and IBM are pursuing.
An early look at the 2023 partner go-to-market strategy shows companies adjusting to a range of factors, including emerging technologies, shifting business models and economic conditions.
On the technology side, cloud optimization, digital twins and smart buildings are among the directions. Business models seek broader coverage with regard to service lines and partner ecosystems. Recessionary concerns, meanwhile, may favor companies able to accommodate smaller projects.
Here are a few developments from the first few days of the near year:
SoftwareOne this week said it is rolling out a rebranding campaign and embarking on a 4-year initiative to tightly couple the solution provider's traditional software licensing business with its cloud services.
Johnson Controls, a smart buildings company, this year plans to build a partnering strategy that encompasses partner types from HVAC specialists to systems integrators. The company aims to work with partners to help them sell across domains.
IBM is revamping its partner program, replacing its long-running PartnerWorld brand with Partner Plus. The move tracks with IBM's emphasis on the hybrid cloud and AI.
SoftwareOne emphasizes integration
SoftwareOne, a company based in Switzerland with U.S. headquarters in Milwaukee, Wisc., got its start nearly 25 years ago in software license management. As software licensing became synonymous with cloud licensing, SoftwareOne developed a commercial business focused on licensing and procurement as well as a technology business focused on cloud advisory, migration and optimization service. As for the latter, SoftwareOne provides FinOps services for keeping cloud spending in check.
The company's task now is to closely link the two components as it goes to market. The new SoftwareOne brand emphasizes "One," reflecting this approach. The four-year strategy, which the company calls a vision cycle, provides the structure behind this unification.
"The next vision cycle emphasizes this new synergy between software reselling and cloud consumption and the technology roadmap CIOs need to have in place to optimize their environments and drive business outcomes through innovation," said Ashley Baird-Gaare, president of SoftwareOne North America.
As part of the plan, SoftwareOne has redesigned its sales model, providing clients with an account manager who serves as the central point of contact for commercial and technology services, Baird-Gaare said.
The company's one-stop-shop approach and wider range of services have also led to changes in marketing.
"We are getting more buyer-centric," said Susanna Parry-Hoey, chief marketing officer of SoftwareOne. "We are looking at technology buyers and CIO challenges and also how can we be more relevant to procurement buyers."
The selective cultivation of vertical markets is also in the works, she added. She pointed to the example of the company's alliance with Schneider Electric, which targets the architecture, engineering and construction industry. The relationship revolves around SoftwareOne's MTWO platform, which uses Schneider Electric's business information modeling software. The cloud-based technology lets construction companies create digital twins of the built environment, which Parry-Hoey said reduces waste and boosts efficiency.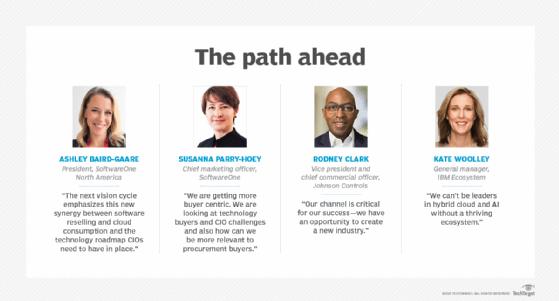 Johnson Controls expands partner focus
Johnson Controls' channel strategy seeks to unite building systems companies -- from industrial refrigeration to HVAC equipment specialist -- with systems integrators and other technology partners.
The 137-year-old company's heritage is in the mechanics of heating, cooling and securing buildings. The emphasis on the physical has shifted in recent years as Johnson Controls has added more digital offerings to its portfolio. In 2020, for example, the company rolled out OpenBlue, a product suite that pulls together operational technology, IT systems, cloud-based applications, AI and edge computing. The offering provides a platform for Johnson Controls' take on digital transformation: the creation of what the company refers to as smart, healthy and sustainable buildings.
The company's partners are poised to play an important role in this development.
"Our channel is critical for our success," said Rodney Clark, vice president and chief commercial officer for Johnson Controls, which is based in Cork, Ireland. "We have an opportunity to create a new industry."
Our channel is critical for our success. We have an opportunity to create a new industry.

Rodney ClarkVice president and chief commercial officer for Johnson Controls
Clark joined Johnson Controls in June 2022, having previously been Microsoft's corporate vice president for global partner sales. In that role, Clark helped retool the Microsoft's channel effort. Channel change is also in the works for Johnson Controls. Clark said the company has begun building a core set of programs that will let the channel "dig deeper" into the company's smart-healthy-sustainable value proposition. To that end, Johnson Controls will reward partners that sell across domains in addition to the ones in which they are already experts, he added.
More than 25,000 of the company's partners operate in the mechanical and equipment space. Clark said Johnson Controls will work closely with such partners to broaden their offerings. In some cases, an equipment partner might work with an integrator to provide a healthy building project that incorporates air purifiers, integration services and the OpenBlue platform.
"Our partner program will create a natural alignment and collaboration between our equipment partners and our technology partners," Clark said.
At the same time, Johnson Controls plans to expand its collaboration with IT partners. Clark said the company anticipates a more than 200% increase in "ISV and SI engagement" over the next six to nine months.
IBM launches integrated partner program
IBM, which launched its updated partner program on Jan. 4, aims to get its partner ecosystem lined up behind its hybrid cloud and AI foundation. IBM Partner Plus provides a single, integrated program that covers partners that sell, build on or provide services around the company's technology.
"We can't be leaders in hybrid cloud and AI without a thriving ecosystem," said Kate Woolley, IBM Ecosystem general manager.
Partner Plus is built around three tiers: silver, gold and platinum. Partners in the sell and service categories will move up to the higher program levels through proficiency badges and revenue growth. IBM's technology-oriented badges include credentials for AI foundations and data science, for example. Partners that build on IBM's offerings will climb the tiers through a combination of client-validated technology and revenue growth, Woolley said.
She added that partners will have a 6-month transition period to move from PartnerWorld to the new program. A revised partner incentive stack, which corresponds to the various program tiers, will kick off in April. Co-marketing and demand generation programs will begin in July.