Getty Images/iStockphoto
Service providers explore 2023 technology trends
The uncertain economy influences the technology developments service providers expect to see in 2023, with customers likely to optimize and integrate existing assets.
The arrival of the new year brings with it a continuing pattern of economic uncertainty and recessionary concerns.
Those sentiments are tempering 2023 technology trends. Interviews with IT services executives reveal several themes: a drive for optimization, a focus on improving application integration -- especially in the cloud -- and a preference for the practical versus the experimental.
"There is a lot more focus around optimizing the cost of growth and looking at how to drive more profitable growth as opposed to just grow, grow, grow," said Will Wu, managing partner of the high-tech and software team at West Monroe, a consulting firm based in Chicago. "It's an untrained muscle for certain companies that have always looked at growth as the primary driver."
Read on to learn about four technology developments expected to keep MSPs, systems integrators and consultancies busy over the next months.
1. AI targets existing assets, future revenue growth
AI and data analytics have made the hot technology shortlist for some years now. This year, the emphasis will be on making better use of customers' IT assets and boosting their revenue.
"My view is that people are going to want to extract more value out of something that they already have, rather than create something new," said Juan Orlandini, chief architect for the cloud and data center transformation division at Insight Enterprises, a solutions integrator based in Chandler, Ariz. "And one of the key tools for doing that is a modern data estate that includes artificial intelligence tooling."
Businesses will pursue AI to derive new value from existing datasets. Partnering will become a critical aspect of getting there. That's because most organizations lack the data scientists, engineers and architects to do AI in house. Instead, they will tap a company that has such resources on staff or purchase a product-service that lets them consume AI, Orlandini said.
"That will be a big mover not just over the next year but the upcoming years," he added.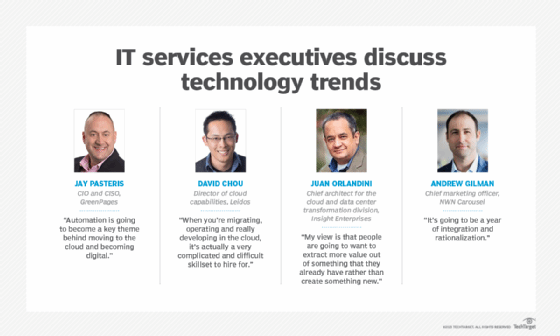 Analytics-driven RevOPs
AI and analytics will also pay a role in revenue operations (RevOps), which more organizations have begun to embrace. "We've seen a pretty heavy investment," Wu said.
RevOps aims to boost a company's revenue-generation potential through the integration of its sales, marketing and service departments. The key task is removing the friction from systems, processes and functions to "accelerate the speed at which you can capture revenue," Wu noted.
With that in mind, AI and analytics can predict sales trends and shed light on what product features to cultivate to boost the top line. In the software industry, for example, companies focus on traditional sources such as sales pipeline data. But they can also benefit from user behavior and product usage data.
Wu said analyzing such data informs a software maker's R&D investment: "What do I need to do to make the product stickier to drive the next purchase?"
The same interest in analytics-driven RevOps also surfaces in the consumer-packaged goods (CPG) sector. Those customers use data analytics and AI to learn how best to provide appropriate sales coverage and manage trade promotions, said Randal Kenworthy, senior partner in West Monroe's consumer and industrial products practice.
Kenworthy cited the example of a coffee product customer that is offering a trade promotion to spark sales at the retail level and wants to retain customers once the special pricing ends. Scouring customer data and applying AI can provide the telling insights. Again, stickiness is the objective -- how to keep customers and prevent churn.
AI coaching for employees
AI projects also have the potential to provide yet another sort of stickiness: encouraging employees to stick around in a labor market that remains tight in some sectors. A 2022 study co-authored by Boston Consulting Group (BCG) and the MIT Sloan Management Review found 64% of the respondents who use AI at work obtain at least moderate value from the technology. Those respondents were 3.4 times more likely to be satisfied with their jobs than those who reported no value from AI.
That satisfaction, in part, stems from AI helping employees do their jobs better, noted Michael Chu, a partner and associate director at BCG, who co-authored the report. An AI tool, for instance, can offer employees feedback on their previous interactions with customers to boost their subsequent performance. AI also creates a sense of autonomy since employees learn on their own as they obtain guidance from the system.
AI acts "like a coach or someone to help you act on that advice rather than someone telling you, 'You did this wrong,'" Chu said. Coaching, rather than carping, provides the added benefit of improving relationships within organizations, he added.
2. Cloud calls for granular advice, rationalization
Cloud is another perennial favorite to end up on a top technologies list. This year, service providers expect to see customers on the hunt for highly specific cloud consulting skills they lack in house.
"When you're migrating, operating and really developing in the cloud, it's actually a very complicated and difficult skillset to hire for," said David Chou, director of cloud capabilities at Leidos, a technology, engineering, and science solutions and services provider based in Reston, Va.
The challenge: hiring people who combine a software background with an in-depth knowledge of public cloud service providers. "People tend to think of Amazon, Azure or Google as all being cloud and all pretty much the same," Chou said. "They have similar services, but how to use them is very different. It's like different programming languages. And so getting folks with that level of detail in a specific provider is important."
As a result, customers will more readily adopt managed services to supplement their in-house expertise -- a pre-package offering to manage a database, for instance, Chou noted.
DoiT International, an MSP based in Santa Clara, Calif., believes startup customers will prove a key growth area for its Google Cloud business this year. Cloud-native startups come with their own technical talent. DoiT plans to supplement their skills and offer its Flexsave cloud use monitoring tool, noted Jaret Chiles, global vice president of client services at DoiT.
The MSP aims to help such clients adopt the cloud "while leveraging some of their engineering prowess," Chiles noted.
In addition to targeted technical advice, service providers cited rationalization as a cloud customer focus for 2023.
"It's going to be a year of integration and rationalization," said Andrew Gilman, chief marketing officer at NWN Carousel, a cloud communications service provider based in Exeter, R.I. "There's an awful lot of discrete services out there."
Cloud-based collaboration is one area where applications abound. Enterprise Strategy Group, a division of TechTarget, found 81% of the organizations it polled support at least six communications and collaboration tools.
Gilman said organizations have an opportunity to rationalize their technology stacks and cut costs. Integration is another possibility. He said his company has an opportunity to bring together and deliver multiple tools as a cloud service, managed under a service-level agreement.
Integration is a cost-efficiency play that also addresses usability. "It's harder to keep [employees] engaged in a hybrid workstyle," Gilman said. "You can create great experiences by integrating processes. Employee experience is probably the most strategic opportunity right now."
3. Automation aims for cloud integration, cybersecurity
Higher levels of automation are also in the technology forecast, with multi-cloud environments and labor-constrained security teams among the leading opportunities.
There is a lot more focus around optimizing the cost of growth and looking at how to drive more profitable growth as opposed to just grow, grow, grow.

Will WuManaging partner, high-tech and software team, West Monroe
In the cloud, interoperability has become a top challenge for CIOs amid the proliferation of as-a-service applications. Service providers have an opening to help companies link up disparate clouds. Automation could provide an important tool for doing so.
"This seamless multi-cloud is not there yet," said Jay Pasteris, CIO and CISO at GreenPages, an MSP based in Kittery, Maine. "We have SaaS technology that resides in different clouds. We have homegrown apps that reside in different clouds. These things need to interact with each other. The information needs to flow between these clouds."
Robotic process automation (RPA) can take care of the handoffs between clouds, which is difficult to do natively in multi-cloud settings, Pasteris said. "With RPA, we can bridge the gap [and] integrate and operate these clouds seamlessly, with automation driving the work behind that."
Automation, in general, improves accuracy by replacing manual data entry tasks and also speeds up innovation. "I'm putting my key players in my organization in a position where they can be innovators -- they're not doers of tasks anymore," Pasteris said. "Automation is going to become a key theme behind moving to the cloud and becoming digital."
Demand for automation spans a range of vertical markets.
"We're seeing a lot of organizations, whether it's the government side or whether it's the private sector side, looking at ways to automate," said Andrew Kurtz, CEO of Kopis, a software and cloud solutions provider based in Greenville, S.C.
Automation can help organizations when they struggle to find and retain employees who understand how to use a particular system, he noted. Upgrading that system through automation puts guardrails around the process, enforcing correct use of the system.
Kurtz cited automated accounts payable invoice processing as one area customers are pursuing.
Cybersecurity labor gap
Automation also makes organizations less vulnerable to the labor gap -- a critical consideration in cybersecurity.
"There are more jobs than there are operators in the cybersecurity space right now," said Mike Laramie, associate CTO of security at SADA, a business and technology consultancy with headquarters in Los Angeles. "Employers, hopefully, are upskilling their employees. But it takes a while to build up that skillset. While they're doing that, they have to start finding ways to make their employees more efficient. And I think that's where we're really going to see automation come into play in in the cloud security space."
Specifically, infrastructure as code (IaC) and policy as code (PaC) will play a larger role among security teams. Laramie said starting with those components at the foundational level lets organizations address the number one reason behind cloud security breaches -- misconfigurations in deployment pipelines.
"Just scanning code from the get-go for misconfigurations gives you a huge head start," he added.
4. Metaverse primed to pop up in niches
Industry executives said investment in the metaverse will continue for some applications and customer segments in 2023, despite tighter enterprise budgets.
"There are going to be these specific use cases, which will continue to grow and scale," said Ronak Doshi, partner at Everest Group, a research firm in Dallas.
He pointed to employee onboarding, training and experience as significant metaverse use cases that will withstand the troubled economy. "Even if we have a significant slowdown, you still want to retain the people that you have," Doshi said. "You can lose a lot of these people and then you have to go back and hire when the demand spikes up."
Businesses will also invest in the metaverse to build stronger brands and improve customer experience, Doshi said. Gaming companies, for instance, will pursue the metaverse to engage gamers with tokens and digital assets. Other active industry segments include institutional investors, which will pursue the metaverse and decentralized finance to diversity their financial products, he added.
Funding, however, will prove scarcer for metaverse projects of a more exploratory nature.
"The ones which are, maybe, experimentation for the sake of it -- those are the rare cases where your budgets will dry up," Doshi said.
Metaverse projects could also slip as they compete with other IT funding priorities. Kenworthy said he believes there will be much more corporate focus on sustainability in 2023 compared with the metaverse. That said, the consultancy advises clients to think big and act quickly when it comes to this emerging field. "But start slow," he cautioned.
In the manufacturing market, companies that do pursue the metaverse are likely to focus on training employees and customer outreach. CPG companies can use the metaverse for building brand awareness and offering consultative sales, Kenworthy said. He cited Procter & Gamble's BeautySphere, which lets customer virtually interact with the company's beauty products, as an example.
Kenworthy also pointed to manufacturing companies using virtual reality to train people in skills such as welding. "This is one of the most practical and applicable uses of VR that I've seen," Kenworthy said.
Other metaverse use cases include collaborative prototyping for product design and improving field services for industrial equipment, he added. The metaverse's augmented reality component helps with the latter.
IT services providers and global systems integrators stand to play a pivotal role in enterprise metaverse applications. Those companies will help clients build the business case for adoption, underscoring the revenue and competitive positioning benefits, Doshi said. Service providers will also find work creating metaverse demos.
"You'll see a lot of demos with clients to show the art of the possible," Doshi said.