Definition
professional services automation (PSA)
Professional services automation (PSA) is a type of software application suite that provides a service business with the functionality it needs to manage core business processes.
PSA software provides essential business automation for professional services organizations, such as law firms and accounting partnerships. In such companies, PSA tools play a role parallel to that of ERP software products in such industry sectors as manufacturing and retail. In the IT industry, consulting firms and managed service providers (MSPs) may use professional services automation software to help run their day-to-day operations.
What PSA software does
A PSA tool may encompass a range of functionality, but key components include project management, resource management and time and expense management. Software in this PSA category aims to help organizations meet project milestones and schedules, allocate resources to projects to optimize personnel utilization and keep track of employee time and incurred expenses for billing purposes.
Other professional services automation modules may include customer relationship management (CRM) for keeping tabs on sales opportunities, help desk/service desk software and reporting with dashboard capabilities.
Types of PSA software
Most PSA tools are cloud-based as opposed to on-premises products, with SaaS being a typical deployment model. The cloud approach eases the hardware acquisition and management burden of an onsite offering, which is a plus for professional services firms looking to avoid onsite technology costs, while focusing on their core business lines. The cloud-based PSA tools may also make it easier for companies to manage increasingly distributed and mobile workforces.
Professional services automation products tend to differentiate themselves through the level of integration they offer with respect to other automation software and tools. Some PSA vendors offer integrated suites that bring together PSA, remote monitoring and management (RMM) and remote control software. Other vendors, meanwhile, focus on PSA on its own without a broader suite of automation software products. The standalone PSA vendors, however, often provide integrations with other applications, such as CRM and accounting.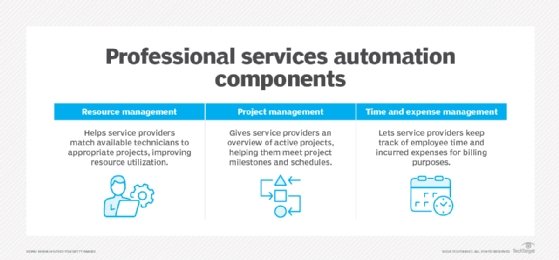 In addition, PSA products offered as part of an integrated suite may integrate with third-party offerings. That way, a customer using a PSA product from one vendor may integrate that system with another vendor's RMM offering, for example.
Examples of professional services automation software
Atera, Autotask, ConnectWise, Kaseya and SolarWinds MSP are examples of vendors offering integrated PSA suites that include RMM and other IT business management modules. PSA tools offered independently of RMM include Kimble, Mavenlink and Promys. Those products, however, offer integration to other systems. Kimble may be integrated with HR and accounting software, for example. Mavenlink offers integrations for Salesforce, NetSuite and Google Apps, among other products, while in 2016 Promys announced web API integration with Acumatica's cloud-based ERP software.
This was last updated in
October 2017
Continue Reading About professional services automation (PSA)