For IT services companies, break/fix is a method of providing IT support to customers. Services are generally fee-based and rely on a customer contacting the IT services company when repairs and upgrades are needed. While break/fix usually works on a time-and-materials basis in which the contractor charges an hourly rate plus the cost of parts, there are some exceptions. For example, a break/fix company might offer discrete services, such as virus removal, at a flat rate instead of an hourly rate, usually because the contractor has a clear idea of the time involved.
Break/fix vs. managed services
Break/fix is sometimes distinguished from managed IT services, an approach in which IT services companies take responsibility for customers' IT systems and provide monitoring and management.
Whereas break/fix companies resolve their customers' IT issues only when support is required, managed services providers (MSPs) take a proactive approach to prevent potential IT issues from disrupting business operations. MSPs generally use service-level agreement (SLA) contracts to guarantee the monitoring and management of customer IT systems at a flat monthly fee.
Fall in popularity
In the IT services industry, the break/fix service model has received criticism for taking a reactive approach to caring for customers' IT systems. Some argue that the model inherently creates a situation where break/fix companies will see greater financial gain from fixing customers' IT issues than from preventing issues from occurring in the first place. Managed services are therefore seen by many as a superior IT support model, because MSPs proactively monitor and manage customers' IT systems and offer a billing structure that customers can control through SLAs.
While break/fix was a prevalent model for providing IT support, many IT services companies have since transitioned to the managed services model. However, numerous MSPs continue to offer and derive a portion of their annual revenue from break/fix services.
Transitioning to managed services
For break/fix services firms, a move to the managed services model can prove challenging. New operational methods are required, not to mention different strategies for sales and marketing. Here are some key considerations when transitioning from a break/fix to an MSP model.
Shift to monthly recurring revenue and flat rates. Instead of a fee-for-service model, MSPs rely on subscription-based recurring revenue streams. MSP billing results in smaller, yet predictable payments on a usually monthly basis, compared with potentially larger, one-time transactions.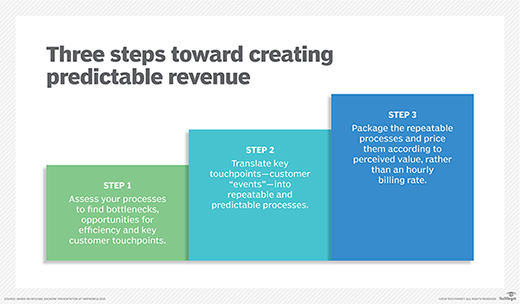 Adopt a preventative maintenance stance. An MSP seeks to nip IT issues in the bud, rather than respond to customers' problems only after they surface. MSPs maintain clients' IT infrastructure using remote management and monitoring (RMM) software and other tools. RMM software lets MSPs remotely keep tabs on clients' systems and perform management work, such software upgrades.
Hire new or retrain sales staff. MSP sales demand a deep understanding of customers' businesses and goals -- more so than time-and-materials contracting would generally require. Moreover, since managed services are subscription-based, it is important for MSPs to obtain customer renewals and keep a low churn rate.
Streamline technical and business operations. MSPs aim to make their internal processes as repeatable and efficient as possible. Doing so reduces the amount of time and money spent on each client so that they can serve a high volume of customers. Many managed services firms invest in MSP-specific professional services automation (PSA) products to manage core business processes and boost efficiency.
This was last updated in
November 2018
Continue Reading About break/fix
Dig Deeper on MSP business strategy