Professional services automation tools take on integration, AI
Professional services automation vendors are taking on more integration and incorporating technologies such as AI and machine learning into their PSA tool offerings.
Managed service providers and other IT service firms using professional services automation tools should recognize...
Continue Reading This Article
Enjoy this article as well as all of our content, including E-Guides, news, tips and more.
the technology is undergoing a rapid transition.
Professional services automation (PSA) vendors are incorporating new tools that automate manual tasks and add artificial intelligence in hopes that those innovations will reduce the cost of running managed service provider (MSP) businesses, while also improving their operations across multiple business units.
"The PSA space is definitely changing and moving away from a single tool into more of a platform that multiple tools plug into. That creates efficiency and proficiency for end users," said Jim Lippie, general manager of cloud computing at Kaseya Ltd., a New York-based company that provides IT management software for MSPs and internal IT organizations.
According to Mickey North Rizza, program vice president for IDC's enterprise applications and digital commerce research practice, one of the key benefits that professional services automation tools offer companies like MSPs is the ability to assist with project management by tracking employees' skill sets and projects, as well as providing data on budgets, resource issues and actual work performance.
"In addition, digital transformation activities are helping companies advance to the next level, with data sets and artificial intelligence or machine learning tied to workflows, making the technology a resource partner in managing services," Rizza said.
The global professional services automation tools market is on an upward trajectory, according to a Research and Markets report. The market is projected to grow at a compound annual growth rate of approximately 10% over the next decade. The PSA market will reach $17.33 billion by 2025, the report stated.
Professional services automation tools: Out with the old
To prepare their systems for future growth, MSPs are dumping their legacy PSA systems that were less integrated, highly customized, difficult to maintain and challenging to upgrade. Today, they are taking advantage of PSA applications that use modern technology, facilitate tighter integration with various tools and run on cloud computing platforms that can handle a growing amount of workloads.
As MSPs adjust to the cloud subscription model, which has replaced their ability to generate revenue from tasks such as managing applications and installing hardware, MSPs are now eager to find new ways to save money, Lippie said.
With this in mind, Kaseya is strategically improving BMS, the company's PSA tool. This year, the company released its billing automation module that helps companies automate and customize the billing and invoice-generation process.
The company also introduced BMS' two-way calendar sync, which synchronizes data to and from BMS. The tool is compatible with Microsoft Exchange, Microsoft Office 365, Google's G-Suite and iCal. It also integrates with tools such as QuoteWerks' reporting and analysis tool, Xero's cloud-based accounting platform and IT Glue's documentation platform.
MSPs can benefit from adding these tools, Lippie said. He noted that integrating IT Glue into the BMS platform, for example, helps MSPs create one view of their documentation, which saves approximately 30 minutes per day, per technician. For MSPs that have different applications in different public clouds, BMS' billing automation module will create efficiencies in business operations.
"If you are an MSP and you are using Office 365, Azure and AWS, we now offer billing plugins that go right into our PSA tool that allows you to bill in each one of those clouds. That saves a tremendous amount of back-office time," Lippie said.
As MSPs eagerly look for tools with advanced capabilities, vendors like Kaseya are intensifying their efforts to help MSPs migrate data to their professional services automation tools. The company has built a professional services team to assist MSPs with their migration projects, and Kaseya also provides tutorial videos to help MSPs understand how to use BMS.
In the midst of technological changes to the PSA market, the merger of data protection vendor Datto Inc. and Autotask, a provider of PSA and remote monitoring and management solutions, provides a combination of technologies geared toward small and medium-sized MSPs.
Adam Stewart, senior vice president of engineering at Datto, based in Norwalk, Conn., said the goal of PSA is to improve business efficiency by reducing time and costs, while helping MSPs provide better services to their customers. He said he believes understanding the needs of MSPs -- particularly smaller MSPs -- is fundamental to crafting PSA solutions that help their growth.
"As small businesses serving other small businesses, MSPs are looking for an innovative product at a cost that doesn't negatively impact their bottom line. And that's our focus," Stewart said.
He noted that, traditionally, this was done using "less clicks" -- changing the user interface in various ways, so workflows could be accomplished more quickly, and minimizing the time the user had to click on something or wait for the next page to refresh.
"Growth is and always has been a key force driving the change in the way vendors update their products. PSA is something that helps businesses to grow and manage more clients, so it's critical for the product to evolve with the clients who use it," Stewart said.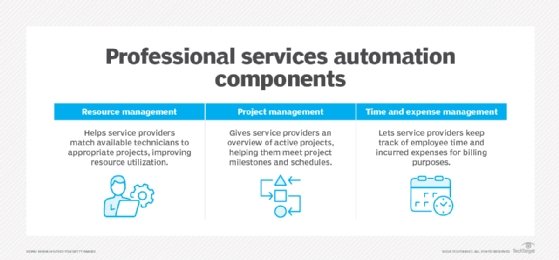 Adoption challenges
The adoption challenges are quite different for larger MSPs versus smaller and less mature MSPs. The more mature MSPs that have more established business processes need PSA to "bend" to support those processes, Stewart said.
"They are typically already using a PSA and have mirrored their processes to match what that PSA can support. They need to configure the new PSA to match their current processes as closely as possible, and they need to migrate their data from the current PSA to the new one. This migration is usually a unique opportunity to clean up the data. Having good data import tools that support CSV input is paramount for the PSA," Stewart said.
Smaller MSPs, however, want professional services automation tools to dictate best-practice processes they should be using, Stewart said.
PSA is something that helps businesses to grow and manage more clients, so it's critical for the product to evolve with the clients who use it.

Adam Stewartsenior vice president of engineering at Datto
"Their challenge is around training all of their users on the new way of doing things. There is also data that must be populated into the PSA, but it is coming from other disparate systems and usually doesn't need much clean up," Stewart said.
Lack of PSA adoption resources is the biggest problem for smaller MSPs, he noted.
"While they know that they need to adopt a PSA in order to scale their business, they are still responsible for fulfilling all of their customer needs," Stewart said. "They don't have a dedicated process person to handle the PSA adoption. Instead, they often try to do it in their spare time, which is fraught with risk," Stewart said.
He added MSPs should be aware that each time they have to move from one application to another and adapt to a different user interface, they lose some efficiency.
"The trend has been tighter and tighter integrations, but you run into limitations of just how tight you can make an integration when utilizing an API," Stewart said. "APIs have to be written with a level of protection against misuse, which in some cases can limit the efficiency of an integration. So, you are seeing more consolidation in the industry through M&A [merger and acquisition] activity."
He added that vendors like Datto provide templates, diagrams, documentation, videos and consulting that can be used to train all of a small MSP's employees, minimizing the amount of time the owner must spend on adoption.
Up next: Machine learning
MSPs must cope with adopting professional services automation tools that automate multiple business tasks affiliated with human resource management, financial administration and project management work streams. But they should expect professional services automation tools to further evolve as demands on the workforce and newer technologies are introduced. machine learning is one direction.
Michael Fauscette, chief research officer at G2 Crowd, a Chicago-based company that provides a peer-to-peer business solutions review platform, said PSAs that include machine learning algorithms will significantly reduce manual tasks, making a significant difference to the way MSPs prepare for and manage their IT projects.
"The problem of matching resources to projects is labor-intensive when done manually," Fauscette said. "But if you have technology that shows you your availability, the schedule, the resources' skills, the knowledge base and demand for skills, then when these projects come in, you can match the best skills to the practical requirements outlined in the scope of the project."
He said machine learning can actually evaluate the history of finished projects, assess the resources used, examine how the projects were built and judge the outcomes. Fauscette said the system learns, over time, which resources match which kinds of projects and offers insight for new projects. For example, a machine-learning-equipped system, for instance, could make suggestions on schedules and staffing proposals that an MSP can approve, disapprove or change. All this would happen in a fraction of the time it currently takes to manually prepare the implementation of an IT project.
"What you see now are tools that look at information and suggest next resources, or next-best resources and proposals," Fauscette said. "We are literally months away from PSA systems that will be able to predict outcomes."