5 valuable business intelligence use cases for organizations
BI tools and applications can help improve decision-making, strategic planning and other business functions. Here's a look at five top BI use cases for organizations.
Chase Hammond, business intelligence analyst at content marketing company Skyword Inc., sums up the value provided by the BI process like this: "more information about what's happening in the business and understanding what's happening at a micro level."
The kind of understanding that business intelligence initiatives deliver is crucial to corporate executives and business managers, said Doug Henschen, analyst at Constellation Research.
"It's nearly impossible to run an organization competitively today without a baseline of reporting and analytical capabilities," Henschen said. "It's not a nice-to-have -- it's a must-have. Knowing where business units, departments and the business in total stand compared to competitors, market trends and the company's own past performance is essential."
Why is business intelligence important?
Business intelligence use cases include a variety of applications that help guide both operational and strategic decision-making. Henschen and other analysts said organizations across all industries view BI as a critical component of the transformation to a data-driven enterprise; that's fueling expanded investments in business intelligence tools, BI professionals and other resources required to implement a successful BI strategy.
For example, market research and consulting firm Gartner said in its 2020 Magic Quadrant report on BI and analytics platforms that the number of people using them "is accelerating massively." Reflecting the increasing usage, a report published in November 2019 by The Business Research Company put the total value of the global BI software market at $14.3 billion in 2018 and projected it would grow to $28.77 billion in 2022 for a compound annual growth rate of 19.1%.
In its 2020 Wisdom of Crowds Business Intelligence Market Study, released in May 2020, Dresner Advisory Services said BI users it surveyed cited reporting, dashboards, data integration, data warehousing and data preparation as the top technologies and initiatives for BI deployments. Self-service BI, advanced data visualization, data discovery, data storytelling and use of the cloud were among the next priorities, Dresner added.
Although the returns generated by investments in BI tools, applications and teams vary based on how well companies manage their deployments, the following five use cases illustrate the kind of business benefits and value BI can bring to an organization.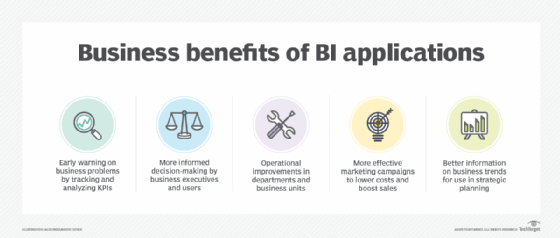 1. Track key performance indicators to identify business issues
Organizations regularly track dozens of key performance indicators -- in fact, some have that many KPIs in a single department. It's impossible to track and, more importantly, understand that volume of business metrics without the aid of technology.
This is where BI shines: Experts said it surfaces insights by identifying the KPIs to track and layering in other data points that add more dimensions to those KPIs. Additionally, BI and data analysts can use BI tools to add weight to specific data points that are more influential than other ones, a process that helps organizations understand how those elements affect the KPIs.
"BI is about adding extra elements so they can then be ranked in some way. It's about taking that extra step," said Megan Silva, data optimization leader at private equity firm Cresset Capital Management. For example, a hotel in a tourist area with seasonal bumps in business will generally track revenue and room occupancy rates. But, with BI, it could include other data -- such as weather records -- to add context to the KPIs and help make sense of the data, Silva said.
Hammond said BI analysts typically work with business executives and other stakeholders to define metrics and then to set up a reporting infrastructure in a data visualization tool. "A BI analyst probably will also analyze the numbers behind the KPIs in order to better understand what's going on," he added.
2. Accelerate and improve business decision-making
BI brings together data mining, data analysis and data visualization to give executives and other business users a comprehensive view of enterprise data, which they can then use to make business decisions in a more informed way. Using BI tools to support decision-making is one of the primary business intelligence use cases, said Christopher Asakiewicz, industry associate professor at Stevens Institute of Technology's School of Business and director of its BI and analytics program.
Being able to use data to make decisions is becoming increasingly critical. In a 2019 survey conducted by Feedback Loop, a consumer feedback platform vendor, 91% of the 310 corporate respondents said data-driven decision-making is important or very important. But only 57.4% said they practiced it often or almost always, with 33.9% citing a lack of reliable data as the biggest challenge to doing so. Similarly, 46.8% pointed to a lack of quality data as one of the top impediments to making good decisions.
Modern BI practices are rising to meet the objective of enabling faster decisions by ingesting, processing, analyzing and visualizing data at ever-greater scale and velocity, underpinned by strong data governance and data quality processes.
"Not only are we evaluating what has occurred faster, but we are able to predict likely outcomes sooner and more accurately. This may be the greatest accelerator for decisions," said Robert Dutile, chief commercial officer at technology services provider UST Global. He noted that predictive analytics tied to BI programs can provide near-real-time updates to business users for fast action or be used to automate aspects of decision-making and execution.
Companies can also use real-time BI and analytics capabilities to, for example, understand customer buying trends, compare the success of different customer engagement programs and measure customer lifetime value, enabling marketing managers and business leaders to make almost instantaneous decisions on how to proceed in those areas.
3. Optimize business processes to increase productivity and efficiency
In a typical organization, the volumes of operational data can be so vast that trends aren't obvious to either the workers involved in specific business processes or the managers overseeing them. But BI technologies, including embedded analytics tools, can pull together reams of data from ERP systems and other business applications to uncover dynamics within operations that need attention.
For example, BI tools can identify inefficiencies in manufacturing processes, supply chain bottlenecks and unbalanced IT networks in which some systems are overloaded and others are underutilized.
"You have all this transactional data that can be used to ferret out things that are running amiss in your organization," said Dennis Smid, business consultant at IT consulting firm Swingtide.
Smid detailed a case in point: A large distribution and fulfillment operation with nearly 40 warehouses had an automated replenishment system that ordered replacement stock whenever inventories fell below a certain level. But, in a BI report, the company found orders for which it received the invoices but not the actual stock, indicating that the materials were lost somewhere in the process.
"That's a good example of how business intelligence helps you with internal operations," Smid said. "You can scour the data, correlate the data and get it organized, and the BI analyst can put the data together to identify a business problem occurring. They couldn't see the problem until they tied all the data together to produce that report."
In fact, using business intelligence to increase operational efficiency is the top BI objective for organizations in 2020, according to Dresner's market study. It found that greater efficiency and cost savings have trumped revenue generation as BI priorities in response to the economic slowdown caused by the COVID-19 pandemic.
4. Analyze customer data to improve marketing and sales programs
BI gives marketing and sales teams in-depth information on the needs, wants and buying patterns of existing and potential customers by analyzing data from multiple internal and external sources. The goal of this BI use case is to make customer outreach efforts more successful and, ultimately, increase sales.
"It gives insight into what [marketers] are recommending and how that sits with what people are buying," said Tom Austin, CEO and founder of The Analyst Syndicate, a network of independent technology and business analysts.
The BI-generated insights take guesswork and assumptions out of the equation, enabling organizations to design more effective marketing campaigns, develop the right sales pitches and promotional offers, target the right demographics with the right message, and create new products and services that best match the customers they're seeking to serve. All of that can lower marketing and sales costs while hopefully boosting revenue, Austin and others said.
Take the case of a financial institution with a new customer who just obtained a mortgage. Silva said the sales and marketing team can use business intelligence to analyze data about that customer -- age, income, etc. -- and the financial portfolios of similar customers to identify the opportunity for additional product marketing. "Then, the bank can know what to call and offer as the next product," she said.
5. Aid corporate and business executives in strategic planning
In a quarterly survey of senior executives involved in enterprise risk management initiatives, Gartner found that "strategic assumptions" was the No. 1 concern for both the first quarter of 2020 and the fourth quarter of 2019.
BI is a key element in analyzing strategic risks. But it's essential that corporate and business executives of all kinds can access BI data to get accurate insights about organizational strategies and direction.
Hammond labeled strategic planning a critical business intelligence use case and noted that providing information to the executive team for planning purposes often involves more comprehensive data analysis work -- not merely setting up some simple dashboards. "A BI analyst may have to analyze large amounts of historical customer data alongside third-party data in order to help executives understand the state of the current business environment and various future scenarios," he said.
Others agreed, saying that the ability to extract strategic insights from data is a must for organizations to remain competitive in today's digital world, where rapidly changing market dynamics can create a need to adjust a company's focus and business strategies just as quickly.
"BI and analytics are effectively the eyes and ears of the organization that help executives and operational staff set direction and make decisions guided by data," Henschen explained. With that data in front of them, he added, business execs "can better interpret trends and patterns over time."
Dig Deeper on Business intelligence management