One of the most important and complex decisions facing IT leaders is where and how to deploy new and existing applications. To deliver maximum impact to the business, most applications must leverage resources across the entire IT ecosystem, including data centers, public clouds, colocation, and edge environments.
This article discusses the latest research from TechTarget's Enterprise Strategy Group (ESG) on where organizations are deploying their applications, and why. We also explore the challenges that arise from leveraging multicloud and discuss how the APEX portfolio from Dell Technologies helps organizations mitigate the risks of distributed IT environments through greater simplicity, agility, and control.
Factors Influencing Deployment Decisions
Where an application is deployed depends on numerous factors, including the type of application, the needs of the application, the needs of the business, and the priorities of the organization. None of these factors is static. In multicloud environments, as conditions change, organizations often move an application to a more optimal location.
But moving applications and data can be fraught with complexity. ESG found that 81% of IT leaders report facing challenges with application and data portability across locations, including data center, public cloud, colocation, and edge.1
Organizations use a variety of metrics when measuring the effectiveness of application deployment locations. The two most common are the number of application instances, cited by 41% of respondents, and user satisfaction, cited by 40%. These suggest that businesses prioritize scalability and delivering on end-user experience among customers, employees, and developers.
For new applications, 47% of decision makers prefer a cloud-first model, and 26% still prefer an on-premises first model; 27% consider both on-premises and public cloud services equally when considering how to deploy new applications.
Yet even companies with cloud-first preferences make exceptions for certain applications, based on a number of factors, including application/owner preference, data governance/sovereignty, TCO, and leveraging data already in on-premises locations. See Figure 1 below:
Figure 1: Exceptions among cloud -first organizations for deploying new applications on-premises.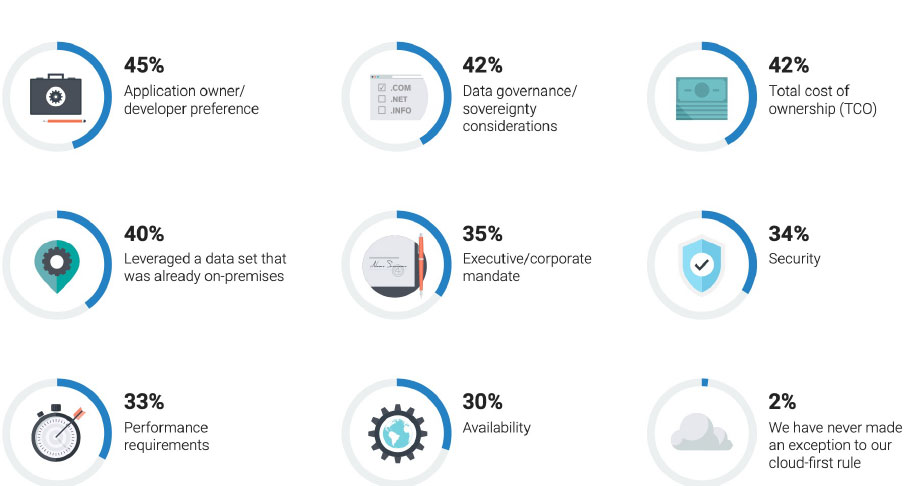 In addition, at least a quarter of applications are deemed not suitable for public cloud deployments. The primary factors are performance, security, complexity, inability to meet functionality or usability expectations, and governance policy/industry regulation violation risks.
When selecting a deployment location for existing applications, data access and mobility was identified as critical by more than half (54%) of organizations, reinforcing the critical role that data—in particular, the cost and complexity of moving data—plays in application migration decision making.
Other key factors for deploying existing applications include API calls required by the network (49%); available location/network bandwidth (49%); budget impact/costs (48%); performance/latency (43%); and availability/SLAs (38%).
Reducing Complexity and Risk in Choosing Deployment Locations
For most organizations, the business benefits of having distributed applications in multicloud environments far outweigh any risks. More than 60% of IT decision-makers view distributed application architectures as strategic and/or beneficial, while 19% view them as appropriate for specific use cases.2
In fact, distributed application environments will become more predominant, with 87% of decision makers saying that their application environment will become distributed across even more locations over the next two years.
While nearly 9 out of 10 organizations are now multicloud, there are drawbacks to being multicloud if you lack an overarching strategy and the ability to integrate distributed systems. In contrast, a multicloud by design model helps organizations mitigate risks around complexity, cost, agility, and security that arise in multicloud application deployment decisions.
Dell Technologies makes multicloud by design possible with APEX, its portfolio of subscription and as a service offers. APEX enables organizations to run their traditional and cloud-native workloads wherever they deliver the most value to the business, whether on premises, in the public cloud, in a colocation facility, or at the edge.
Thanks to partnerships across the multicloud ecosystem, APEX helps organizations build a consistent application and data fabric across their distributed IT environments.
APEX brings cloud services and experiences to datacenters, colocation facilities, and the edge with cloud platform appliances from Microsoft Azure, RedHat OpenShift, and VMware that enable a simple, automated, and consistent management experience. APEX also delivers enterprise-class storage capabilities that organizations know and trust to their public cloud workloads—allowing organizations to use the same storage management interface they use on premises, while also drawing on public cloud committed spend. Finally, APEX brings pay-as-you-go cloud consumption experiences, as well as scalability and elasticity, to workloads running on premises or in a colocation facility, providing cloud experiences with greater control and more predictable IT spend that's aligned to business requirements.
Taking the Next Step
Choosing where to locate each application is mission critical in today's era of business and IT transformation. The APEX portfolio provides the flexibility to run workloads where they work best, in terms of performance, cost, or efficiency, without technical constraints. Moreover, APEX delivers consistent management experiences that help bridge the operational islands of multicloud by default. More consistency means greater security, agility, and cost control.
For more information on how your organization can leverage multicloud by design in making your application location decisions, please review the additional articles and resources on this site and visit Dell Technologies.
1 "Multi-cloud Application Deployment and Delivery Decision-Making," TechTarget's Enterprise Strategy Group, February 2023
2 Ibid