What does a business intelligence analyst do?
Business intelligence analysts are key members of BI teams who analyze data, create dashboards and handle other duties. Here's a look at the job and the skills it requires.
Becoming a data-driven organization is increasingly a top priority for businesses of all sizes -- and the business intelligence analyst plays a key role in helping them achieve that objective.
As organizations build up their business intelligence capabilities by drawing on querying, data mining, data visualization and other data analytics technologies, BI analysts are tasked with using those tools to produce insights that can inform and guide business decision-making. That requires a combination of technical skills and business knowledge, plus critical thinking, problem-solving and communication skills.
"Their job is to use the data to help the business make real-time decisions, so BI analysts need to be technical enough to analyze the data, and they also have to understand the business and how the business can apply the data," said Josh Drew, Boston-area regional vice president for Robert Half Technology and The Creative Group, two units of staffing firm Robert Half International Inc.
"They show others where the data can drive decisions, and the value of the data, because most people don't fully appreciate how much information is at their fingertips today," Drew added.
Chase Hammond, business intelligence analyst at content marketing company Skyword Inc., described his primary responsibility as making sure "data flows within the organization in such a way that it's as useful as possible for as many people as possible."
To do that, Hammond works with everyone from business executives to financial managers and sales and marketing staffers to help them understand the insights from data analytics so they can put the information to effective use.
"In a company like mine, we already know data is powerful," he said. "So, I'm focused on answering specific business questions: How are we doing against a new strategy? How are our sales doing? How profitable are our clients?"
What is the role of a business intelligence analyst?
Business intelligence analysts do much of the day-to-day work of the data analysis process. They work with executives and other business users to identify what data is needed to answer their questions, and then they bring that data together, run BI queries and create data visualizations, reports and dashboards to help their business colleagues extract meaning from the data sets being analyzed.
BI analysts also increasingly work side by side with business users on self-service BI deployments, teaching them how to manipulate and analyze data themselves as part of efforts to further increase analytics speed and agility.
Through those functions, BI analysts help decision-makers understand the overall performance of a company and the state of specific business units or departments, such as sales, finance and HR, as well as business trends, customer behavior, marketing opportunities and problems that need to be addressed.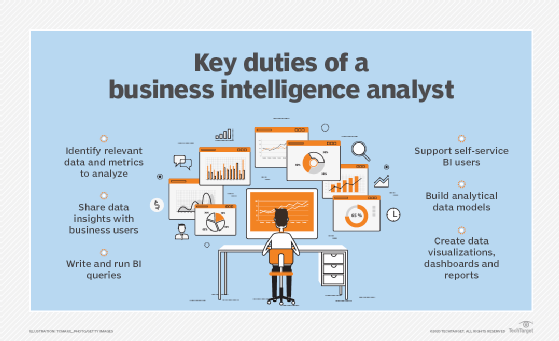 "To do this, they sit down with executives and business professionals to understand what they're trying to measure, track and better understand," said Doug Henschen, analyst at Constellation Research. "They then work with data management professionals to understand the applications and data sources that will provide the appropriate information [and] to have the required data extracted, integrated and transformed, as required, to support ongoing reporting and analysis."
From there, Henschen said BI analysts work iteratively with both the data management team and the business stakeholders to develop and refine key performance indicators, visualizations, reports, dashboards and, in some cases, storyboards or briefing books. The information that BI analysts provide helps guide day-to-day operational decisions and strategic planning; it's also sometimes used to program automated responses to specific business scenarios.
How BI analyst differs from other BI and analytics roles
The business intelligence analyst position is just one of many roles related to BI and analytics in most organizations, with the number of such positions and their titles and responsibilities often varying based on a company's size and resources and the maturity level of its BI and data management programs.
Tim Herbert, executive vice president of research and market intelligence at CompTIA, a technology training and certification organization, said there sometimes are overlaps between the various positions. In some organizations, he noted, a BI analyst may have a broader set of responsibilities than is typical, overlapping not only with other BI jobs, but also the work traditionally handled by a business analyst.
"At larger firms, there may be a dedicated BI architect, while, at smaller and medium-size firms, the BI analyst role, [business analyst] role and architecture role may reside with a single individual," Herbert said.
Although the differences between the roles aren't always clearly delineated, Herbert and other experts said there are some common distinctions. For example, BI analysts are typically the ones responsible for running BI queries and designing reports and dashboards. On the other hand, business analysts work with business units to gather technical requirements for operational and analytics systems, evaluate business processes and recommend internal changes, among a variety of other data-driven tasks.
Meanwhile, BI architects are commonly tasked with designing and implementing the technology infrastructure that supports business intelligence activities, including BI systems, applications and reporting tools.
Henschen said many BI architects are also responsible for setting the overarching BI and analytics strategy and overseeing how data warehouses, data models, schemas and other data architecture components support the organization's information needs. In addition, their duties often include choosing BI and analytics platforms and helping to ensure that service-level agreements and performance requirements are met -- all work that usually doesn't fall to BI analysts.
Some companies also have BI developers, who, like BI architects, tend to have greater technical depth than BI analysts. Henschen said BI developers generally focus on exploiting APIs and SDKs and doing coding to develop analytics applications, portals, embedded BI capabilities and deeper, multidimensional analyses.
Important skills and job requirements for BI analysts
A business intelligence analyst typically works between IT and business operations. As a result, where these positions reside within an organization varies based on enterprise structure, business needs and other factors.
For example, Henschen said BI analysts may be part of a centralized BI and analytics group or be embedded in individual departments and lines of business. "It all depends on size, sophistication and the maturity of data-driven decision-making," he said. However, he added that BI analysts are increasingly outside of the IT department.
Given how their role bridges the technical aspects of tasks such as data integration and data preparation and the business use of data, BI analysts need a wide range of skills. Practitioners and consultants listed the following skills as key attributes for success in the position:
proficiency in understanding data and doing data modeling, profiling and validation;
expertise in using data mining, query, analysis, visualization and reporting tools;
knowledge of SQL and, for more advanced BI analyst positions that involve predictive modeling, programming languages such as Python and R;
familiarity with database management systems and data warehouse technologies;
communication, interpersonal and collaborative skills;
critical thinking and problem-solving abilities, as well as an inquisitive nature; and
general business acumen, plus specific industry or business domain knowledge.
BI analyst jobs typically require a bachelor's degree, at minimum, preferably in analytics, computer science or a related area of study, although mathematics and business degrees are also often desirable. In addition, a master's degree in business administration may help applicants land a job.
Business intelligence analyst job prospects and salary expectations
The career outlook for BI analysts is strong, reflecting the growing importance that organizations place on the ability to draw business insights from their data.
A CompTIA analysis of U.S. job posting data from the Labor Insight service offered by analytics software developer Burning Glass Technologies found that the number of advertised BI analyst jobs jumped 20% between the first quarter of 2019 and Q1 2020. And the demand for business intelligence analysts isn't expected to slow, even as more organizations implement self-service BI capabilities.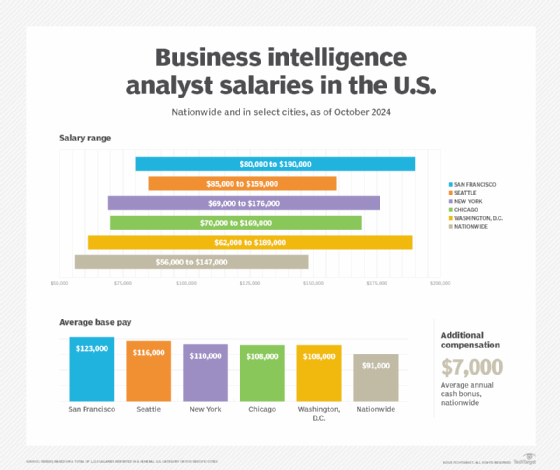 In fact, the shift to self-service BI is well along at many companies. Yet, they still need BI analysts, who can focus more on higher-level tasks, like creating complex dashboards and automating more of the BI process. "The ranks of BI analysts have grown along with the rise in self-service," Henschen said.
Robert Half's Drew said salaries for BI analysts in the U.S. range from $60,000 to $130,000 or more, while Henschen cited a range of $50,000 to $110,000, with the median average around $70,000 to $75,000. That corresponds to BI analyst salary data reported to job search and employer reviews site Glassdoor, which lists an average base salary of $76,402 and a range of $54,000 to $113,000 nationally.
Typical salaries vary based on location, with more competitive job markets -- such as those in Northern California, Los Angeles, New York and Boston -- offering higher rates on average than others do. Salaries are also affected by the specific responsibilities of positions and the experience and skill levels of the BI analysts hired to fill them.