Definition
self-service business intelligence (self-service BI)
Self-service business intelligence (BI) is an approach to data analytics that enables business users to access and explore data sets even if they don't have a background in BI or related functions like data mining and statistical analysis. Self-service BI tools allow users to filter, sort, analyze and visualize data without involving an organization's BI and IT teams.
Organizations implement self-service BI capabilities to make it easier for employees from executives to frontline workers to get useful business insights from the data collected in BI systems. The primary goal is to drive more informed decision-making that results in positive business outcomes, such as increased efficiency, better customer satisfaction and higher revenue and profits.
Traditional vs. self-service BI
With traditional BI tools and processes, the BI team or IT does the data analysis work for business users. In this approach, users request new analytical queries, which a BI analyst or other BI professional writes and runs for them. Similarly, users ask for new reports and BI dashboards, typically through a requirements-gathering process initiated by BI staffers.
Once a project is approved -- which can take weeks in some cases -- the BI team prepares the required data or, if need be, works with IT to extract it from source systems, transform and cleanse it, and load it into a data warehouse or other data store. The BI team then creates queries to produce the requested analytics results and designs a dashboard or report to display the information.
Conversely, a self-service BI environment enables business analysts, executives and other users to run queries themselves and create their own data visualizations, dashboards and reports. Because some of those users may not be tech-savvy, it's imperative that the user interface (UI) in self-service analytics software be intuitive and easy to use. But self-service BI systems should meet the needs of both casual users, who may only want to view data, and power users with more technical skills.
Training should be done to help self-service users understand what data is available and how it can be queried and used to make data-driven business decisions. In many cases, the members of the BI team also support users as needed on an ongoing basis and promote BI best practices throughout the organization.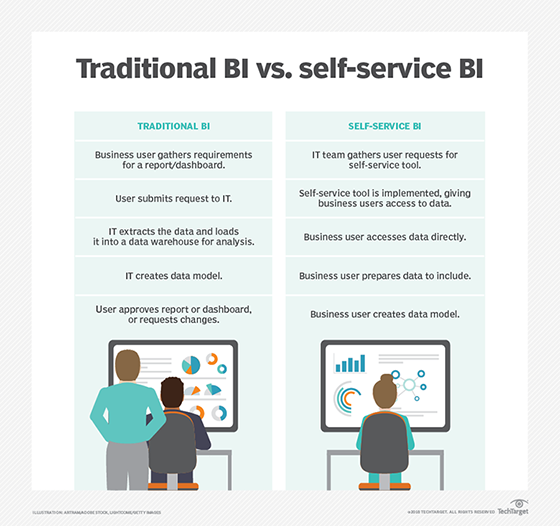 What are the benefits of self-service BI?
The expanded data access and analytics capabilities that self-service BI provides can benefit businesses in a variety of ways. The potential benefits include:
Better use of BI and IT resources. Because business users can do their own ad hoc analysis, self-service BI frees an organization's BI and IT teams from creating the majority of queries, visualizations, dashboards and reports. That allows them to focus on higher-value priorities and tasks that require more technical skills, such as curating data sets for business users and creating complex queries.
Faster data analysis and decision-making. Self-service capabilities help reduce bottlenecks in BI programs by shifting analytics work to business users instead of a small number of BI professionals. That in turn accelerates business processes, because users can more quickly analyze data and then make decisions and take actions.
A data-driven organization. As more business executives, managers and workers use BI tools, self-service systems can help create a fully data-driven culture in both the C-suite and business operations.
Competitive advantages. The expanded use of data and accelerated decision-making can make an organization more agile as a whole, which may help it create or maintain a competitive edge in the marketplace -- particularly if its use of self-service tools is more substantial and successful than similar efforts by business rivals.
What are the challenges of self-service BI?
Self-service BI deployments also pose various challenges for organizations. The hurdles and roadblocks to a successful self-service initiative include:
Lack of adoption by business users. Like traditional BI environments, self-service ones can be held back by resistance from business executives and managers who want to continue to base decisions on their own knowledge and intuition. Self-service BI applications that don't have user-friendly interfaces may also discourage user adoption.
Inaccurate analytics results. Self-service queries can produce bad results due to incomplete data sets or data errors that aren't identified and fixed. There's also a risk of inconsistent information if separate users work with different versions of the same data or filter and prepare it for analysis in different ways. These issues can lead to confusion over BI findings and, ultimately, faulty decision-making.
Data security, privacy and ethics issues. The expanded data access that self-service BI provides can cause problems if strong data security protections and an effective policy on data governance aren't put in place. For example, unauthorized users could access sensitive data, or data could be misused in ways that violate data privacy regulations and corporate ethics standards.
Uncontrolled deployments. Self-service BI environments can become chaotic without some level of centralized monitoring and oversight by the BI team. If business units deploy BI systems on their own, inconsistent data silos, multiple BI tools and runaway costs can make it hard to scale self-service capabilities effectively and efficiently.
To avoid or overcome such challenges, an organization must start with a well-planned BI strategy, including a solid BI architecture that establishes technology and governance standards. Those foundational elements can help ensure that the organization has the right data sets and the infrastructure to support enterprise-wide use of self-service BI tools.
Additionally, a BI training program should educate workers not only on how to use self-service systems, but also on how to find the business data they need and create effective data visualizations, dashboards and reports. Meanwhile, the data governance policy should define key data quality metrics; data management, access and usage policies; procedures for sharing reports and dashboards; and how data security and privacy protections will be maintained.
Examples of self-service BI tools
Tableau, Qlik and Tibco Spotfire were among the first vendors of self-service BI and data visualization tools. Now, software vendors that once offered traditional BI tools for skilled analysts also provide self-service ones. In fact, consulting firm Gartner characterizes a modern analytics and BI platform as a set of easy-to-use tools that support the full data analysis workflow with an emphasis on self-service capabilities and augmented analytics features designed to help users find, prepare and analyze data.
Microsoft Power BI is another prominent self-service BI platform. Some of the many other self-service options available to users come from IBM, Oracle, SAP and SAS, as well as vendors that include AWS, Domo, Google's Looker unit, MicroStrategy, Pyramid Analytics, Sisense, ThoughtSpot and Yellowfin. Salesforce, which acquired Tableau in 2019, also offered its own BI software, but that is now integrated into the Tableau product line. Information Builders was a notable BI vendor, too, before Tibco bought it in early 2021.
Ease of use, sophistication and features differ for each vendor's self-service BI tools. For example, some platforms may be primarily used for simple dashboards and visualizations rather than more complicated data analysis and associated tasks, such as self-service data preparation, data discovery and interactive visual exploration.
Common features of self-service BI tools
Self-service BI software's core features include ad hoc query, data visualization, dashboard design and report generation capabilities. The software can be used as a relatively simple self-service reporting tool by executives and operational workers who only need to see specific information, while more advanced users can take advantage of its querying and design features to share analytics results with others.
Self-service tools also offer various other features, either as standard items or optional add-ons. Some of those items includes:
connections to different data sources for accessing relevant data;
data sharing and collaboration features;
data modeling and curation capabilities;
support for running BI applications on mobile devices;
data storytelling tools for creating narrative presentations;
mapping and geospatial data functionality;
data preparation and data catalog software; and
predictive modeling for what-if analysis of different scenarios.
Self-service BI trends to watch
Augmented analytics technologies are increasingly becoming core components of self-service BI platforms. They include natural language querying capabilities that eliminate the need to write queries in SQL or other programming languages, as well as AI and machine learning algorithms that can identify relevant data, explain the meaning of data elements, automate the data preparation process and suggest appropriate types of data visualizations. Gartner predicts that augmented analytics features will be "ubiquitous" in BI tools by 2022.
Other notable trends include the rollout of low-code and no-code development tools by vendors to simplify the process of creating BI applications, plus the addition of support for multi-cloud environments to BI platforms. Overall, the use of the cloud for BI and analytics is on the rise -- in its 2021 "Magic Quadrant for Analytics and Business Intelligence Platforms" report, Gartner said "the vast majority" of new spending on BI systems is for cloud deployments.
The Business Application Research Center (BARC), an analyst firm that primarily focuses on BI and data management software, said 2,865 users, consultants and vendors it surveyed in 2020 ranked self-service BI fifth on a list of the most important BI trends. Data discovery and visualization and establishing a data-driven culture, both closely related to self-service BI, were No. 2 and No. 3, according to BARC's "BI Trend Monitor 2020" report. Data quality and master data management was first on the list, while data governance was fourth.
This was last updated in
March 2021
Continue Reading About self-service business intelligence (self-service BI)
Dig Deeper on Business intelligence management