7 steps to create a modern business intelligence strategy
Business intelligence can boost performance and create competitive advantages for companies. Here are seven steps to take in implementing an effective BI strategy.
Whatever your business, it's already doing some form of BI. I can say that with confidence because every business today runs on applications that generate data and provide at least some basic reporting. Alongside these applications, business executives and managers use spreadsheets not just as complex calculators, but also to shape and work with numbers and tables so they can get insights into business operations.
But that isn't full-blown business intelligence. Those spreadsheets and reports? They're essential tactical tools, but not strategic. That is to say, you choose them to do a job, but they're unlikely to help you gain a competitive advantage over business rivals. Reports today are commodity applications that aren't integral to an organization's vision of where it wants to go and how it wants to operate to achieve those business goals. They're just tools.
Benefits of a BI strategy
A business intelligence strategy, on the other hand, builds on a vision of what success looks like: an understanding of competitive advantage and how to deliver that. An effective strategy for BI and analytics brings together a data-driven and objective understanding of markets, customers, operational processes and business performance, along with better-informed insights from both the BI team and business users.
It includes the development of a BI architecture and the deployment of BI systems and applications based on that architecture, either on premises or in the cloud. But a BI strategy is far more than a technology roadmap: It builds an ethos of smart, reasoned business decision-making that will serve your organization well in times of both calm and crisis.
How to implement a business intelligence strategy
There are various tasks to do in creating and implementing a BI strategy. For example, IT and BI managers and others involved in planning it -- the CIO or chief data officer, say -- need to:
get approval and funding for the BI program;
structure and staff the BI team;
design the BI architecture;
select the BI software that will be used;
work with business users to identify key performance indicators (KPIs) and other business metrics to track; and
train users on the BI tools.
As part of that process, there are steps you should take to ensure that your strategy produces the promised business benefits. Here are seven steps that will help transition your organization from using simple data analysis tools to meeting its current and future business analytics needs with a successful BI strategy.
1. Start where you are on BI and analytics
I sometimes think this first step should go unsaid, but too often organizations stumble at the start of BI initiatives. IT and BI teams make big plans for platform migrations or the deployment of new technologies, hoping that a data-driven analytics culture will automatically follow and bring the hoped-for cost savings, bottom-line improvements and competitive advantages.
Start instead with an audit of the data analysis tools your business teams already use. You may be surprised to discover how many users are actively self-serving on BI and analytics. Also, survey decision-makers and other business users about their use of data. Which existing reports are effective? How many meetings and decisions already rely on data, reports or dashboards?
Knowing where you stand enables you to take additional first steps toward a formal BI strategy without disrupting good work that's already being done and alienating key stakeholders.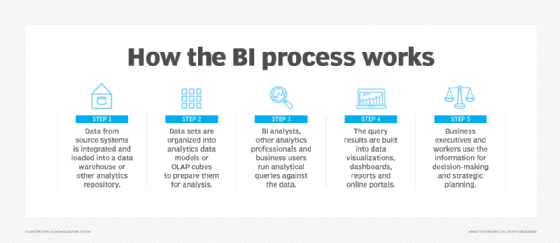 2. Get your house in order on security, privacy, governance and compliance
I hope you already take data security seriously, but that's not enough for businesses today. Increasing concerns and legislation on data privacy require organizations to make protecting people's personal information and governing how it's used a priority.
While data privacy and security are naturally related to one another, you must consider the particular needs of each discipline in implementing a BI strategy. This is especially true when dealing with sets of big data that aren't stored in a conventional relational database with mature, fine-grained access controls. Privacy measures rely on good security, for sure, but that alone doesn't ensure that sensitive information is closely held and used properly.
Similarly, data governance and regulatory compliance are related. Good governance doesn't guarantee compliance with the requirements of specific legislation or codes of practice, but it's difficult to be sure of your organization's standing on them without effective governance processes in place.
It may sound odd, but data governance isn't about making better decisions -- it's about making decisions in the right way. Understanding this distinction will enable your next steps in the BI implementation process to be more sure-footed.
3. Think of IT and BI teams as shopkeepers, not gatekeepers
A modern business intelligence strategy includes a strong element of self-service BI and analytics. Increasingly, business analysts, executives and managers have the skills and tools to do their own data analysis work. But where will they get the data?
Whatever you do, don't connect them directly to the data source. You must protect your operational systems. The traditional data warehouse is still highly relevant and effective; it enables IT to manage data quality and provision users with not just data but also a logical model of how the business operates.
However, in a self-service BI world, business users often create their own analytical data models for short-term or ad hoc needs. So, IT and BI managers should think of themselves less as gatekeepers and more like shopkeepers. A shop isn't unregulated -- consider tobacco or alcohol sales. The shopkeeper must enforce the rules that are put in place, while also ensuring that the goods -- data, in this case -- are fit for purpose, appropriately packaged and available.
This is a change in mindset as much as a change in your data architecture, but it makes all the difference to a successful BI strategy.
4. Don't race to the top on BI tools
Business intelligence software promises ever more advanced capabilities: data visualization, prediction and now augmented analytics features, in which AI and machine learning lend a hand to find patterns in your data and aid the BI process in other ways. These are exciting times.
Nevertheless, pause before widely deploying new technologies. Not every business team needs the most advanced BI features. For many parts of your organization, basic operational reporting will prove adequate. Other teams -- perhaps in omnichannel marketing, for example -- may feel ready to take on the latest capabilities. Most will be somewhere in between.
This is why step 1 matters so much: You must know your starting point and where each business unit or department should be on the BI technology map. Finding the appropriate technology for each need isn't at all the same as defaulting to a one-size-fits-all platform.
5. Incorporate collaboration into BI systems to spur business actions
I often say that data without analysis is a wasted asset, but analysis without action is a wasted effort. A complex BI dashboard may show a range of KPIs, but it can't tell business users what to do about them.
Some BI tools integrate with operational applications. Some can be used to build low-code or no-code apps for operational use. However, most business actions start with collaboration between people. As a result, integration of BI systems with email, chat platforms and other collaboration channels is an increasingly important demand.
Your BI strategy needs to include effective communication and collaboration as a key outcome to help drive action and decision-making based on the analytics insights it produces.
6. Build a BI community of practice among business users
What is your organization's greatest competitive advantage? Your data? Everyone has data. Your technology? No -- any competitor can buy advanced technology, too.
Your people? That's close, but your key competitive advantage really lies in the conversations your people have, informed by insights from your BI data. Author and Fast Company magazine co-founder Alan M. Webber -- now the mayor of Santa Fe, N.M. -- perhaps had that in mind when, in 1993, he wrote: "In the new economy, conversations are the most important form of work."
A powerful BI strategy takes conversations beyond simple collaboration. In a true analytics culture, a community of practice emerges. These are not just user groups or support groups -- communities focus on excellence beyond what is needed to just do the job.
As part of a BI program, we want to discover useful data insights and build informative data visualizations, well-designed dashboards and compelling data stories. We do so by generously sharing ideas and techniques among committed business users -- enthusiasts, really -- across organizational boundaries.
7. Look beyond basic BI capabilities
A sound BI strategy can support the company mission and deliver your business objectives: reduced costs, business growth, higher customer engagement, better retention and so on. A great strategy looks further out and prepares your organization for different, more complex futures. Do you see opportunities to experiment with voice integration, AI, process automation or augmented reality interfaces? These technologies are here now and increasingly used in enterprises.
Your strategy can't predict all the ways in which your organization's business or your technology infrastructure will develop. But you can be prepared. The previous six steps lay the groundwork. The final piece of the strategic puzzle is your vision of how you will head into the analytics unknown.