Fotolia
Remote monitoring and management software: Vendors expand, integrate
RMM vendors are extending their product lines into areas ranging from documentation to backup, but face an integration challenge when it comes to providing a unified interface.
Managed service providers' first duty is to ensure their customers' systems are up and running. With IT infrastructure becoming more complex and more dispersed, that goal has pushed them in antithetical directions. They are extending the reach of their remote monitoring and management software products to more devices, while still trying to deliver a simple, single interface to their customers' infrastructure.
The end result is a multipronged strategy for RMM vendors: They are enhancing their existing RMM tools, expanding their portfolios and integrating a wide range of solutions.
Initially, MSP services focused on the availability and performance of foundational infrastructure: servers, storage and networks. An MSP's technicians wanted to know if a device was up or down and how quickly it processed information. Nowadays, the underlying infrastructure has become virtualized, and RMM suppliers want to automate more monitoring functions. They use various programming tools to write routines that speed up troubleshooting. For instance, Kaseya Corp.'s Virtual System Administrator (VSA), the vendor's RMM offering, recently added support for native Microsoft PowerShell scripts to its feature list.
Expanding remote monitoring and management software
Indeed, RMM vendors are building out their product lines.
"MSPs want to integrate and automate more functionality," said Jim Lippie, general manager of cloud computing at Kaseya.
The buildouts help them streamline the troubleshooting process. Theoretically a problem is identified in RMM; the information sent to a professional services automation (PSA) package that tracks the customer information; a trouble ticket automatically opens; a system asset window pops up with all of the relevant device information appearing on their screen; and the troubleshooting begins. The various monitoring tasks are all integrated so many of the traditionally manual steps are automated.
So, remote monitoring and management software vendors are making many moves to extend their service reach. Kaseya, for example, has announced a number of alliances and acquisitions in 2018. Those deals include a partnership with IT Glue, which makes documentation products; a merger with Unitrends, which provides backup and continuity solutions; and the purchase of RapidFire Tools, which offers IT assessment, internal threat detection and compliance products. And in October 2018, Kaseya disclosed the acquisition of Spanning Cloud Apps, a move that extends the company's role in cloud-to-cloud backup.
In addition, Continuum, a Boston company that provides RMM, acquired managed security vendor Carvir earlier this year to expand its IT management platform in the cybersecurity market.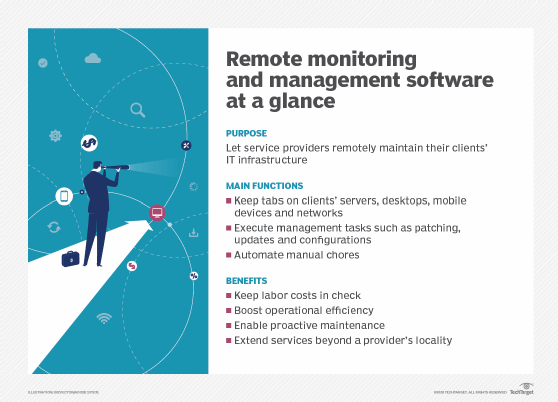 The need for integration
One problem with product line expansions is they leave MSPs with more solutions to work with and more interfaces to learn. "We do not want to bounce among 15 vendors' different products to support our customers," noted Brett Johnson, president of Simpleroute, an MSP serving small and medium-sized businesses in Vermont since 2009.
Consequently, RMM vendors have been trying to integrate their systems.
"MSPs desire a single dashboard where all of the system performance information in presented in a consistent manner," said Ian van Reenen, vice president of engineering, endpoint products at Datto.
Progress has been made in some areas. SolarWinds enhanced its N-central system with deeper PSA application integration, enhanced patch management, and connections to the company's NetPath network performance monitoring tool. Consequently, MSPs can create, update and close tickets for their PSA application without leaving N-central. They also view and manage the last five tickets created, whether they came from N-central or another PSA application.
Delivering on the RMM wish list
Other enhancements appearing in remote monitoring and management software products include patch status detection and expanded reporting capabilities.
Software requires constant updating, so RMM solution providers have been trying to make it easier for MSPs to keep it up to date. For example, Datto Inc.'s RMM product has been enhanced to illustrate the current status of patch and antivirus updates.
Analytic reports are also on the wish list. "MSPs have started to build data warehouses to help understand what is happening with the equipment on their networks," said Craig Fulton, chief product officer at ConnectWise Inc., which offers its ConnectWise Automate RMM product.
Accordingly, RMM vendors provide reporting features that focus on customers' IT infrastructure health.
Atera Inc., for instance, offers reports that help MSPs track customers' networks, assets, system health and performance. The vendor's canned reports depict system health at a glance, customer health, agent health, system inventory, and Microsoft licensing.
Challenging connections
But such integration work is challenging. The various solutions include application programming interfaces, which number in the hundreds and thousands. As a result, connecting a different system is a complex task, one that takes months of work by skilled developers.
Compounding the burden is a lack of standards. Each system relies on proprietary interfaces. Consequently the work done to connect one RMM to a trouble ticketing system is of little to no use when looking to add another one.
We do not want to bounce among 15 vendors' different products to support our customers.

Brett Johnsonpresident, Simpleroute
In addition to connecting the different remote monitoring and management software elements, MSPs need to connect the tools to back office systems such as billing. The end result is a checkered set of connections.
"Even when using a central console, the workflow at times can feel disjointed," Simpleroute's Johnson stated.
Vendors recognize the need to improve the integration among the various tools. They have devised product roadmaps that illustrate when connections among their different modules are expected. The challenge is that the customer wish list is dynamic, constantly expanding and prodding them into new areas. So, the work continues.
Remote monitoring and management software products have extended from simply determining if a device is up to streamlining MSP workflows. Vendors have been busily expanding their solutions to deliver more functionality. The building blocks are falling into place, although many are loosely rather than tightly connected at the moment.
Additional reporting by John Moore.