Kaseya VSA update unifies RMM with Traverse, IT documentation
At Kaseya Connect 2018, Kaseya revealed its RMM software now combines with Traverse network management and IT Glue documentation capabilities; other news from the week.
IT management vendor Kaseya has unveiled the latest version of Kaseya VSA, a remote monitoring and management platform used by managed services providers.
The updated Kaseya Virtual System Administrator (VSA) software was highlighted at the vendor's user conference, Kaseya Connect 2018, held this week in Las Vegas. Among the product's upgrades is the unification of Kaseya's endpoint management technology with its Traverse network management product. Other new software features include embedded IT documentation and extended automation capabilities via Kaseya's crowdsourced automation community.
"This is a huge thing for our company," said Fred Voccola, CEO of Kaseya, shortly after Kaseya Connect 2018 kicked off.
Voccola said the Kaseya VSA updates follow trends that the company has followed in the remote monitoring and management (RMM) space. One of those trends is that managed services providers (MSPs) are seeing a lower price point for simple endpoint management than they have in the past. Customers increasingly expect network management on top of endpoint management from their services providers, and MSPs are "feeling a little bit of pricing pressure" because of that expectation, he said. That's why Kaseya embedded Traverse into the VSA software, providing MSPs "one product ... at the same price point."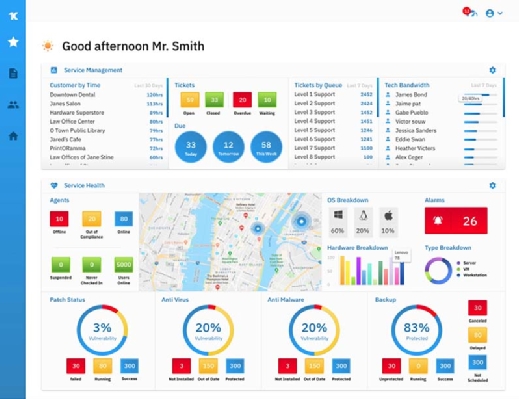 MSPs' demand for automation to improve efficiency was another trend that influenced the latest Kaseya VSA release, with the integration of Kaseya Automation Exchange, a crowdsourced automation platform, into the RMM software. "Automation is one of the ways that MSPs can help battle ... pricing pressure," Voccola said. Automation Exchange "allows people to upload automation that they have built ... so other people can use it."
While the majority of the automation available is free to download, MSPs can also charge for the automation they upload into Kaseya Automation Exchange. "We have a customer that generates over $100,000 a year by putting in automation that thousands of MSPs around the world use," Voccola noted.
The third major upgrade is the addition of AssetIQ, an IT self-documentation engine powered by IT Glue, into Kaseya VSA. "In the spirit of making technicians more efficient, we have built IT Glue ... into VSA. What that means is [documentation data] exists on the same screen that the technician is using with VSA," Voccola noted.
Kaseya has partnered with IT Glue for more than year and has spent about $1 million building it into Kaseya VSA, he added. "The integration between IT Glue and VSA is incredibly deep, and it allows us to provide in-product native document."
In addition to showcasing the RMM upgrade at Kaseya Connect 2018, the vendor also unwrapped Kaseya One, a dashboard providing a unified interface for the Kaseya IT Complete platform. Kaseya One gathers data from all Kaseya products in a user's environment, which can include RMM data from Kaseya VSA, backup and disaster recovery data from Kaseya Unified Backup and professional services automation data from Kaseya's Business Management Solution. Kaseya One can also collect and display third-party vendor data, such as data from ConnectWise and Datto-Autotask software, Voccola said.
Channel firms in transition grapple with operational challenges
The transition from hardware sales to service-focused business models has its clear benefits for channel firms. But of course it has its downsides as well.
According to a new report from technology association CompTIA, the services-oriented transition has introduced new and complex operation challenges that impact many companies' bottom line. The CompTIA report, which surveyed 400 U.S. IT firms, revealed that 45% of respondents found operating their businesses more complex compared with two years ago. Only 20% of firms rated their current state of operations as very efficient.
The top factors that are hindering channel operations include growing data management and analytics demands, cited by 53% of respondents. Other challenges experienced by about half of channel firms included expansions into new business lines and models, the addition of emerging technologies into their portfolios, and a more complicated customer engagement process, CompTIA said.
Other news
Kaspersky Lab said it has registered 1,000 partners in its global channel partner program. The program, which targets MSPs, was launched about a year ago. More than 400 partners have joined the program in North America, Kaspersky noted.
LivePerson, a conversation commerce technology vendor, introduced a global partner program for selling its conversational platform, LiveEngage, into the small and medium-sized business space. The program offers solution providers more than 30% margin on solutions sold, the vendor said.
Networking vendor Infoblox appointed Lori Cornmesser as its new channel chief. Cornmesser joins Infoblox from network validation and visibility company Ixia, where she led global channel sales.
Market Share is a news roundup published every Friday.