Fotolia
Remote monitoring and management software gets more automated
Vendors that make business management software for managed service providers are expanding RMM software automation, but partners may struggle to fully exploit the newer features.
Managed service providers want to develop value-added services for customers, but they often get bogged down just keeping the lights on. Consequently, they have been pushing remote monitoring and management software vendors to automate more functions.
For years, businesses have yearned for a single pane of glass to integrate autonomous management products. In response, vendors layered more management capabilities on top of data center infrastructure. But one problem has remained: The information to troubleshoot one component is often isolated from other elements. As a result, technicians bounced from screen to screen, collected information, and tried a draw a complete picture of system performance.
In response, techies used scripts and shells to automate routine functions, such as creating a system image. The integration and maintenance has never been easy and as systems became more complex, the troubleshooting process became more tedious, time-consuming and inefficient.
MSPs want to spend as little time as possible on routine maintenance, hence the demand for remote monitoring and management (RMM) task automation.
"We started to streamline RMM process by putting agents on devices and automating device discovery and network mapping," noted Craig Fulton, chief product officer at ConnectWise Inc., a Tampa, Fla., company that provides RMM and business management products for service providers.
RMM software automation: Two possible paths
RMM software automation improvements now occur in two ways. The most common is bundling them in a remote monitoring and management software product. For instance, Atera Networks Ltd. , a New York company that provides RMM and other service provider products, includes preconfigured automated administrative tasks that are applied to servers and workstations -- for a specific device, a group or a company. The routines streamline functions, such as creating a system restore point; deleting temporary files; erasing internet history; rebooting; checking all disks; running a full system scan and checking for updates. The software supports a range of formats, including MSI, Bash files, CMD files and PowerShell.
ConnectWise Automate, which features agent and agentless automation, has more than 400 RMM scripts. They are designed to manage multiple devices, perform proactive maintenance and support end-user self-service. The solution automatically performs routines, such as emailing scheduled reports, generating random passwords, updating custom data fields and running SQL queries.
Most of our customers use about 50% of the automation features available to them.

Jim Lippiegeneral manager of cloud computing, Kaseya
At SolarWinds, the Austin, Texas, company's remote monitoring and management software includes a drag-and-drop feature that allows MSPs to create automated routines without needing a scripting language. The library streamlines more than 100 processes, like managing antivirus software; invoking backup and recovery functions; and evaluating system risk. Its automated onboarding creates routines that automatically set up and configure new endpoints, servers or other devices on customers' networks.
A second option is creating an exchange or a marketplace. Here, the vendor works with its partners and customers to write automation routines. Kaseya Ltd., a New York company that provides RMM and other business solutions for MSPs, offers AutomationExchange, a library of automation tools produced by company engineers, as well as more than 100,000 crowdsourced Kaseya users. The add-ons include agent procedures, monitor sets, reports and templates.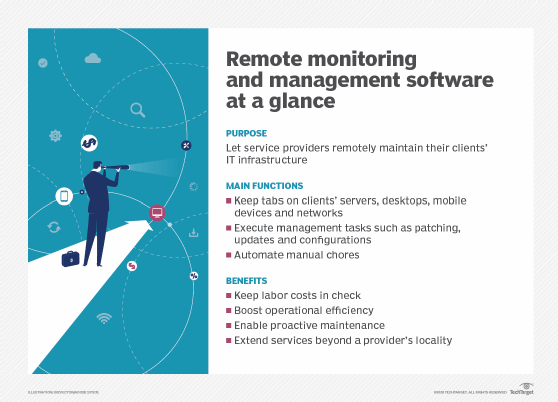 MSP skill sets often lacking
The growing variety of RMM software automation tools has potential, but they only work as well as the craftsmen using them. The reality is that the majority of resellers just scratch the surface in terms of exploiting the capabilities. "Most of our customers use about 50% of the automation features available to them," noted Jim Lippie, general manager of cloud computing at Kaseya.
Why is the number so low? One reason is MSP techs become comfortable with certain sets of features. Expanding their range means taking time to learn other functions. Vendors provide MSPs with many learning opportunities. They often include training and certification courses in their software, conduct local training events and stage yearly user conferences.
Use of such services is scattershot for many reasons. Attending requires that MSPs spend money and perhaps more importantly time on employee training. Good techs troubleshoot problems from the time they arrive in the morning until they leave at the end of the day.
Another factor is the MSP tech skill sets have been changing. The staff often deals with issues like remedying trouble tickets. "I could not take a help desk technician and have them use the automation functions," said Brett Johnson, president of Simpleroute, an MSP serving Vermont SMBs since 2009. The individual would lack the skills needed to determine how to automate IT management processes.
MSPs have been looking to automation to offload routine system maintenance. Recently, remote monitoring and management software vendors have extended their automation capabilities, so the onus has shifted to MSPs, who in some cases, struggle to keep up.