Customers grapple with emerging technology trends, innovation
Experts at the Evolve Technology Conference discussed the constraints customers are facing in view of disruptive technologies and the desire to innovate.
LAS VEGAS -- Customers are under pressure to innovate but will need to overcome the constraints of organizational shortsightedness to take advantage of rapidly emerging technology trends such as artificial intelligence.
That was one message emphasized at the Evolve Technology leadership and technology conference, which concluded May 9. CIOs and IT managers attended the conference, which was hosted by Trace3, an IT solutions and services provider based in Irvine, Calif.
Keynote speaker Peter Hinssen, futurist, chairman and co-founder of Nexxworks, told attendees "corporate myopia" and a failure to focus on long-term value will prevent organizations from adapting to a digital world. Hinssen said that world is characterized by disruptive global network platforms such as Amazon, fluid data, robotics and deep AI.
Disruptive platforms
Hinssen pointed to "category kings" such as Amazon in retail and Facebook in social media as linchpins of the digital order -- and forces of disruption. "Retail is being hit and being hit really hard at the moment," he said.
The disruptive pressure stems not only from Western category kings such as Amazon. Hinssen pointed to a parallel, and perhaps a more advanced, platform "stack" emerging in China. He said China's new Silk Road, also called the Belt and Road Initiative, signals the largest economic expansion in the last 200 years and features such components as the Baidu search engine, Alibaba e-commerce platform, and WeChat social media and mobile payment system.
He said the stack coming out of the new Silk Road is "closer to the future and more aggressive" than the stack featuring U.S.-based companies. He observed, for example, that digital platforms are making China a cashless society in which credit cards are already viewed as a bit medieval.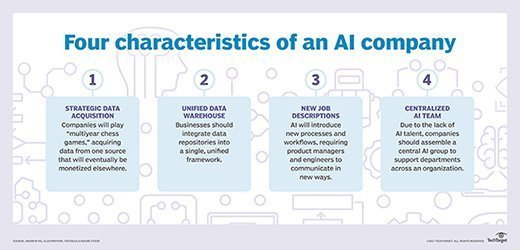 Business innovation strategy: The struggle to innovate
Companies hoping to innovate in the face of digital disruption have their work cut out for them.
"Most IT leaders out there really have this burning desire to be innovative, creative, relevant and make a difference in their companies," said Mark Campbell, chief innovation officer at Trace3.
AI will become a necessary layer in the stack.

Rama Sekharpartner, Norwest Venture Partners
The problem, he suggested, is not knowing exactly how to innovate while dealing with the day-to-day struggles of keeping the lights on. Drawing from a football analogy, he likened the challenge to running the game plan but being able to call audibles.
To significantly change the status quo, Campbell said organizations must pursue "positive deviance," a term coined by professor and consultant Jeff DeGraff. Positive deviance, however, must overcome a business' existing processes, standards, product sets, compliance duties and other factors that can constrain innovation, Campbell explained.
"It is insanely difficult to actually pull off in real life," he noted.
Campbell described a series of steps that a successful business innovation strategy attempt at innovation tends to follow. Those steps involve finding answers to some pointed questions: What is the market today? Why do we want to innovate? Who will be the executive owner of the innovation initiative? Where do we look for innovation opportunities? What is the best opportunity now? Who should be on the innovation team? How do we deploy the innovation safely? What surprised us? What did we learn?
Emerging technology trends: Rising AI investments
Among emerging technology trends, one area of innovation gaining momentum is AI. AI and machine learning represent "one of the biggest platform and technology shifts we have ever witnessed," said Rama Sekhar, partner at Norwest Venture Partners, who spoke at the Evolve conference. He called the AI wave "bigger than mobile, cloud and big data."
Norwest, he said, has made more than 20 investments in AI-related companies. He said he sees three primary forms of AI: core AI technologies and platforms, horizontal AI and vertical AI.
He called core AI the "picks and shovels" of the technology that enterprises can use to build AI in their software. Core AI includes the AI capabilities found in public clouds such as Amazon Web Services, Google Cloud Platform and Microsoft Azure, open source libraries, and fields such as machine vision. Horizontal AI, he said, focuses on area such as sales and marketing, while vertical AI specializes in markets such as healthcare or construction.
"Money is pouring into the sector in unprecedented levels," Sekhar said. "AI will become a necessary layer in the stack."