Cisco's picks for top 4 emerging networking technologies
Cisco's picks for top emerging networking technologies include machine reasoning, optical networking, cognitive radio and Citizens Broadband Radio Service.
Cisco's birth as a bellwether tech company occurred in the late 1990s, as the use of the internet exploded. Its gigabit Ethernet switches became a must-have for web companies in the dot-com era.
Cisco's status as a network infrastructure provider made it the most valued company in the world in 2000. A $1,000 investment in Cisco when it went public in 1990 was worth almost $1.3 million at the height of the investment frenzy that made e-commerce companies with dubious business models overnight successes.
In 2001, the dot-com bubble burst, and Cisco has yet to reach the same heights again. Today, roughly 20 years later, that $1,000 initial investment is worth approximately a third of the stock price's heyday.
Yet Cisco seems headed for another high point in its history as a supplier of internet infrastructure and a purveyor of emerging networking technologies. The many Wall Street analysts who are bullish on its stock point to the company's revenue growth as it responds to industry trends.
Enterprises want centralized software to manage network and security hardware. So, Cisco provides it while coping with the threat such a transition presents to its hardware business.
During the last 20 years, Cisco has had its flops from misreading the tea leaves. Failures include the Cius android tablet, the Flip video camera and the Umi video conferencing system for the home.
Nevertheless, Cisco's dominance in multiple segments of the networking market has made it a company that industry analysts watch for technology and economic trends. The amount of money companies spend on networking is an indicator of their overall financial health, since infrastructure products drive all enterprise software.
Therefore, the networking technologies Cisco sees as likely having a significant impact on the industry over the next 20 years are worth noting. In a recent interview, John Apostolopoulos, CTO for enterprise networking, listed some of the trends he's following. They include machine reasoning, optical networking, cognitive radio and Citizens Broadband Radio Service (CBRS).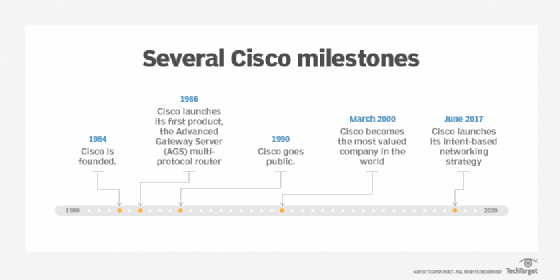 Why machine reasoning over machine learning
Cisco is directing a significant portion of its development dollars on machine learning (ML) algorithms. The idea is to stuff networks with the intelligence necessary to secure and manage them as billions of mobile and IoT devices come online over the next few years.
But more potent than ML is machine reasoning (MR), which promises algorithmic software capable of performing tasks and debugging problems like network engineers do today, Apostolopoulos said.
In general, MR means programming a computer with logical techniques, such as deduction and induction. The MR system has an inference engine that draws intelligence from the relationships between facts and rules within a specific domain, such as an area of network management.
The information loaded into an MR system typically comes from the practices of experts in a particular field. Computer scientists are developing ways to turn that data into a language that computers can read and then use to draw intelligent conclusions.
Proponents argue that MR is more effective than machine learning. That's because the latter uses algorithms to perform only statistical analysis on facts to come up with a recommendation.
"The computer can try to debug a problem in the same way that the experts would do it," Apostolopoulus said of MR. "It can do a much better job at identifying the root causes of problems than machine learning can."
Advanced technologies like MR will become critical to engineers trying to troubleshoot networks serving numbers of devices exponentially higher than today. IDC predicts that just the number of IoT devices connected to the internet will grow almost 29% annually, reaching 42 billion by 2025. Together, those devices will carry 79 zettabytes of data.
Optical networking
The $660 million acquisition of silicon photonics company Luxtera in December 2018 showed that Cisco wants to move faster into optical networking. Luxtera's transceivers for data center switches and routers turn their electronic traffic into much faster light beams to run over optical fiber.
Cisco's interest in optical technology is to eventually use it within its line cards and application-specific integrated circuits. Without faster data speeds, both will become bottlenecks in data centers struggling to keep up with increasing traffic flows.
Apostolopoulos said widespread optical networking would contribute, for example, to making multi-user augmented reality mainstream. Today, the enterprise network is too slow for multiple people to see and interact with the same augmented reality (AR) content at the same time.
However, in the future, "we'll have very high-quality, high-performance, low-latency wireless to many of these devices at the same time," he said. That will make multi-user augmented reality possible.
Multi-user AR will help students visualize concepts in math and science while also providing corporate workers with better diagrams while repairing in-house or customer equipment.
"CEOs at different companies talk about how they believe this field will be very important and transformational in many ways -- similar to how the iPhone transformed mobility," Apostolopoulos said.
CBRS and cognitive radio emerging networking technologies
Apostolopoulos is optimistic that trends in the communications industry will deliver efficiency in radio spectrum management. Spectrum is finite and shared, so effective management is the only way to serve the billions of devices worldwide that enterprises will add to wireless networks.
The technologies that will help make future networks more robust include cognitive radio and the Citizens Broadband Radio Service.
Apostolopoulos expects the industry to deliver cognitive radio advancements that will significantly increase the number of devices on a wireless network. Cognitive radio is a form of wireless communication engineers use to plant intelligence into a transceiver.
The smart device can detect unused communication channels and instantly move traffic over them. The result is the optimal use of available radio frequencies and minimal interference among network users.
"That will become more important over time," Apostolopoulos said, particularly as the number of internet-connected devices grows.
CBRS will add to the amount of spectrum monitored by intelligent transceivers. The service operates in a 3.5 GHz band from 3550 MHz to 3700 MHz the prime spectrum for 5G services. The Federal Communications Commission set the rules for shared commercial use of CBRS in 2015. The FCC plans to hold an auction of 70 MHz of the CBRS spectrum on June 25.
The FCC expects carriers that license the spectrum to make their 5G networks much better at penetrating buildings and walls. Today, the emerging next-generation wireless technology operates at a frequency that can't pierce objects easily.
Apostolopoulos expects enterprises to license CBRS spectrum or contract with a service provider that does to set up private wireless networks on the factory floor. Those networks will provide the necessary security to run manufacturing robots and other machinery.
"In your manufacturing plant, you'll know that you're the only person who'll be using that spectrum because you're the only one who has access to it," he said.