kentoh - Fotolia
Kaseya Unified Backup targets MSPs with BC/DR option
Kaseya CEO Fred Voccola said VSA's integration with Unitrends backup gives managed services providers an 'enterprise-class' BC/DR option in a burgeoning market.
Kaseya is targeting MSPs with a physical backup offering that tightly integrates with Kaseya RMM software.
The new product, Kaseya Unified Backup (KUB), is an appliance-based platform that uses technology from continuity and backup vendor Unitrends. According to Kaseya, KUB combines backup, ransomware detection and cloud-based business continuity and disaster recovery (BC/DR), and it complements Kaseya's previously launched cloud backup offering.
KUB is integrated with the company's flagship remote monitoring management (RMM) software, VSA, and comes with a dashboard with access to alerts, reports and policy management. Managed services providers (MSPs) can also perform automated recovery assurance testing through the dashboard, Kaseya said.
After examining various appliance-based backup providers, Kaseya chose to partner with Unitrends because of its ability to take on complex enterprise-level environments, said Fred Voccola, CEO of Kaseya, based in Waltham, Mass. These capabilities were important, he said, because deploying 100 or 150 backup appliances can create an enterprise-like IT infrastructure. "We wanted to make sure we have the horsepower and the scalability" to handle that, he noted.
Voccola also cited Unitrends' AI engine, Backup IQ, as a factor behind the partnership. Built into the KUB product, Backup IQ compiles usage and machine data and lets technicians reduce "the noise of things like false positives."
"It allows the engineer to get rid of about 95% of the noise, so they can just focus on what matters. ... We really like that aspect of the tech," he said.
Kaseya Unified Backup differentiators
The addition of KUB to Kaseya's backup portfolio comes in the wake BC/DR vendor Datto's merger with Autotask, a provider of RMM and professional services automation software that targets MSPs. Like the Datto-Autotask combo, Kaseya now offers physical and cloud-based BC/DR products.
Voccola pointed to a few KUB differentiators that he said Kaseya's competition lacks. He said restores using the Unitrends technology are "probably 10-times faster than we see with some of the other technologies out there," and tech-savvy MSPs will appreciate the Backup IQ feature. He added that KUB is built into the Kaseya RMM software, making it easy for technicians familiar with the VSA interface to use the product. "If you are a Kaseya customer, [KUB] is inside of the product you are already using. ... You almost don't have to learn anything new."
About 50 MSPs have deployed Kaseya Unified Backup. Voccola said the general consensus among the first round of KUB customers is it's easier to use and cheaper to acquire than their former backup choices.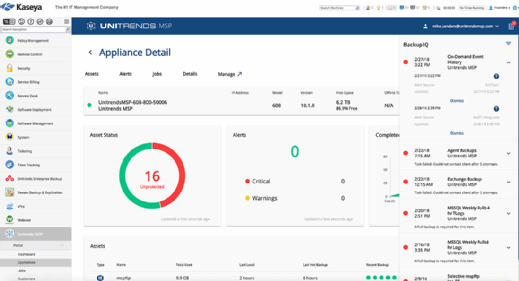 MSPs and the BC/DR market
With the launch of KUB, Kaseya said it wants to help managed services providers penetrate deeper into BC/DR opportunities. BC/DR is a rapidly expanding market for MSPs, Voccola said, namely because backup touches so many of their customers' business concerns.
"Backup has its tentacles in most, if not all, of the major IT spending areas that exist," he said.
For example, as the threat of ransomware intensifies, backup is becoming a security essential. "If you get hit by [ransomware and] you are not backed up, you are done," he noted.
Backup has its tentacles in most, if not all, of the major IT spending areas that exist.

Fred VoccolaCEO of Kaseya
Another developing concern is around compliance. "Almost every compliance measure talks about maintaining records, being able to have continuity of your business and being able to prove that you destroy information, as well, especially with GDPR [General Data Protection Regulation] in Europe."
The BC/DR market's growth can also be tied to the current state of the small and medium-sized business (SMB) segment, which makes up the bulk of MSPs' customer focus, Voccola said. He said SMBs are adopting technology that had previously been in the purview of enterprises and increasingly see IT as a strategic differentiator. SMBs are also bound by many of the regulatory requirements that are imposed on enterprise-size organizations, so they must meet those same compliance demands.
"If you go back 15 years ago, technology was really starting to penetrate the enterprise at scale. ... We are seeing that same trend happen in the small to midsize business [space]," he said.