kentoh - Fotolia
Kaseya acquisition trail continues with ID Agent -- is DR next?
ID Agent, the latest Kaseya acquisition, adds its identity protection capabilities to IT Complete and will be integrating with Spanning and Unitrends products.
Kaseya spent part of its $500 million in fresh funding on ID Agent, and CEO Fred Voccola said more IT acquisitions will follow in areas such as disaster recovery and security.
Voccola said Kaseya will invest in product development while building out its infrastructure and growing through acquisitions.
Kaseya is an IT management software company targeting managed service providers (MSPs) and internal IT teams. ID Agent is the latest in a sizeable list of recent Kaseya acquisitions, following IT documentation software vendor IT Glue in December 2018 and software-as-a-service application backup vendor Spanning Cloud Apps in October 2018. Other key Kaseya acquisitions include RapidFire Tools and Unitrends backup.
Voccola said Kaseya is buying "very specific, targeted companies" to expand its IT Complete platform. He said Kaseya has acquired leaders in new categories that it's trying to enter. ID Agent is a market leader in the identity management space.

"What you'll see from Kaseya in the next 12 months is more acquisitions in the areas of security, compliance, business continuity and disaster recovery, hybrid cloud and public cloud management," Voccola said.
Kaseya is focused on expanding its IT Complete platform's capabilities to make it more attractive to MSPs and, therefore, capture the SMB market.
A bet on the midmarket
Christophe Bertrand, senior analyst at Enterprise Strategy Group in Milford, Mass., said the IT products Kaseya buys are usually aimed at enterprises, rather than Kaseya's SMB target market. However, he said enterprise products often trickle down-market, and Kaseya and its investors are confident SMBs will adopt them.
"All of the innovations you see in the enterprise typically make their way down to SMBs a few years later," Bertrand said. "What that $500 million cash infusion tells you is that there are definitely some important bets being placed on the midmarket."
Bertrand pointed out many SMBs will go through MSPs to handle their IT needs due to having fewer IT resources than enterprises. He found from his research that customers rarely leave their MSPs, giving Kaseya even more incentive to partner with them.
"Less than 10% of customers change their service provider. And they typically change when they're not happy with the service. Rarely is it about price," Bertrand said.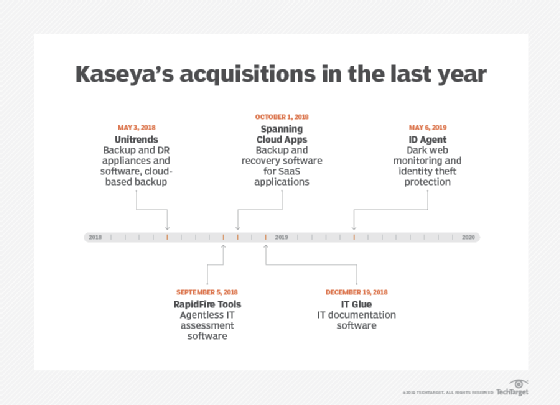 Shoring up security
Ransomware is a problem for companies no matter the size. Voccola said, from a security standpoint, Kaseya's investment in Unitrends backup provided an offering for customers to recover from ransomware, but that fixes the problem after the fact. He said Kaseya's interest in ID Agent and cybersecurity came from a desire to prevent malware attacks.
Former ID Agent CEO Kevin Lancaster is now in charge of all Kaseya security products. Lancaster said all of ID Agent's staff joined Kaseya, which will retain the ID Agent brand.
"This isn't a situation where they come in and cut 30% of the workforce," Lancaster said.
Because ransomware and cyberattacks are a security and backup issue, work is underway for integrating ID Agent's capabilities into Spanning and Unitrends. Its Dark Web ID product already has integration with Kaseya's RapidFire Tools.
"We're working on a number of initiatives to make security more prominent and easier for MSPs to sell," Lancaster said.
Dig Deeper on Data backup and recovery software