Definition
network management system
What is a network management system?
A network management system, or NMS, is an application or set of applications that lets network engineers manage a network's independent components inside a bigger network management framework and performs several key functions.
An NMS identifies, configures, monitors, updates and troubleshoots network devices -- both wired and wireless -- in an enterprise network. A system management control application then displays the performance data collected from each network component, and enables network engineers to make changes as needed.
Network element vendors make their performance data available to NMS software either through APIs or through protocols like NetFlow, a de facto industry standard originally developed by Cisco that lets NetFlow-enabled routers transmit traffic and performance information.
NMS functions
Network engineers use NMSes to handle a variety of operations:
Performance monitoring. By collecting operating metrics through a series of physical taps, software agents or Simple Network Management Protocol interfaces, NMSes provide visibility to determine if network elements operate correctly.
Device detection. NMSes detect devices on the network and ensures the network recognizes devices and configures them correctly.
Performance analysis. NMSes track performance data indicators, including bandwidth utilization, packet loss, latency, availability and uptime of network components.
Notification alerts: In the event of a system disruption, NMSes proactively alert administrators about any performance issues.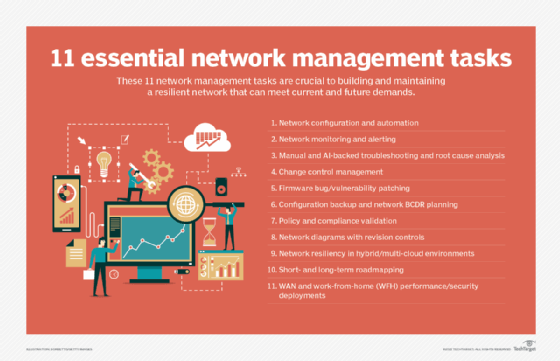 Types of NMSes
Enterprises can install NMS software on premises on a dedicated server and managed on site, or they can access NMSes as a service. Vendors supply tools for the enterprise to administer and monitor its network. NMS software can manage a wide variety of network components, manufactured by multiple vendors.
Early versions of NMS software sometimes worked only with hardware manufactured by the same vendor. But those limitations have largely disappeared as networks have migrated to architectures based on equipment from multiple suppliers.
On-premises NMS installation can enable better control and customization of the software to meet specific goals. Managing the software internally can require additional IT staff and resources, however. As the software ages, the organization must upgrade or replace it. A vendor-based NMS can enable a quicker return on investment, but access to the software can be compromised if an outage occurs at the provider's data center.
NMSes can monitor both wired and wireless network elements. In the past, a separate NMS would be required for each kind of element. However, as wireless networking becomes more prevalent, unified NMSes, which enable a network engineer to track both wired components and wireless network elements through a single management console, become available.
NMS software can also enable companies to track performance throughout their own networks, as well as through external networks, such as those operated by cloud and as-a-service providers. Visibility is enabled through APIs and other means through which an enterprise can access performance flow data, or logs, to analyze security or performance.
NMS trends
As network hardware vendors continue to make their systems more open, NMS software is enabling interoperability as enterprises use NMS tools to control and add features across a wider variety of devices. NMSes also serve as the framework for intent-based networking, a developing methodology that automates network oversight, configuration and troubleshooting.
Editor's note: This article was republished in January 2023 to improve the reader experience.
This was last updated in
January 2023
Continue Reading About network management system
Dig Deeper on Network management and monitoring