MSP pricing: How to compete without slashing prices
Experts share strategies for battling price erosion in the competitive managed services market. MSPs shouldn't bow to pricing pressures without trying these approaches first.
Editor's note: For channel partners transitioning to the managed services business model, MSP pricing often ranks among the top challenges. This feature details several approaches for getting pricing right in a competitive market.
As managed services providers grapple with offering the best services to customers, always looming just below the surface is how to price those services and stay competitive. More frequently, MSPs must contend with various pricing pressures and adopt new strategies to offset pricing erosion.
MSPs have always been vulnerable to pricing pressures -- that is, if they allow themselves to be, maintained Charles Weaver, CEO and co-founder of the industry association MSPAlliance. MSP pricing pressures typically occur as a result of other technology providers falsely representing themselves as managed services providers, he said.
"Sometimes customers can cause price erosion when they treat the MSP and their services as a commodity, and that claim goes unanswered by the MSP," Weaver added.
Michael George, CEO of IT management platform provider Continuum, believes that is only part of the equation.
"The biggest issue driving all of this pricing pressure is labor costs," he said. The MSPs' labor costs "are going up, as demand for good technical talent is outstripping supply. They can't afford to profitably hire and retain good technicians in the lower-level work."
There are also concerns that the vendors MSPs work with "are trying to cut us out by marketing directly to our clients," observed David Streit, principal of IT consulting and services firm Stephill Associates. Some vendors are notorious for doing this, he added.
However, Streit said he is generally not worried about competition. "Offerings from MSPs vary widely, and most clients come to us by referral. If anything, I've been told my fees are too low and I should raise them."
MSP market poised for growth
Competition has existed in the MSP market since the early 2000s, with new startup entrants emerging every day trying to stake a piece of the opportunity, Weaver said. That's not necessarily a bad thing, though.
"The competition is being driven by healthy growth in IT services spending, which is predicted to surpass $1 trillion by 2019," he said. "The global managed services market is producing roughly $250 billion a year right now. We need more MSPs to meet this demand."
George concurred, noting that there is a strong need for great IT service delivery and the small and midsize business (SMB) market is largely untapped. "Security will be the biggest challenge for SMBs,'' he added. "This will cause more customers than ever before to start swapping out old MSP providers for new ones that have a solid security offering, including a 24x7 SOC [security operations center] operation for remediation."
Weaver echoed Michael's sentiment, saying that with the rise in security threats affecting customers worldwide, the need for qualified MSPs has never been greater. "Those MSPs with compelling managed services delivery models and a means to communicate their skills to customers should not have to cut their prices," he said.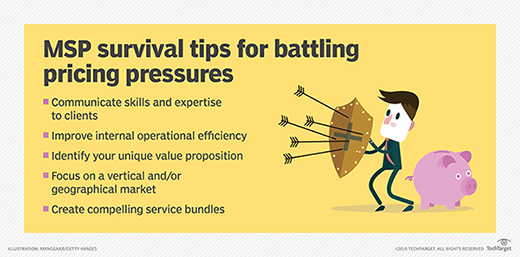 Top MSP pricing strategies
Before cutting any prices, MSPs first should look internally at their policies and procedures to ensure they are working efficiently and in a scalable manner, Weaver said.
George said Continuum's MSP partners aren't slashing their prices at all. They're actually raising them "because they are well differentiated in the market." Labor represents 75% to 80% of costs, he said, so MSPs must slash labor costs to be price competitive. "You also need to offer a unique value proposition, such as being able to provide an advanced security offering that includes remediation from a security operations center," he noted.
The differentiator for Streit is being able to demonstrate to prospects that Stephill's clients are stable and have few problems. "That's what prospects want to hear," he said. "They are willing to pay for confidence that they can focus on their businesses and not on IT."
One of the best ways to avoid MSP pricing pressures is to try to understand why some customers apply the pressure, Weaver advised. "Pricing discussions often, but not always, are a symptom of the customer not appreciating and valuing the services of the MSP. If a customer is looking for the cheapest vendor, then perhaps they should look outside managed services and seek a break/fix company instead."
Most customers, if they value the MSP's work, will tolerate a modest price increase if the MSP has communicated their value effectively.

Charles WeaverCEO, MSPAlliance
MSPs also need to stay focused on their vertical and geographical markets, George said. The SMB segment has a higher propensity for buying from companies that know how to service them, which will increase their growth rate. They also don't want to have to pay a technician to travel to reach them, so the burden of travel costs usually falls on the MSP, he said. Additionally, "security expertise, defense and remediation will be the single most important practice area in the next five to 10 years. Every SMB will have an IT service provider in security, and if they can't get it from their current MSP, they will get it from someone else."
While Streit doesn't specialize in cybersecurity, he said he treats it as part of his suite of services. "I don't perceive pricing erosion at all, but I do try to minimize price shopping by bundling services into my agreements," including remote control, monitoring, antimalware software, firewalls and cloud backup.
How to raise your prices
Good communication with your customers is a cornerstone for broaching the idea of increasing prices, Weaver said. "Most customers, if they value the MSP's work, will tolerate a modest price increase if the MSP has communicated their value effectively. In the end, if the customer does not know what the MSP does for them, seeing a price increase will not be well received."
Channel companies should also change the way they package their services by shifting to a per-employee MSP pricing model instead of a fee-for-service or hourly rate sheet model, George said. The MSP should also "bundle full services and change the pricing model to reflect their unique value proposition."
Streit's approach is pretty straightforward. "Charge higher prices to new clients [and] raise prices on less valuable clients."