How to revamp your managed services pricing for predictable revenue
Many MSPs still rely heavily on an hourly billing rate and cost-plus pricing. Michael Backers, an MSPAlliance board member, offers advice on moving to managed services pricing.
For channel partners relying heavily on an hourly billing rate, moving to a subscription-based pricing plan and generating a bigger slice of revenue from the managed service provider model can seem challenging to say the least.
But adopting a managed services pricing method is doable with planning and an ample dose of self-assessment. At the MSPWorld 2018 conference, Michael Backers, regional manager at Patriot Engineering and Environmental Inc. and an MSPAlliance board member, outlined a strategy for helping channel companies transition from an hourly billing rate and to a more predictable revenue model.
"The whole idea of being an MSP is predictable revenue," he said.
The task facing aspiring MSPs is to figure out how to move to this approach without "radically changing the way ... clients are used to doing business with you," Backers said. He recommends a stepwise progression, as opposed to an overnight shift to a new MSP pricing method.
Start with process
Backers advised channel partner executives to start the transition toward predictable revenue by mapping their companies' processes. The assessment must be honest: Companies, he said, shouldn't describe ideal operations but how the company actually does business today. At this point, executives should ask themselves the following questions, Backers advised:
How do you deliver services today?
What works and what processes are broken?
What are your goals?
What are the costs of delivering services?
Where are the opportunities for efficiency?
Where can you improve the speed of business?
Where can you improve the quality of experience for customers?
This process assessment should aim to discover costs and bottlenecks in a company's operations, Backers said. For example, a channel company could determine how long it takes to go from a signed contract with a new customer to getting paid for the services provided. The idea, he said, is to determine what matters to an organization and then measure it, using techniques such as Six Sigma, which became an important element of General Electric's strategy.
With regard to improving the quality of experience, channel partners should find all of their customer touchpoints. Backers said customers remember touches and events such as efficient technology provisioning for new employees, the recovery of valuable data or a quick IT installation.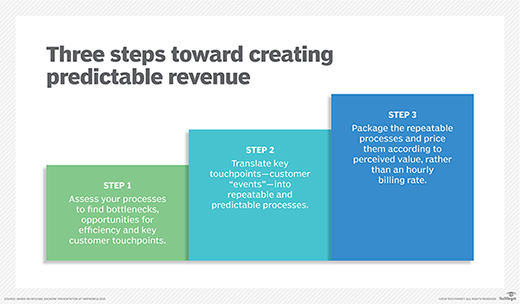 Turn events into managed services
Once discovered during the process-mapping task, events can be turned into managed services. Backers said service providers should translate those events into repeatable and predictable processes. For example, a company that knows an installation takes 10 hours on average to complete can package that installation as a service and begin charging a flat fee for a predictable block of time, he explained.
Another example is packaging a service that maps a clients' network topology and selling that for a flat fee. Or a service provider could sell a service around setting up a client's new employees on computers, phones, software and help desk services as a package.
The whole idea of being an MSP is predictable revenue.

Michael Backersregional manager, Patriot Engineering, MSPAlliance board member
"You've got to start looking at these things [as] little packages," Backers said.
When service providers sell predictable blocks of time as packages, they can charge for services on a perceived-value basis rather than rely on an hourly billing rate and cost-plus pricing. This managed services pricing method results in a more predictable revenue stream for the channel partner and predictable costs for the client, Backers said.
Boost efficiency via repeatable processes
As services are packaged in a standardized way, they become repeatable and easier for the MSP to deliver over time.
After doing the same task in the same way dozens of time, "you can start to burn in muscle memory," Backers said. A task that was once rated at one hour can eventually be done in 15 minutes. But the fee the service provider charges remains the same, since pricing is based on perceived value rather than an hourly rate.
"Anybody can do [the task] in 15 minutes, but the perceived value is still there," Backers noted.
Managed services pricing can also spark sales. That's because packaged offerings are easier for lower-skilled salespeople to sell to potential clients. "The more you can package up the [services], the more people can sell them," he said.
For Backers, the essence of managed services is not so much the recurring revenue model, but the ability to offer services in a proactive, predictable and efficient manner.
"It really starts with transforming the mindset of your labor force into repeatable processes that are predictable," he said.
For additional detail on MSP business practices, including per device and per user pricing, check out our channel feature detailing popular pricing models. You can also peruse our free template for establishing disaster recovery service levels.