kantver - Fotolia
Top 5 MSP challenges in the 2021 business climate
MSPs and IT consultancies anticipate several challenges in 2021, including developing growth strategies, broadening areas of expertise and cultivating talent.
Uncertainty is rarely ideal for markets, but that's the reality all businesses face in 2021.
IT services executives and analysts generally expect to see market growth in 2021, but the COVID-19 pandemic continues to add an element of unpredictability. Developing adaptive business plans and strategies will occupy companies over the coming months.
Here are five consulting and MSP challenges the IT service provider industry aims to address.
1. Executing a growth strategy for uncertain times
The IT services sector is predicted to rebound in 2021. A key business driver that could keep service providers busy throughout the year is the widespread shift from analog to digital business.
"Most organizations are now trying to become more digital than they ever planned and sooner than they planned," said John-David Lovelock, research vice president at Gartner. Gartner called for 4.1% revenue growth in IT services, after a decline in 2020.
Luca Jacobellis, president and COO at 1Path, an MSP based in Atlanta, is planning for growth.
"As we look at 2021, we start thinking less about playing defense," he said. "We're starting to think about growing again."
The company's three-year plan has made 2021 the year of acceleration and scaling for growth. As part of that focus, 1Path will be introducing new service offerings and refining existing ones to keep pace with its changing customer base. Jacobellis said he has seen demand pick up from upmarket customers. The company has typically pursued the "S" in SMB and now seeks to expand to organizations in the 500 to 1,000 employee range.
"Getting new service lines off the ground and getting those service lines to be well-oiled machines is going to be the thing we work on this year," he said.
2. Developing broader service offerings
Launching new service offerings and working toward a broader portfolio could help service providers sharpen their competitive edge in 2021. The digital transformation initiatives in the offing require a range of disciplines, so breadth of skills will be on many customers' wish lists.
Lovelock suggested tech consulting and implementation firms that can discuss business strategy and offer wide-ranging expertise will fare better than more narrowly focused companies. Service providers that have "a relationship with the CIO to move initiatives forward and the largest skills sets on which to draw" will possess an advantage, he said.
Customers need a mix of business and technology acumen as they transition to digital operations. Consultants and MSPs are responding with approaches that take that scope into account. PricewaterhouseCoopers (PwC), for example, is commercializing its BXT process, which stands for business, experience and technology. BXT provides tools and techniques that aim to help customers rapidly move an idea from concept to operation. The method brings together experts from multiple fields to address problems -- finance, business operations, data strategy, digital architecture, UX design and behavioral science, to name a few.
PwC used BXT to launch Check-In, an automatic contact-tracing product. The BXT process surfaced 90 ideas, one of which suggested using PwC's existing Connected Solutions offering to jumpstart the contact-tracing product, noted David Clarke, PwC's global chief experience officer. Tapping Connected Solutions, which locates people and tracks assets, let PwC develop Check-In in a matter of weeks. It's now in use in more than 50 companies.
Service providers might also consider developing broader expertise within a particular technology stack in 2021.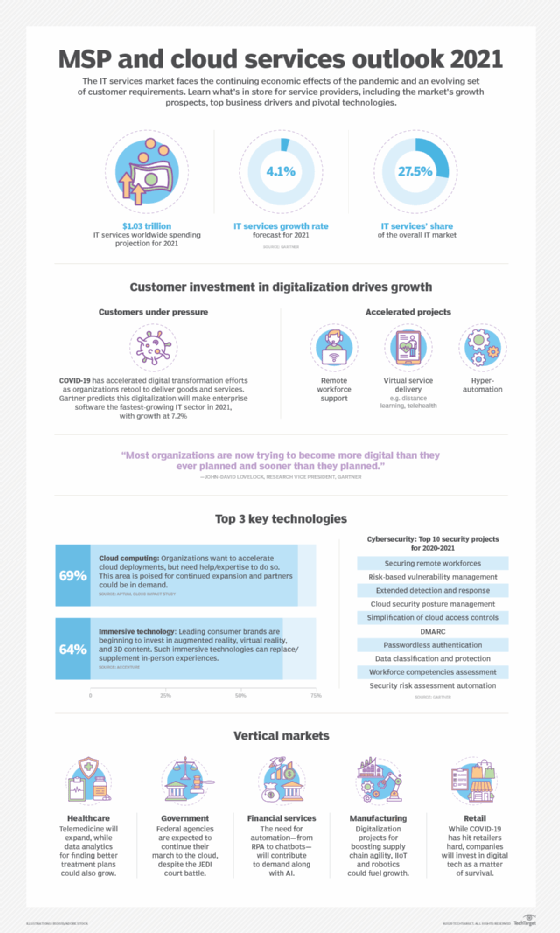 Dustin Domerese, principal owner and CRM consultant at Dynamic Consultants Group, a Microsoft partner based in Kansas City, Mo., suggested MSPs move toward becoming a full-stack Microsoft partner. Domerese discussed the state of the Microsoft partner channel at the MSPWorld conference.
Partners that expand their reach can protect themselves against customers turning to other service providers. "The way you reduce churn is by making sure you have more product lines that can help customers with anything related to the stack," Domerese said.
Domerese pointed to Microsoft Dynamics and Power Platform as expansion opportunities, noting many cases in which MSPs aren't focusing on those product lines.
3. Adjusting to client needs within verticals
Vertical marketing is an important component of the MSP business model and a linchpin for consulting firms as well. The coronavirus pandemic and related economic dislocation, however, has affected different vertical markets with varying degrees of severity. The task for service providers is to focus on the healthier verticals or portions of the more disrupted verticals that need technology to survive.
SADA Systems, a business and technology consultancy based in Los Angeles, pointed looking to the public sector, healthcare and media/entertainment as among the top verticals next year. Tony Safoian, president and CEO at SADA, said local and state governments are looking for applications to deliver constituent services -- contact center AI and 311 systems, for instance.
In healthcare, Safoian said telehealth, once a technology geared to extreme use cases, became widely used during the pandemic. He said he thinks adoption will accelerate in 2021. Another healthcare hotspot will be using data to improve treatment plans.
"That is where a lot of the opportunities continue to reside," he said. "The cloud makes it inexpensive enough and scalable enough to … actually access large volumes of healthcare data to improve patient outcomes."
The media/entertainment vertical, meanwhile, will also see activity, with Safoian noting the significant shift in the way people consume entertainment.
1Path, meanwhile, concentrates on a handful of industries that heavily employ information workers, Jacobellis explained. He said such industries, which include healthcare, legal, accounting and banking, have been generally less affected than others.
Shawn Mills, CEO at Lunavi, an MSP and technology consultancy based in Cheyenne, Wyo., said industries such as energy, healthcare and financial services "are really trying to move their transformation forward rapidly." Education and technology are among the other verticals Lunavi pursues.
Other verticals of note include manufacturing, which could provide an opening for IoT consulting and implementation services in 2021 and beyond. Juniper Research forecasted industrial IoT (IIoT) connections to more than double from 17.7 billion in 2020 to 36.8 billion in 2025. The market research firm cited smart manufacturing as an important IIoT growth sector, which is projected to contribute 22 billion connections by 2025.
MSPs and consulting firms also pointed to sleeper verticals that could invest in IT next year, despite the economic battering of COVID-19. Retail companies, for example, might need to expand digital commerce to remain viable. And in the food services sector, quick service restaurants (QSRs) are poised to build upon existing technology stacks, with most having already established digital payments infrastructures.
"QSRs have the potential to be one of the great success stories emerging from this strange time," said Chris Murphy, CEO at ThoughtWorks, a software consultancy based in Chicago. "I expect to see QSRs continue to aggressively invest in upgrading their technology platforms to enable them to experiment, add innovative new services quickly and evolve to fit the needs of their customers."
4. Finding talent amid labor shortages
MSPs forecast another tight labor market for 2021. Cultivating tech talent is key to service delivery. "We have to be able to hire to meet the needs of our customers," Lunavi's Mills said. "It's a massive challenge to hire quickly."
As for skills in demand, security professionals will continue to be high on everyone's list, said Jeff Ton, strategic IT advisor at InterVision Systems, a service provider with headquarters in Santa Clara, Calif., and St. Louis, Mo. Accelerated cloud migration will also put pressure on the job market for experienced cloud architects and engineers, he noted.
In addition, companies looking to advance digitization in 2021 will create demand for digital business architects, robotic process automation engineers and AI architects, Ton said.
The competition for talent is such that 1901 Group, an IT services provider based in Reston, Va., has decided to cultivate its own. The company identifies critical areas such as cloud, cybersecurity and DevSecOps and creates a curriculum to train employees, said Paul Wilkinson, executive vice president at 1901 Group. New hires such as recent college graduates, veterans or displaced workers from other industries are placed on an accelerated career path, if they demonstrate aptitude, he said.
Public-private partnerships also aim to address the tech sector's hiring needs. Wilkinson said 1901 Group partners with Virginia Ready, a program that encourages workers who were displaced due to COVID-19 to retrain in fields including IT and security. Participants who successfully complete a training and credentialing program qualify for a $1,000 credential award.
5. Maintaining company culture in a remote environment
One challenge service providers and many of their clients will share in 2021 is the long-term shift to remote work and its organizational implications.
"I think we're going to see a trend of how we keep business culture going," said Greg Layok, managing director of technology at West Monroe Partners, a business and consulting firm based in Chicago. "We're all sick of virtual happy hours and we're also all probably tired of a patchwork of collaboration and communication technologies. So, I would expect to see a more thoughtful rationalization on collaboration and remote technologies to enable the employee experience."
Efforts to boost morale could complement the cultural rethink. A Windward Consulting Group study found that CIOs, CTOs and IT directors ranked employee morale as their second highest priority, trailing only remote working. Windward Consulting, a Herndon, Va., company that specializes in IT operations and IT service management, collaborated with Helix Market Research on the study, which polled about 300 IT leaders.