Edyta Pawlowska - Fotolia
Remote workforce management strategies for MSPs
Channel partners have been rethinking employee productivity, collaboration and skills development. Learn how Ensono, SADA Systems and AllCloud have adjusted their approaches.
As remote work significantly ramped up in response to the coronavirus pandemic, MSPs evolved their remote workforce management strategies to tackle new challenges. These challenges involve maintaining staff productivity, connectivity and performance, and enabling employees to grow and advance in their job roles.
"Because we did have quite a bit of people working from home before [the pandemic], we were able to pivot quickly by following our current policy," said Meredith Graham, senior vice president of culture and people experience at Ensono, a managed IT and cloud services provider based in Downers Grove, Ill. "What has changed is we always encourage people to travel and that's a no-no now."
Narine Galstian, chief marketing officer at SADA Systems, a Los Angeles-based business and technology consulting firm, said her company has not seen a drastic change in how its employees work as well. She said SADA has always had a remote work policy for its hubs of employees in eight cities around the U.S. However, while it was normal for some of SADA's 240 staff members to work remotely, "we still like the connection … of the office," she said.
According to Graham, employees are "much more productive" when working remotely, but the main challenge she sees is "making sure they're being productive for the right reasons."
The challenges of staying connected and balanced
There is more of a focus on employees' mental health and well-being recently, given that people have been social distancing for an extended period of time, Graham said. Work-life balance is harder to maintain. At the end of the workday, many employees may struggle to log off, especially if they live in small physical spaces, she said.
For Graham, the challenge is "making sure you're connected enough to know when there is good productivity versus when there are [work-life balance] struggles. We need to make sure people are stepping away" and taking breaks, she said. "Managing that when you're so remote is the challenge."
The biggest challenge Galstian has encountered is ensuring employees remain connected, albeit virtually. Previously, her team would have in-person morning huddles and coffee, "but now you really have to make the effort to put [huddles] on the schedule to connect virtually."
New practices for MSP remote workforce management
The shift to working fully from home has meant that MSPs not only have had to reexamine their remote work policies, but adopt new strategies for helping employees adjust and stay productive.
For AllCloud, a cloud and managed services provider based in Tel Aviv, Israel, the move to remote work wasn't difficult. The company's roughly 250 employees across three continents already had access to the tools they needed to do their job and connect securely, said AllCloud North American President Doug Shepard.
Prior to the COVID-19 pandemic, employees living in a city where the company has an office were encouraged to work from the office as frequently as possible, Shepard said. "However, some employees that were used to going into the office every day struggled with the new arrangement" wrought by the pandemic.
"We implemented numerous new collaboration tools and encouraged roundtable discussions to share [remote work] ideas and best practices," he said. "Now that we are able to open some of our offices back up, there are not only a litany of rules and regulations we must adhere to, but some employees do not feel comfortable going in or having large meetings."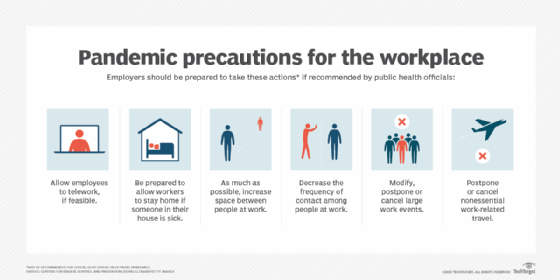 The most important thing is maintaining employee safety and ensuring they are successful, he stressed. "To that end, AllCloud has relaxed our work-from-home policies to reflect employees' needs and concerns."
The main challenge that AllCloud's staff sometimes faces is with clients "that wonder how we can implement a partner technology remotely," Shepard noted. "The traditional model of a consultant sitting in the office for weeks prepping for 'go live' is not feasible when adhering to social distancing."
To overcome this, AllCloud has further built out its methodology to address the specific concerns of clients not used to remote consultations, he said. "By incorporating more frequent communication and new technology and collaboration tools, our clients have seen that the value of AllCloud's consultants are not diminished even though they are socially distancing,'' Shepard said.
Ensono believes the use of video for conference calls is important, both to provide a connection to co-workers and to read people's faces, Graham said. "You can't do that over [text] chat. … The pandemic is not just about a remote working environment. It's also about people's worries."
It's also important to incorporate activities to ensure employees remain engaged, productive and happy. Galstian said she does "daily scrum calls" with her team so they can discuss highlights and challenges. "It provides that collaborative connection as a team and gives everyone the opportunity to talk about highlights in their to-dos and projects lowlights, either personal or team-focused," she explained.
Helping employees continue to grow
Ensono has about 2,300 employees and uses productivity tools to track performance. The company has been enhancing the training portals in its learning management system, Ensono University, to provide continued skills development for employees, Graham said. Managers can also track which courses employees take.
Galstian added that SADA's professional development program hasn't stopped during the pandemic. Employees continue to have quarterly goals with key performance indicators. "Employees still go through their desired career path and are taking courses to further develop skills. We still support that, and it's still a paid program," she said. "Every manager does one-on-one [sessions] with staff to see how they're [progressing] toward those goals and [to remove] any barriers they might have.''
Throughout the pandemic, AllCloud has tracked employee performance using traditional metrics, Shepard said, "but early on, we added daily management meetings to discuss everything from client concerns to sales to employee performance. As things have settled a bit, the meetings are not as frequent, but we still are monitoring things closely. We are also making sure that certifications and training remain top priority."
Rethinking remote vs. office-based work
As stay-at-home guidelines begin to relax, Ensono, SADA and AllCloud are taking a "wait and see" stance on what work will look like in the new normal.
"We're staying flexible to how employees want to continue [working]," Galstian said. SADA hasn't yet determined whether people will return to working on a regular basis at its Los Angeles corporate office or if they'll do a rotating schedule. SADA executives are awaiting guidelines on how many people can be in the office at a time. "We're just playing it by ear," she said.
Graham said Ensono also hasn't yet made any decisions on its office usage. While a lot of employees are productive while working remotely, "we really value innovation and collaboration, and a lot of that is through the in-person experience. We're not going to force anyone back to the office right now. While there will probably be more remote workers than before, we're still working on when people will return to the office and in what capacity."
We will leverage our ability to work effectively from remote locations while still using our offices as a gathering spot for collaboration and team building.

Doug ShepardNorth American president, AllCloud
The company will always have an office experience, Graham added. A companywide survey revealed that "10% of [Ensono's] workforce said they're ready to go back when they can, pretty consistent globally.'' Another 30% said they would like to but are nervous, she said.
Shepard said AllCloud will take a balanced approach. "I think we will find ourselves, and many of our clients, incorporating the best of both pre- and post-COVID worlds," Shepard said. "We will leverage our ability to work effectively from remote locations while still using our offices as a gathering spot for collaboration and team building."
Remote workforce management tips
Going forward, MSPs would likely benefit by adopting some new remote workforce management practices, regardless of how they decide to work.
For Shepard, it's important to create a culture of continuous innovation and empower employees to make the right decisions. "As tempting as it might be to overmanage or check in on employees constantly when they are remote, they will not only appreciate the freedom to get their work done on their own time, but will be more productive in the long run," he said.
It's also important to have consistency in the collaboration tools they use, he added. Otherwise, collaboration will be hampered.
The best remote workforce management practice Galstian and Graham have found is to maintain constant communication. It's also important to provide "an open, honest and transparent medium for everyone to bring their professional and personal challenges to the team and invite that open conversation," Galstian said.
She said everyone is going through something different under the current circumstances, and the lines have blurred between personal space and the work environment. "It's only natural [employees] might have challenges. Every manager should open up that conversation and bring to the forefront that we're all in this together and have to help each other through it."