Guide to work-from-home tech, IT support during the pandemic
This guide provides information on remote technologies that IT teams can quickly deploy to support employees who must work from home to prevent the spread of COVID-19.
The COVID-19 outbreak that has caused businesses across the world to close this month marks a pivotal moment for telecommuting technologies. Companies that use remote desktops, mobile devices or collaboration suites to support employees who must now work from home are relying on those technologies for all corporate communications and are quickly learning the pros and cons of working remotely.
Throughout this guide are links to content that will help your IT team quickly deploy the technologies necessary to support telecommuting, as well as information about the challenges that plague such tools. Plus, learn how to ensure your remote workers have the infrastructure they need so that disasters such as the coronavirus pandemic don't cripple business productivity.
Work-from-home technology limitations
Any company that put off its IT modernization effort certainly regrets that delay now, as employees rely on cloud services and modern productivity applications to get their work done.
Even companies that had digitized and adopted collaboration tools struggle to scale those tools to more workers. Limitations of collaboration tools, such as Microsoft Teams, that weren't a problem just weeks ago now prevent employees from communicating in the ways they need to.
For instance, Teams displays the video feeds of only the four most recent people who spoke during a meeting. That's quite low compared to Cisco Webex, which displays up to 25 streams at once, and Zoom, which displays up to 49.
Having hundreds, or thousands, of employees work from home could overload mobile network infrastructure. The infrastructure that supports video conferencing, virtual desktops or phone meetings may experience connectivity issues during peak use times.
No doubt, employees mandated to work from home to prevent the spread of COVID-19 experience higher than typical stress levels as they juggle the demands of their jobs and perhaps the jobs of employees who are unable to work. Add to this the demands of caring for family members who are also at home, plus using unfamiliar tools to communicate with coworkers and customers, and it can create an experience that's detrimental to workers and corporate productivity.
These and other challenges are widely reported. Andrew Hewitt, a Forrester Research analyst, published a video on best practices for telecommuting during the coronavirus.
"How do you ensure that when people are working remotely that they sacrifice as little productivity as possible and maintain their overall engagement," Hewitt said. "Ensuring employees have good remote access technologies is the primary way to ensure this happens."
Collaboration and communication tools
The most critical technologies to support remote workers are those that provision remote communication, access to data and security. IT departments can set up those technologies relatively quickly when necessary, but IT has to take into consideration the tools employees may or may not have at home, their job requirements and their tech comfort levels.
This quick transition to telecommuting sits on the shoulders of IT service desk pros, who must update the corporate VPNs, strengthen endpoint security and take on troubleshooting tasks that arise as employees adapt to remote work technologies.
Communication and collaboration tools a company needs to support telecommuting include video conferencing, team messaging and file sharing. A network infrastructure to support those tools is critical. File-sharing platforms Box and Dropbox recently shared details of how they prepared infrastructure and security to meet the spike in demand for their services.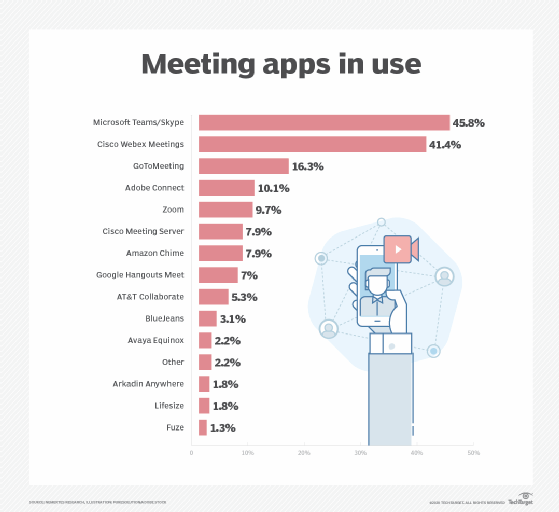 Video conferencing and collaboration app scalability is being put to the test. At least three times so far this month, several of Cisco's collaboration tools, including Webex Teams, were either unavailable or slow to load during the workday due to what Sri Srinivasan, general manager of the Cisco collaboration unit, described in a statement as an "unprecedented" increase in use.
Zoom meeting software users experienced 18 unexpected disruptions to Zoom services as of March 19, up from just one incident in January and February combined.
Remote access methods
The ability to find content and data quickly is critical to productivity. A number of cloud content management vendors have extended free trial versions of their applications to support the surge in demand and possibly gain new customers in the process.
There are a number of technologies that allow employees to log into corporate systems or applications on their home PCs. Many companies rely on VDI to support remote employees, as it allows IT departments to deliver secure access corporate desktops from their own data centers. Similarly, desktop-as-a-service technology delivers corporate desktops to any employee on any internet-connected device. Microsoft's new Windows Virtual Desktop is one such offering.
Other options include delivering single virtual applications rather than full-fledged virtual desktops, published applications or session-based desktops.
However, connectivity is critical to all of these delivery methods and can make or break a remote desktop worker's productivity.
Many employees telecommuting during the coronavirus outbreak will use their mobile devices more frequently to access corporate resources. Unified endpoint management and enterprise mobility management tools are key for IT teams to extend corporate productivity tools to mobile devices. If the pandemic continues long term, organizations that don't currently have extensive device programs might be interested in purchasing bulk mobile devices or laptops to enable remote employees. However, companies like Apple have warned that they would limit purchasing amounts of some products because of disruptions in the supply chain.
Meanwhile, a lot of corporate leaders are uncomfortable with telecommuting during the coronavirus because of data security concerns. Systems within the four walls of a business protect endpoints with security software they trust to make sure the devices users rely on are secure.
IT teams supporting remote workers would be wise to require that employees only access business-critical data using a VPN and require mobile security practices such as multifactor authentication to access corporate data. It's also a good time for IT to remind users of their own role in company security. End-user gaps in security awareness are one of a business's biggest risk factors, so IT teams should roll out internal phishing tests and additional password change reminders.
Telecommuting infrastructure
Within an office, there are dedicated network lines from providers who guarantee uptime with service-level agreements. When people work remotely using their home internet networks, connectivity is out of the enterprise's control.
Employees using consumer-level internet systems should have a minimum of a 50 MBps network connection to support video conferencing and collaboration tools, Forrester's Hewitt said, adding that employees who don't have that speed face a higher bill, and employers should consider reimbursements.
Companies that require employees to use a secure connection via a VPN are still using their home systems, and if an employees' internet router isn't good, they won't be able to connect. Some employees may also have data caps on internet usage, which could cause connectivity issues.
From an enterprise standpoint, IT teams must ensure their network gateway isn't another weak spot.
Employee experience
Many companies already supported telecommuting as a way to improve employee experience in "normal" times, so the processes and tools are nothing new. DevOps teams are more likely to work remotely, for example, or to have experience collaborating with offshore development teams in other parts of the world. They can access most of the IT tools they rely on through a web interface.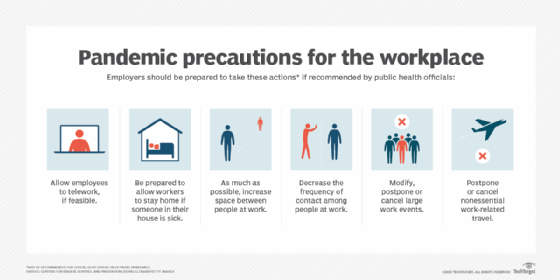 Employees who aren't used to working alone at home can feel isolated, less productive, and distracted by constant news around the coronavirus. Support from the HR department is important. That should include continuous communication with staff, with updates around payroll operations, benefits and other aspects that affect employees' personal lives. Self-service HR tools can help employees gain easier access to information they need, and project management tools offer better communication between staff and their managers.
Companies should support unified communication tools, such as Slack or Teams, to allow team members to communicate -- even if it's just to share the occasional GIF for a laugh -- to improve the remote employee experience.
Employers are advised to relax expectations around availability during the pandemic as employees juggle demands of caring for themselves and loved ones. But expectations must be clear, Hewitt said.
"Employees are not going to be always on, always available in the same way you would expect them to be," Hewitt said in the video. "You want to be a little bit more flexible, but … set the expectation that if an employee is going to be leaving an office for an extended period of time that they communicate that with their manager and across their teams."
Detailed instructions for how to access tech support are also important for remote employees to ensure they can access the tools they need.
Editorial director Alyssa Provazza contributed to this report.