Box, Dropbox shore up clouds; Box-Microsoft integrations go live
Online document collaboration platforms Box and Dropbox shore up cloud bandwidth, security and customer support as remote work spikes due to coronavirus containment efforts.
As local, state and federal governments mandate or encourage workers to shelter in place to contain the spread of COVID-19, cloud file-sharing and collaboration providers Box Inc. and Dropbox Inc. took strides to shore up their networks and security. Long-planned Box-Microsoft integrations to enable online collaboration also came out on schedule amid remote-work spikes.
Both Box and Dropbox shared details of how they're readying infrastructure and security to support customers as remote demand spikes. In an emailed statement, Dropbox said it has prepared for higher growth and storage demand than it had forecast, and is relying on ISO 22301-compliant business continuity plans it has in place.
Box CEO Aaron Levie said that on the Box cloud, it's been so far so good. Both Box and Dropbox users have reported few problems at the company's own system status pages and at the user-governed, vendor-agnostic Downdetector.com.
"We saw record numbers of file uploads last week throughout the service, and the week before that record levels of usage," Levie said. "There's definitely a spike in remote work, in a very big way."
Box had prepared for the spike by building infrastructure redundancies, Levie said, while simultaneously preparing its own employees to work remotely. In beefing up customer service, Box prioritized the needs of existing customers who are scaling up Box operations. This includes helping them pivot to more remote work by opening access to enterprise content while maintaining security of sensitive documents.
A lot of people are coming to grips with the fact that, after this is done -- certainly not now -- they're going to have to be looking at things that are much more cloud-enabled.

Andrew HewittAnalyst, Forrester Research
"I know there's been more interest in [prospective] customers checking us out on the website and trying to find tools for secure remote work and collaboration," Levie said. "But right now, we're all hands on deck on the existing customer base and making sure they can scale."
Transferring content access controls to an all-remote or mostly remote environment can be difficult for large organizations, said Forrester Research analyst Andrew Hewitt. He said large companies that rely on VPN access for company documents are getting hit the hardest. The scramble to change over to content clouds like Box and Dropbox can be difficult to quickly pull off when the whole company is working from home.
"It's becoming clear that the older model of VPN in this particular environment is very difficult to scale up," Hewitt said. "A lot of people are coming to grips with the fact that, after this is done -- certainly not now -- they're going to have to be looking at things that are much more cloud-enabled."
Box-Microsoft Teams, mobile integrations add features
In related news, Box said that new Box-Microsoft integrations will go live, some immediately and others later this month. The integrations span Teams and Office 365, and connect documents in Box to those applications.
The Box-Microsoft features enable sharing Box content directly to Teams channels or chats. On the mobile side, Levie said new features such as saving email attachments from iOS and Android clients directly to Box take advantage of an upgraded Microsoft Office 365 mobile app, released in February.
While the Box-Microsoft integrations were in the works before the coronavirus pandemic forced most office workers to work from home, Hewitt said the timing couldn't have been better.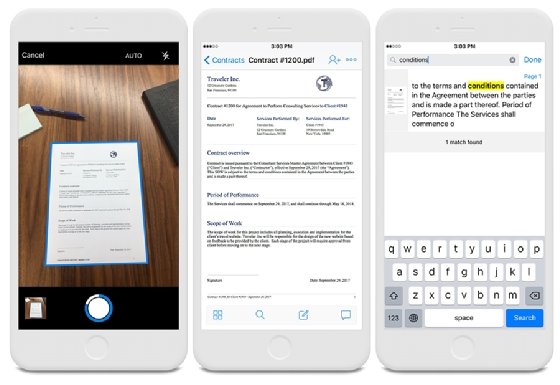 Despite the promise of mobile applications for smartphones and tablets -- and their overtaking desktops as the majority of devices online -- the heavy lifting for document collaboration still takes place on the desktop, Hewitt said.
"We always talk about mobile replacing the PC as the primary productivity tool, but it just hasn't happened," Hewitt said. "A lot of that is screen real estate. It's really hard to work on a document if you're using a small iPhone or Android smartphone."
That said, every little bit of productivity helps when entire companies are working remotely during the coronavirus response, and mobile-friendly collaboration tools like Slack and Teams can supplement desktops and keep teams working together remotely, he added. Hewitt said he's also seeing video conferencing tools like Zoom supplementing workflows and helping to at least partially replicate office environments and cut down isolation between workers.