Box AI, workflow automation strategies about to unfold
Box is set to reveal new AI and workflow automation tools to add to its cloud content services platform -- technology seen as key to the vendor's future.
Box AI and workflow automation advancements that users are waiting for, and which are instrumental to the content services platform vendor's future, will come into clearer focus this month, according to CEO Aaron Levie.
With Box AI tools at the hub of Box Skills, the company's still-in-beta system for customizing Box applications with machine learning technology from Google, Microsoft or IBM, AI will permeate Box's content management systems, Levie said.
"We want to make sure we continue to automate and bring intelligence to your digital business processes," Levie said in an interview.
New Box AI tools
Levie said the company will make announcements around Box AI and workflow automation, and generally, about how Box plans to "advance the state of the digital workplace," at the BoxWorks 2018 conference in San Francisco Aug. 29 to 30.
"We're going to talk a lot about AI and the power of machine learning," Levie said. "And you're going to see more of a roadmap around workflow in Box as well, which we're really excited about."
Indeed, workflow and digital process automation have been a perennial question for Box in recent years, said Cheryl McKinnon, a Forrester analyst scheduled to speak at BoxWorks.
Workflow automation progress
McKinnon noted that Box, which started out as an enterprise file sync-and-share company, has tried to remedy the gap through a partnership with IBM on the Box Relay workflow automation tool and other deals (with companies like Nintex and Pegasystems). Box also recently acquired startup Progressly to improve workflow automation.
We want to make sure we continue to automate and bring intelligence to your digital business processes.

Aaron LevieCEO, Box
"I do expect to see deeper investment in Box's own automation capabilities as it puts some of the expertise from recent acquisitions, such as Progressly, to work," McKinnon said.
"Content doesn't get created in a vacuum -- embedding the content creation, collaboration and sharing lifecycle into key business processes is important to keep Box a sticky and integral part of its clients' internal and external work activities," she said.
In addition to Box AI and workflow automation, Levie said Box is putting a lot of emphasis on its native-cloud architecture and persuading potential customers to move from on-premises content management systems to the cloud-based content services platform model that has distinguished Box.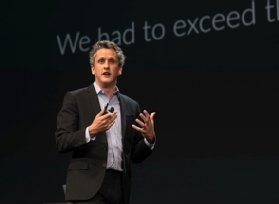 "We're really trying to help them move their legacy information systems, their technology infrastructure, to the cloud," Levie said.
Box wants "to show a better path forward for managing, securing, governing and working content and not just using the same legacy systems, not having a fragmented content management architecture that we think is not going to enable a modern digital workplace," Levie said.
Box vs. Dropbox and bigger foes
Meanwhile, its similarly named competitor, DropBox, completed a successful IPO this year and is angling for the enterprise market, where Box holds the lead. Dropbox's stock price took a hit recently, but Levie said he takes the competition seriously. Box, too, sustained a decline in its stock price earlier this year, though the stock's value has stabilized.
"I would not dismiss them as a player in this space," Levie said of Dropbox. "But we think we serve more or less different segments of the market. They are more consumer and SMB leaning and we are much more SMB and enterprise leaning."
Actually, Box's most dangerous competitive threats are from cloud giants like Microsoft and Google, McKinnon said.
They are "investing significantly in their own content and collaboration platforms, and while Box partners with both of them for integration with office productivity tools and as optional cloud storage back ends, the desire to be the single source of truth for corporate content in the cloud will put them head to head in many accounts," she said.
Dig Deeper on Content management software and services