Getty Images/iStockphoto
The top 4 content management trends in 2023
Content management trends -- AI, cloud deployment, knowledge management and data privacy -- can help organizations automate workflows and enable remote work strategies.
AI advancements, remote work requirements and data privacy concerns have caused many business leaders to reevaluate their content management systems and strategies.
Organizations use enterprise content management (ECM) systems to create unified repositories for information, but these systems increasingly offer AI features, such as optical character recognition (OCR) and speech recognition, to automate workflows. ECM can also help with remote work policies, which have led to increased interest in cloud-based content platforms and knowledge management, said Cheryl McKinnon, principal analyst at Forrester Research. Also, data privacy laws, such as GDPR and CCPA, encourage information governance professionals to focus on data retention policies.
Business leaders should understand the top content management trends of 2023 to help them choose the right ECM tools and strategies for their organizations' needs.
1. AI
In the past, organizations used legacy ECM systems largely to store documents in centralized repositories. However, modern content management has expanded beyond content storage. For example, AI capabilities have helped ECM systems broaden their functionalities into business process automation services.
"The repository is not the hot spot right now. I'm finding that there's a lot more interest in serving the needs of key departments and lines of business, [like] employee file management for HR teams or claims processing for insurance," McKinnon said.
Organizations don't want systems that only help them store, find and retrieve content. They want content services that can automate specific processes, such as data extraction or invoice processing, to improve efficiency.
AI adoption had been slow in ECM because many vendor products lacked pretrained AI services, which are machine learning models that vendors train with large, generic data sets. However, content platforms have begun to offer more of these services that average business professionals can set up themselves, McKinnon said.
Pretrained AI services for ECM can include the following:
OCR to extract data from business cards;
object recognition to automatically tag images and videos with metadata.
2. Cloud deployment
In the mid-2010s, organizations began to adopt more cloud-based content services platforms for their ECM needs -- a trend which has only increased over time. These platforms use a SaaS model and offer some advantages over on-premises systems, such as lower upfront costs, fewer maintenance requirements and more flexible licensing models.
In particular, cloud content platforms offer flexibility as they let organizations pick and choose specific content services they need. Aside from niche cases in which organizations have strict data residency requirements, most ECM software buyers choose cloud models for their organizations, McKinnon said.
Unlike legacy ECM systems, cloud content platforms offer smooth integration with many other business applications, which can optimize workflows and improve overall employee efficiency. Additionally, these platforms facilitate remote work because users only need an internet connection and proper credentials to access them. As many organizations permanently continue to adopt hybrid work policies, the need for cloud-based content services accelerates.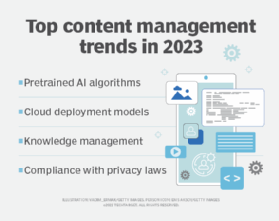 3. Knowledge management
In addition to cloud deployment, knowledge management has also seen a spike in interest since the onset of the COVID-19 pandemic, McKinnon said. Remote and hybrid work models have, to some degree, stripped away employees' ability to turn to their co-workers for help. This lack of face-to-face collaboration can make employees more dependent on their organizations' knowledge management systems for training and answers to everyday questions.
Specifically, many organizations have begun to improve the ways they capture knowledge, McKinnon said. For example, organizations can record video chats to gather knowledge from employees before they retire or leave for new positions. These recorded videos can transfer knowledge -- both soft skills and technical knowledge -- to new employees.
Organizations have also begun to create more short-form content, as opposed to lengthy manuals or PDFs.
"There's a lot of knowledge locked up inside documents, but they're not always the ideal vehicle to convey it. If you've got the best answer to the question on page 20 of a 50-page PDF, well, sometimes, that's really hard to get to," McKinnon said.
Instead of monolithic documents that cover multiple topics, short-form content focuses on individual topics or subtopics. Employees can more easily find and digest information when it comes in compact forms.
Additionally, organizations can use speech recognition to help employees extract information from knowledge management assets. For example, speech recognition features can transform spoken conversations in video recordings into transcripts that employees can search for with certain keywords. Employees can easily sift through video content to find the exact video segments they need.
4. Data privacy
As customers increasingly demand data privacy, organizations need content platforms to help protect sensitive data, such as personally identifiable information (PII).
In 2018, two major data privacy laws -- the European Union's GDPR and California's CCPA -- went into effect, which revamped business interest in governance and compliance. These laws ensure that organizations take measures to protect customer information they store and use. Violations can result in large fines and damage organizations' brands. Specifically, these laws have led to increased interest in data retention and deletion policies, McKinnon said.
Data retention policies -- protocols that determine where and for how long organizations should store information -- can reduce privacy risks as they purge unnecessary PII from organizations' systems. Many organizations have retention policies in place but do not follow through with them. However, within the last year, more organizations have made efforts to execute their existing policies, McKinnon said.
Many content platforms offer automation features to help organizations follow through with their retention policies. For instance, they can identify unnecessary sensitive information and flag it for deletion, which reduces the risk of a compliance violation.
Aside from their ability to store content in central repositories, organizations use ECM systems to automate workflows, enable remote collaboration, enhance onboarding strategies and comply with privacy laws. Organizations whose existing ECM systems cannot offer these capabilities may consider different systems or upgrades to current systems.
Dig Deeper on Content management software and services