Fotolia
Hyland acquires Alfresco ECM, content services
Hyland scoops up Alfresco in a CMS market consolidation. An expert says it's a good fit because Hyland's platform needs the accelerated cloud modernization that Alfresco can provide.
Updated on October 23, 2020
Hyland Software, an enterprise content management and services company with deep roots in regulated industries, completed the acquisition of Alfresco, a competing content management vendor that began as open source.
Cleveland-based Hyland has been on an acquisition spree: It bought German robotic process automation vendor Another Monday last month, as well as both Streamline Health's enterprise content management (ECM) business and blockchain-based digital credentialing vendor Learning Machine last February.
The Alfresco ECM technology has rapidly advanced during the last two years, adding AI tools, SAP integration tools and compliance tools to help customers align with emerging consumer data protection laws.
The acquisition could be seen partly as a market consolidation move and partly a technology play to modernize Hyland's cloud offerings in ways it can't by itself, said Forrester Research analyst Cheryl McKinnon -- with an emphasis on the modernization part. Looking at Hyland's acquisitions, she said she sees a concerted effort from the company to more quickly support customers' cloud needs than it has the previous few years.
"I've been a little impressed by Hyland over the last year or so, the way it has rethought its acquisitions," McKinnon said. "I see [the Alfresco acquisition] as the next bold step in accumulating this innovation. You traditionally think of Hyland as this good, solid Midwestern workhorse in the ECM market, but it's really shown some interesting ability to move into adjacent spaces over the last year or so."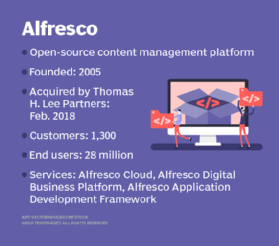 Alfresco's cloud strengths complementary
Many Hyland customers -- especially those in regulated industries such as banking and healthcare -- still store their content on premises or on Hyland's private cloud. But most of them either aspire or have laid plans to migrate to public clouds such as AWS and Microsoft Azure. Alfresco ECM customers can make that leap faster.
Alfresco ECM technology, which grew from open source, made much of that cloud transition already with an open architecture. It also offers an optimized instance for AWS Virtual Private Cloud with connectors to AWS services such as AI and analytics.
We know a lot of tech budgets have been cut or frozen, but the ones moving full speed ahead are typically those that help remote workers keep moving.

Cheryl McKinnonAnalyst, Forrester Research
McKinnon added that COVID-19 likely accelerated secure cloud content migrations for many large Hyland customers that had clung to on-premises content workflows until social distancing gave rise to remote work. While those migrations might have been in the works over a long term, the pandemic shortened that cycle. Hyland acquiring Alfresco will better position Hyland to meet those needs.
"We know a lot of tech budgets have been cut or frozen, but the ones moving full speed ahead are typically those that help remote workers keep moving," McKinnon said. "Communication, collaboration and content ... those are still healthy investments, even in times of budget cuts or freeze."
Hyland completed the Alfresco acquisition on Oct. 22. Terms of the deal were not disclosed.
Dig Deeper on Content management software and services