agcreativelab - stock.adobe.com
Cloud empowers remote work during pandemic and beyond
A cloud-based remote work strategy enabled organizations like Priceline, TD Ameritrade and Walden University to support employee communications and maintain business continuity.
March is usually a slow time for Priceline's contact center. On March 12, 2020, however, Disney said it was closing its theme parks, and the NBA suspended its basketball season in response to the growing COVID-19 crisis sweeping across the country. Then, the online travel agency was flooded with calls.
"Our volume went up 60% over the month prior," said Jennifer Featherling, director of global contact center technology at Priceline, based in Norwalk, Conn. At the same time, Priceline decided to send employees home to work remotely, including 1,600 contact center agents.
The company had recently consolidated its contact center technology from five separate platforms to cloud-based Amazon Connect, which enabled agents to access their tools and maintain business continuity (BC).
"We absolutely would not have survived if we had not made that shift," she said. "Never once was I worried about trunking or the underlying technology; it was just: Let the people keep calling."
Featherling was one of several IT leaders who spoke at Enterprise Connect about how a cloud remote work strategy kept their businesses afloat as they navigated the uncharted waters of massive work-from-home mandates during a pandemic.
Being prepared pays off
TD Ameritrade was well positioned for the transition to remote work as the online brokerage company migrated to virtual desktops a few years ago, which enabled employees to access their desktops anywhere, according to Neal Obermeyer, senior manager for channel effectiveness at TD Ameritrade, based in Omaha, Neb.
"We basically already normalized the idea of working differently and accessing info differently, well before the pandemic came along," he said. "We were perfectly prepared for the transition to remote work."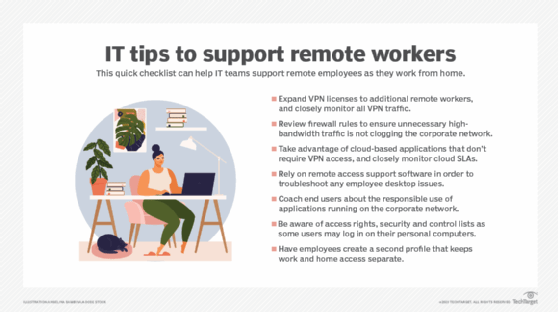 The online broker went from 15% of employees working from home on a given day to an entirely remote workforce, he said.
Once employees settled into working at home and companies realized remote work was going to last longer than expected, they needed to adjust to new security and networking considerations.
For Featherling, her priority was addressing security for her remote agents who weren't accustomed to working from home. This involved changing some of the technology, such as how agents would log in to their work applications from home. She also had to provide modems and hotspots to agents who lacked the internet connectivity to support the contact center technology.
Organizations continue to innovate
Walden University, an online university based in Minneapolis, had to change its approach to development planning.
"Normally, it's an on-site event where we have a couple hundred team members get together for the next development cycle," said Gary Kohlheim, director of services management at the university. The teams turned to Microsoft Teams to make the on-site meeting a virtual one.
Even with the adjustment to working from home, Kohlheim said the university was able to continue its roadmap, including the expansion of its contact center for students. For example, the university is building on its AI strategy to expand self-service for students to enable them to get information as quickly as possible with a consistent experience across communications channels.
Priceline, too, was able to launch new self-service features to automate certain types of customer calls, Featherling said. The company is also expanding messaging options that would enable customers to contact the company on the channel of their choice.
Cloud remote work in the long term
While the companies successfully maintained BC during their initial response to the pandemic, the question is whether their cloud remote work strategy is sustainable -- especially as a second wave of the virus looms.
"We knew from the beginning it had to be sustainable; we weren't sure how long this would last," Obermeyer said. TD Ameritrade does not have concrete plans to have all employees return to the office. Rather, the company is monitoring local conditions for branch locations and enabling employees to return on a volunteer basis.
He said TD Ameritrade's response to the pandemic was validation of the direction the company was going with its technology, communications and collaboration strategy.
"Because of that foundational work we had in place that made the transition to working from home so smooth, we have that same structure that will similarly service when the time is right for some of our employees to begin returning to the office," Obermeyer said.
Kohlheim said Walden University will take advantage of its cloud infrastructure over the next couple years to enable new services and build new integrations. The university is also adapting to a long-term remote workforce by virtualizing processes such as new hire onboarding and training.